Is Kristi Noem A Palin for the Plains?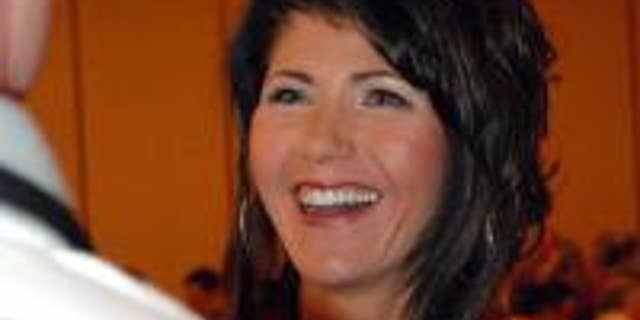 Follow the money in South Dakota, and it'll lead straight to Kristi Noem. The rancher, hunter and mom of three has raked in more campaign cash than any other Republican House challenger this election cycle.
Running on a platform of fiscal responsibility and balancing the budget, Noem raised more than $1.1 million in the third quarter in her race against Democratic incumbent Rep. Stephanie Herseth Sandlin, according to a campaign financial summary released Tuesday.
"Over $1 million of that $1.1 million is from individual contributions," Noem campaign manager Joshua Shields told Fox News. "We had a lot of small dollar contributions from South Dakotans and concerned Americans from across the country."
It's double the amount raised in the same period by Herseth Sandlin, a Blue Dog Democrat and fellow hunter who in 2008 blew past her Republican opponent with almost 70 percent of the vote, despite running in a state that voted largely against Barack Obama.
Noem's fundraising muscle and experience in state politics - not to mention her bow-and-arrow hunting and physical appearance - have drawn comparisons to Sarah Palin.
"In broad terms, she's an outdoors woman, she is a conservative, and she runs her own ranch and several successful businesses," says Gary Aguiar, associate professor of political science at South Dakota State University. "They own horses, they skin some animals, and in that way, she certainly is charismatic."
But the 38-year old has shied away from being christened the newest "mama grizzly."
"Kristi is glad that Sarah Palin jumped into the ring and served as governor, and as our vice presidential nominee," says Shields. "They've never met, but Kristi is her own candidate. People try to put a lot of different labels on her, but she's Kristi. She brings her own background and experience to the race."
Palin has vocally supported conservative Senate challengers Christine O'Donnell in Delaware and Kelly Ayotte in New Hampshire, but has not made an appearance in South Dakota. "I don't know, they haven't called yet," Shields says on whether Palin would appear for Noem. "I think Sarah has a lot of requests to go a lot of different places."
Would the Noem campaign accept? "I don't know," Shields says. "We'll have to see."
And Aguiar says the Power of Palin wouldn't necessarily give Noem an edge over Herseth Sandlin. "I think Stephanie Herseth Sandlin is also charismatic, and seen as a rockstar when she first came on the scene," he points out. "They're young, they're attractive, they're outdoorswomen."
Shields says voters will recognize one important difference between the two candidates. "They realize that Stephanie Herseth Sandlin is a rubber stamp for Nancy Pelosi, and they're frustrated with the direction the country's going," he says.
According to an Oct. 7 Rasmussen Reports phone survey, Noem is leading Herseth Sandlin 47 points to 44. Herseth Sandlin has more name recognition in South Dakota than Sandlin, but Aguiar notes that Noem can still be competitive, with or without Sarah Palin: "It's a Republican year, and it's a conservative state," he says. "The liberal vote might be down, and conservative voters will be up. That's what makes it a close race."
For more Days to Decide coverage, click here.