Calling it "decaying and rotten," President Trump announced he is withdrawing the U.S. from the Iran nuclear deal and will be imposing more sanctions on the Middle Eastern nation.
Trump signed a presidential memorandum on May 8 withdrawing the U.S. from the controversial agreement signed by his predecessor in 2015. He said he will be re-instituting the highest level of sanctions and warned other countries against helping the Iranian government.
Trump said the U.S. would "not be held hostage to nuclear blackmail" and will not allow "a regime that chants 'death to America'" to get nuclear weapons.
The nuclear deal with Iran has long been a point of contention, especially among Republicans who opposed it.
The administration extended waivers on Iran's nuclear sanctions earlier this year, keeping alive the landmark deal for an additional few months.
Read on for a look at the agreement and why it's so controversial.
What is the Iran nuclear deal?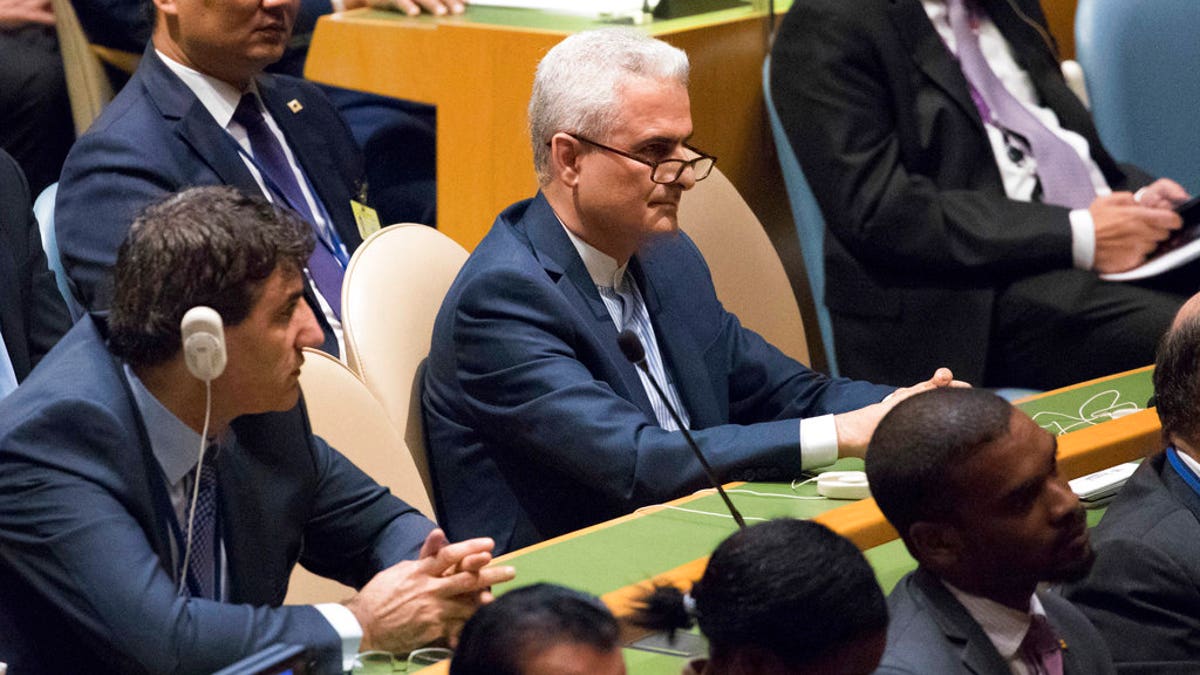 The Iran nuclear deal framework – officially the "Joint Comprehensive Plan of Action" – was a historic agreement reached by Iran and several world powers, including the U.S., in 2015, under Barack Obama's presidency.
In part, the deal was made to reduce Iran's ability to produce two components used in making nuclear weapons: plutonium and uranium. In return, crippling economic sanctions on Iran were to be abated.
"Every pathway to a nuclear weapon is cut off," Obama said at the time. "This deal is not built on trust. It is built on verification."
WHAT'S NEXT FOR THE IRAN NUCLEAR DEAL AFTER TRUMP DITCHES ACCORD
A point of contention for many opponents is the deal's so-called "sunset clause" which would ease some of the restrictions on Iran's nuclear program over time.
The deal was reached after two years of negotiations.
Certification that Iran is complying with the deal must be sent to Congress every 90 days. The first under the Trump administration noted that Tehran was in compliance.
In October 2017, Trump decertified the nuclear deal under U.S. law, saying the sanctions relief was disproportionate to Iran's nuclear concessions. He contended the arrangement was contrary to America's national security interests.
What has Trump said about it?
During the presidential campaign, Trump accused Obama and former Secretary of State Hillary Clinton, then his opponent, for making Iran a "world power" under the nuclear deal, which he called "the highest level of incompetence."
"If you take a look at Iran from four, five years ago, they were dying," Trump said during an event in September 2016. "They had sanctions, they were being choked to death and they were dying. They weren't even going to be much of a threat."
On Twitter, Trump has referred to the agreement as "a direct national security threat," a "catastrophe that must be stopped," the "dumbest & most dangerous misjudgments ever entered into in history of our country" and "the best deal of any kind in history" for Iran.
Iranian President Hassan Rouhani has warned the U.S. would pay a "high cost" if it backs out of the agreement.
What happens next?
Trump is expected to reimpose all sanctions on Iran that were lifted as part of the 2015 deal, according to the Treasury Department. These sanctions include precious metals, banknotes, shipping, the automotive sector and petroleum.
Iranian President Hassan Rouhani said the agreement could survive without the participation of the U.S., but has warned that his country would restart enriching uranium "in the next weeks." If that happens, and the deal collapses completely, businesses and banks doing business with Iran would have to scramble to extricate themselves or run afoul of the U.S.
Oil markets are also on the alert following Trump's decision. However, analysts told CNBC the impact of the reimposed sanctions might not have the same impact it once did. And while some countries may limit their oil purchases from Iran out of respect to the U.S., there are other countries that might refuse to do so, according to CNBC.
Fox News' John Roberts, Brooke Singman and The Associated Press contributed to this report.