Iowa 'Tribes' Flex Their Muscles With Support for Presidential Candidates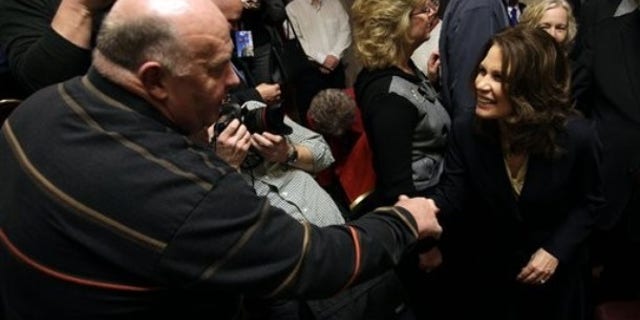 The path to the presidency begins in Iowa but for the 2012 GOP candidates who fail to attract the support of the state's most influential groups and political operatives, the journey could very well end there.
These groups, known as "tribes," are intimately familiar with the ins and outs of the caucuses that launch the presidential nominating process and offer candidates infrastructure, credibility and institutional knowledge.
"They were the Tea Party before there was a Tea Party," said Steffen Schmidt, a professor of political science at Iowa State University who has studied the Iowa caucuses for 40 years.
"They're very powerful and important because they have a huge amount of visibility," he said, adding that these groups often set the themes for the elections, whether it's social or economic issues.
Among the biggest tribal leaders are Ed Failor Jr., president of Iowans for Tax Relief, who supported John McCain in the last presidential cycle; Bob Vander Plaats, head of The Family Leader, and veteran operative Doug Gross who supported Mitt Romney's candidacy in 2008.
While Sarah Palin supporters try to game out a strategy for the state, five other potential candidates – former Minnesota Gov. Tim Pawlenty, Minnesota Rep. Michele Bachmann, former Sen. Rick Santorum, former House Speaker Newt Gingrich and radio host Herman Cain -- have already lined up for a lecture series organized by Vander Plaats, whose support is considered key in any Iowa bid.
In 2008, Plaats backed Mike Huckabee, who won the Iowa GOP caucuses and went on to finish second in the Republican primaries behind John McCain. Huckabee is now leading Iowa GOP public polling ahead of 2012.
Schmidt said these groups are even more powerful now after the Supreme Court ruling in the Citizens United case that opened the door for unlimited spending by corporations, unions and other interest groups on election ads.
"Those groups are very effective and especially now they can raise virtually unlimited money, it makes them even more effective and more substantial players, so leaders in the Republican Party have to pay attention to them," he said.
Vander Plaats in particular, he said, has been energized by his campaign to oust three Iowa Supreme Court justices in the November midterms after they ruled in 2009 to allow same-sex couples to marry.
"Vander Plaats is the sniper who keeps the party very alert, especially on social issues," Schmidt said. "He's never gotten elected to anything but he has a loud voice."
While Vander Plaats focuses on social causes, Failor is known for highlighting fiscal issues.
Iowans for Tax Relief hosted Michele Bachmann last month just weeks after she acknowledged she was considering seeking the Republican presidential nomination. Failor, who ran President George W. Bush's Iowa field operation leading to the 2004 election, told The Associated Press the group wasn't endorsing any potential presidential candidate, but he was excited about hosting Bachmann.
"We're an organization that has always believed that the status quo has failed us," Failor said. "Michele Bachmann is one of those people who says the status quo doesn't matter."
The group has also invited a number of other GOP hopefuls.
"We want to educate and inform our members," said Kathleen Koberg, vice president of the group, which has nearly 55,000 members.
While most of the kingmakers in Iowa lead groups, some are lone wolves like Gross, whom Schmidt described as "the adult Republican who is more like a statesman than a politician."
In a display of modesty, Gross told FoxNews.com that his influence is "minimal" and that the tribes are more "significant than I am." But Gross is still planning to throw his support behind a candidate, probably in May, he said.
"I love to play," he said.
There are three things he looks for when choosing who to support, he said.
"First, who can be president, who can do the job," he said. "Second, who can win. Third, don't forget the first two."
But Gross believes the rise of the Tea Party movement and the popularity of Fox News overshadows any group in Iowa.
"You can get famous on Fox and the Tea Party will reduce the impact of the so-called kingmakers," he said.