Iowa Republicans vote in favor of keeping presidential straw poll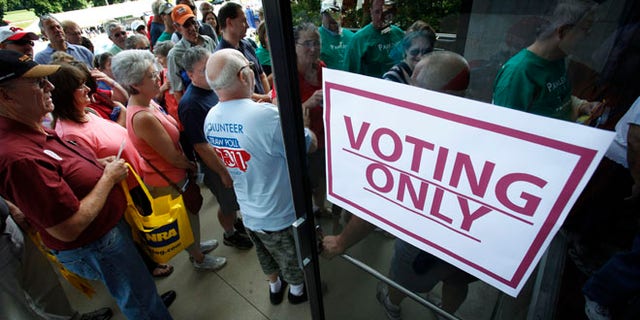 NEWYou can now listen to Fox News articles!
DES MOINES, Iowa – State Republican party leaders voted unanimously Saturday in favor of keeping their annual presidential straw poll, defeating critics who said the summer tradition attracts only fringe contenders while keeping away mainstream candidates.
The vote by the Republican Party Central Committee was 16 yeas to 0 nays.
Party Chairman Jeff Kaufmann said he was pleased with the outcome of the vote, after saying earlier in the week that he had a "hunch" that members would vote as such.
"I knew in the end we would circle the wagons. We have a unified party at this point," he said. "This was about making sure the (Republican National Committee) is comfortable about what we're doing."
The event will be held in August. Kaufmann said the exact date and location will be decided "within weeks, not months."
Among the critics of the poll are such prominent Republicans as Gov. Terry Branstad.
However, the governor's office said Branstad "looks forward to working with the Republican Party of Iowa and the State Central Committee to make it a successful event."
Committee members said the poll energizes the party base and serves as an important early test of campaign strength.
"I think what's so valuable is that it brings Iowans into the political arena," committee member Trudy Caviness said. "To move our country forward, we have got to have more informed and active young and old."
The RNC's legal counsel told Kaufmann on Thursday that continuing to have the straw poll wouldn't jeopardize the Iowa's status as the first state to hold a primary in the presidential election cycle, as long as party officials make clear the poll is unofficial and unscientific.
"Most people who come to the straw poll intuitively know that this is snapshot in time," Kaufmann said in response. "They know the difference between a scientific poll."
First conducted in 1979, the Iowa straw poll has grown from a county GOP fundraiser stop to a large event on the Iowa State University campus, where candidates spend heavily to entertain supporters.
The poll has been a lackluster predictor of who will win the GOP nomination. Its winners in 1979 (George H.W. Bush), 1987 (Pat Robertson), 2007 (Mitt Romney) and 2011 (Michele Bachmann) did not win the nomination. Only twice — in 1995 (Bob Dole, who tied with Phil Gramm) and 1999 (George W. Bush) — did the straw poll winner go on to win the GOP nomination.
In 2011, about 17,000 people turned out — far less than the roughly 120,000 who voted in the January 2012 caucuses. Bachmann, a Minnesota congresswoman, spent $2 million on the event and won the poll, while Romney, the eventual nominee, chose not to participate. Former Minnesota Gov. Tim Pawlenty dropped out of the nomination race after a third-place finish.
The Associated Press contributed to this report.