Intel Chief Warns of Threat From Iran, Cybercrime at House Hearing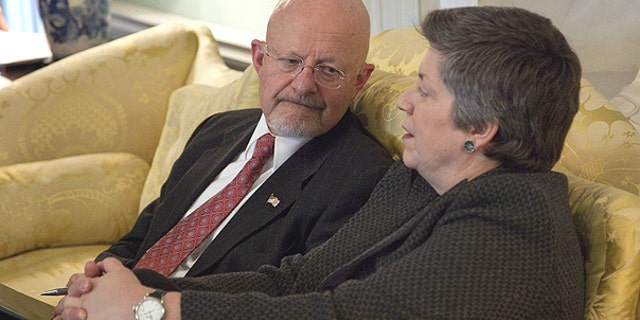 NEWYou can now listen to Fox News articles!
The top U.S. intelligence official painted a dire picture Thursday about the threats posed by Iran, cybercrime and other forces, as he testified on Capitol Hill about international security.
Director of National Intelligence James Clapper told a House committee that fighting terrorism, namely Al Qaeda, remains the intelligence community's top priority. He said Al Qaeda remains determined to attack the West, target Americans for recruitment and spawn affiliate groups around the world. But he outlined a string of other threats that he described as mounting and menacing.
On Iran, he warned that the government's crackdown on protesters in 2009 presaged a troubling period for the regime. He suggested the country's nuclear program is poised to produce weapons if the regime wishes.
"We see a disturbing confluence of events," he said. "An Iran that is increasingly rigid, autocratic, dependent on coercion to maintain control and defiant toward the West, and an Iran that continues to advance its uranium enrichment capabilities along with what appears to be the scientific, technical and industrial capacity to produce nuclear weapons if its leaders choose to do so."
He also described North Korea's nuclear and missile program as a "serious threat," and went on to highlight the danger posed by cybercrime.
"The threat is increasing in scope and scale, and its impact is difficult to overstate," Clapper said.
He cited estimates that about 60,000 new malicious software programs or variations are identified every day. Clapper said that's coupled with a rise in intellectual property theft -- a scourge he said was estimated to cost businesses worldwide $1 trillion in 2008.
"We believe this trend has only gotten worse," he said.
Clapper, who spoke before the House intelligence committee, was one of several intelligence and defense officials being grilled Thursday on Capitol Hill.
Addressing concerns that the intelligence community was not adequately prepared for the uprisings that have taken place in Tunisia, Egypt, and elsewhere in the Middle East, Clapper defended the intelligence community's performance.
"But we are not clairvoyant," he added.
The threat assessment hearing is often described as the most important of the year because the director of intelligence lays out the 16 major intelligence agencies' priorities. It drives the agenda for the intelligence community and the congressional committees that must decide what issues to tackle and what programs to fund.
For the past two years, Clapper's predecessor, retired Adm. Dennis Blair, faced the lawmakers alone. But Clapper has reverted to the previous practice of bringing other top agency chiefs with him. Sitting shoulder to shoulder with Clapper were CIA Director Leon Panetta, National Counterterrorism Center Director Michael Leiter, and the directors of the Defense Intelligence Agency and the National Security Agency.
The hearing comes a day after Homeland Security Secretary Janet Napolitano told the House Homeland Security Committee that the terrorist threat to the United States is at its highest level since the attacks of Sept. 11, 2001. During the same hearing, Leiter said Al Qaeda's offshoot in Yemen is "the most significant risk to the U.S. homeland."
The hearing was also a chance for the new House Intelligence Committee chairman, Republican Mike Rogers of Michigan, to lay out his own priorities. Rogers and the top Democrat, Rep. Dutch Ruppersberger of Maryland, have said they'll work to tighten oversight of the intelligence community.
Rogers is a former FBI agent who won credit throughout the intelligence community by visiting far-flung CIA and defense intelligence posts in war zones like Afghanistan. He is credited with championing the expanded use of armed drones by the CIA to target militants in Pakistan's lawless tribal regions.
On Wednesday, the offices of Rogers and Ruppersberger announced their committee had voted unanimously to allow a handful of House appropriations committee members and staff to attend classified briefings and hearings so they're better informed about the programs they're voting to fund.
Both lawmakers also hope to pass a bill this year to pay the intelligence budget. The last such bill, caught in a tug of war between Congress and Bush and Obama officials, took six years to become law.
Rogers also calls for legislation to address the legal morass of militant detainee issues, including clarifying who can detain a suspect, where they can be held and how they can be questioned.
The Associated Press contributed to this report.