Insurgent Dem threatens to upset Pelosi ally in Md. Senate battle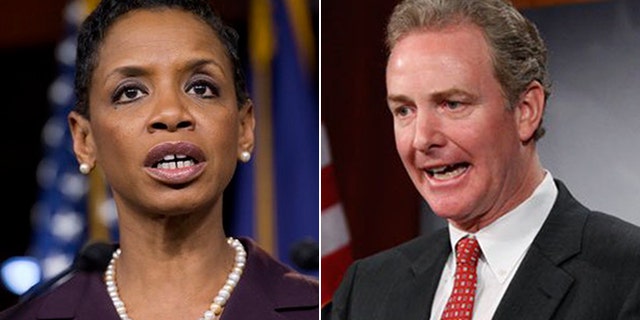 NEWYou can now listen to Fox News articles!
Maryland Rep. Chris Van Hollen, a big ally of Nancy Pelosi and other top Washington Democrats, was expected to have a clear path to the state's open Senate seat. But fellow Maryland congressman Donna Edwards and her insurgent campaign is poised for an upset victory -- in a contest often being defined by race and gender politics.
As part of House Democratic leadership, and with enough name recognition to raise millions, Van Hollen was almost a sure thing when Elijah Cummings, another Maryland Democratic congressman, and a presumptive frontrunner, decided in February not to run.
However, the under-funded and lesser-known Edwards has run a resilient campaign, with a message of economic hope and prosperity for the work-class that is resonating with women and black voters.
"She is out of the populist wing," says Nathan Gonzales of the non-partisan Rothenberg and Gonzales Political Report. "There's some real value now in delivering that message in a primary. There's a similar divide in the presidential primaries. Look at Bernie Sanders. … Being part of the establishment and leadership is no longer what it once was for voters."
An NBC News/Maryland Marist poll released Wednesday shows Van Hollen with a 44-to-38 percent lead over Edwards, a black, single mother whose former struggles to afford health insurance has become part of her campaign.
The poll follows one released in late-February by The Washington Post that showed Van Hollen leading by just 4 percentage points and one by The Baltimore Sun in mid-March that showed him trailing Edwards by as many as 10 points.
The Post poll also showed Edwards leading Van Hollen among likely female voters, now the biggest voting bloc in recent presidential election years, and black voters, who make up two-thirds of registered Maryland Democrats.
State Sen. Delores Goodwin Kelley, a Baltimore County Democrat, said Wednesday that the contest being thrust into the framework of race and gender politics is "kind of sad," considering it's more about voter demographics.
Nevertheless, Kelley, a black female, is voting for Van Hollen.
"If you really want to get the job done, you have to pick the best person," said Kelley, who served roughly 12 years in the state legislature with Van Hollen. "When one person is clearly more knowledgeable, works better with others, is willing to do the heavy lifting, now is not the time to make an historic statement."
As proof of Van Hollen's fundraising prowess, he reported on Friday raising $1.8 million in the first three months of this year.
To keep pace, Edwards has gotten some huge help from EMILY's List, the liberal group dedicated to getting pro-choice women elected to office. A PAC supporting the group has reportedly spent roughly $2.4 million so far on the Edwards campaign.
The winner of the April 26 primary will in November likely take the seat of retiring Democratic Sen. Barbara Mikulski, considering 56 percent of registered Maryland voters are Democrats, more than double the number of registered Republicans.
Early primary voting started this week.
Edwards certainly has a natural advantage, considering her Prince George's County-centric congressional district has a large black population, compared to Van Hollen's Montgomery County-based district, also in suburban Washington, which is made up of more white and affluent voters.
However, the race could potentially be decided by who performs best in Baltimore City.
Edwards has at times been criticized for being difficult in Congress, across the aisle and compared to Van Hollen, a member of House Minority Leader Pelosi's leadership team and the top Democrat on the House Budget Committee.
"She's such a purist about who she will talk to and work with that it's almost paralyzing," Kelley said.
Edwards campaign spokesman Ben Gerdes said this week that his candidate "doesn't shy away" from being who she is, which includes a being a single parent and black female lawmaker.
"Who she is has shaped the type of legislation she supports," Gerdes said. He also said Edward's closing strategy will be the same as what got her to the threshold of a potential upset victory.
"People care about the same things -- good jobs, good schools, getting rid of the heroin epidemic," Gerdes said.
Key issues like Social Security and more recently gun control have helped define the race, in which the two progressive candidates are ideologically close.
Edwards has tried to suggest Van Hollen would cut Social Security to reduce the federal deficit. But Pelosi and others have defended him as a strong supporter of entitlements for the poor and elderly, and for ObamaCare.
Edwards and supporters are also now using ads to try to tie Van Hollen to the National Rifle Association because he led efforts on a 2010 bill to create more transparency in campaign finance reporting that included exemptions -- or "carve outs" -- for the NRA, in an apparent attempt to garner more support.
Van Hollen has fought back by arguing that Cummings and President Obama supported the legislation, which failed in the Senate, and points to his long political career of being tough on guns.
"We're confident that Chris's proven track record of getting results and vision for the future are what Marylanders want in their next U.S. senator," Van Hollen spokeswoman Bridgett Frey said Friday. "Congresswoman Edwards has focused her campaign on false and misleading attacks because she's trying to hide her record of ineffectiveness. But Maryland families want a progressive leader who turns values into action."