In Peru, Pence to brief Latin American leaders on Syria strike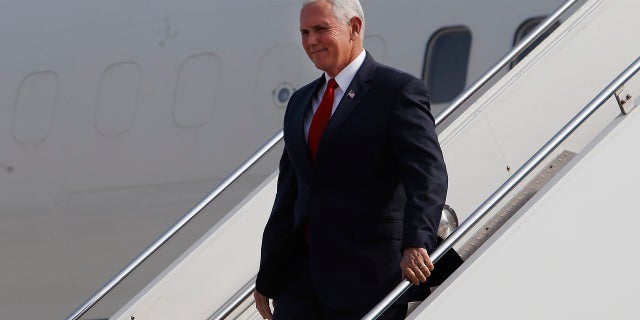 NEWYou can now listen to Fox News articles!
In Peru on Saturday, Vice President Mike Pence plans to address Latin American leaders on Friday's U.S.-led airstrikes in Syria, which were a response to last week's suspected chemical attack by the Assad regime.
Pence is filling in for President Donald Trump, who decided to skip the Summit of the Americas in Lima, Peru, so he could manage the U.S. response in Syria.
Pence was at his hotel in Lima when Trump announced the retaliatory airstrikes on Friday night from the White House.
Aides said Pence was in touch with Trump "multiple times" as he traveled to Peru aboard Air Force Two and also conferred with newly appointed national security adviser John Bolton.
At the summit, the vice president also plans to meet with Mexican President Enrique Pena Nieto, who has yet to meet with Trump amid an impasse over the wall Trump has pledged to build along the U.S.-Mexico border.
Pence's meeting with Pena Nieto will follow Trump's recent calls for National Guard troops to be stationed along the border.
Much of Pence's message at the summit will be aimed at building support for further isolating Venezuela, which has faced a political crisis under President Nicolas Maduro.
The vice president said Maduro has turned Venezuela into a dictatorship and has brought about "abject misery."
The U.S. has sanctioned Maduro and dozens of top officials, accusing the country of human rights abuses.
Pence announced that the U.S. would provide nearly $16 million in humanitarian assistance to Venezuelans who have fled their country and met with opposition leaders who pleaded for more sanctions.
In meetings with Latin American leaders, Pence plans to promote "good governance and democratic institutions" and urge allies to maintain pressure on Maduro.
Maduro was barred from the summit over his plans to hold a presidential election that the Venezuelan opposition is boycotting and that many foreign governments consider a sham.
Pence also met with a Cuban opposition leader along the sidelines of the international summit.
Pence told Rosa Maria Paya Acevedo Friday that the Trump administration stands with the Cuban people.
Trump has partially rolled back former President Barack Obama's diplomatic opening with the communist island.
Relations between the countries have also been strained amid mysterious sonic attacks that U.S. diplomats in Havana said have left them with ailments including headaches, hearing problems and concussions.
Pence is also expected to meet with the leaders of Argentina, Chile, Colombia and Peru.
The Associated Press contributed to this report.