In Middle East, Kerry urges US allies to unite against terror 'spillover' in Iraq, Libya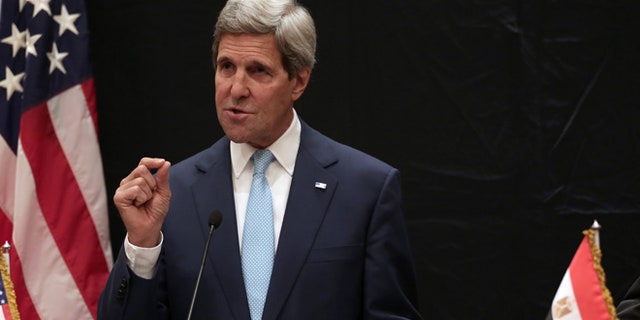 Secretary of State John Kerry told Egyptian leaders Sunday that the terrorism and extremism occurring now in Iraq is "the greatest threat to the region" and urged neighboring Middle East countries to work together to stop the "spillover effect."
"The greatest threat to all of this region … is these terrorists," Kerry said at a press conference in Cairo after meeting with newly-elected President Abdel Fattah el-Sissi. "No country is safe from that kind of terror."
Kerry said he discussed with el-Sissi the "grave security situation" in Iraq and that he will continue to have such discussions with other leaders this week during his trip through the Middle East and Europe.
Kerry left for Amman, Jordan, shortly after the press conference and a meeting with leaders of the Arab League.
He is also scheduled to go to Baghdad, then Brussels for a NATO meeting, and to Paris by Thursday, with a possible stop in Saudi Arabia on Friday.
"It's important for us to work together [to address] the challenges of the spillover effect of terrorism and extremism," Kerry said. "That is true in Libya and Iraq."
His remarks follow calls from congressional leaders for the Obama administration to strengthen ties with Arab allies to help in Iraq, where Islamic extremists and Sunni militants opposed to Tehran have seized several towns and cities.
Kerry also singled out Libya, where a U.S. ambassador and three other Americans were killed on Sept. 11, 2012, at an outpost in Benghazi.
And he defended U.S. foreign policy in Iraq, particularly against concerns raised by Iran, that the United States was "putting yes men in power in Iraq."
He argued the U.S. has the same interests as the Iraqi citizens – for Prime Minister Nuri al-Maliki to create a government that includes Shiites, Sunnis and Kurds to help unite the country and end the sectarian fighting.
Kerry is the highest-level American to visit Egypt since el-Sissi took office, as Washington presses the former army chief to adopt more moderate policies.
Economic and security problems are undermining Egypt's stability, and Kerry's visit signals an attempt by the administration to thaw its relationship with a longtime Mideast ally.
"I came here today to reaffirm and strengthen the important, historic partnership between the United States and Egypt," Kerry said. " The U.S. will contribute and work toward economic support and the transformation of Egypt."