In historic first, two California Democrats heading to runoff election for U.S. Senate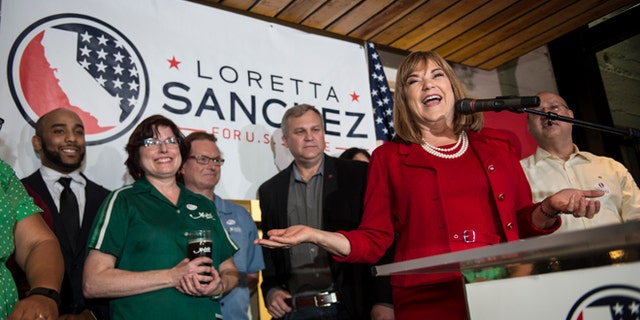 In an outcome that reaffirms the Republican Party's diminished stature in the nation's most populous state, two Democrats – both minority women – are headed to a November runoff for the state's open U.S. Senate seat.
Ten-term Congresswoman Loretta Sanchez and state Attorney General Kamala Harris will meet at the ballot in what will be the first time that Republicans are absent from the state's race for the Senate.
The two were among 34 candidates seeking the seat being vacated by retiring Sen. Barbara Boxer, a liberal favorite first elected a generation ago, in 1992.
"Hopefully we'll see what Miss Harris stands for, I haven't really gotten an indication of that yet," Sanchez said of the coming runoff. "I know where I stand on issues, I've got 20 years of votes."
Harris had a wide lead in unofficial returns and in a forceful showing was ahead in all but a handful of the state's 58 counties. Sanchez, from Orange County, had a secure hold on second place.
"The stakes are high. The eyes of the country are on us, and I know we are prepared to do ourselves and our state and our fellow Californians proud," Harris told cheering supporters at a celebration rally.
She warned that voters in the upcoming campaign would "hear a lot of that rhetoric that tries to divide us, that is trying to tell us that somehow, we should start pointing fingers at who all among us is to blame, instead of understanding that instead, we should be embracing and wrapping our arms around each other, understanding we are all in this together."
With 3.7 million votes tallied, Harris had about 1.5 million votes, or 40 percent. Sanchez was at 17 percent, with about 640,000 votes.
Harris performed strongly in the San Francisco Bay Area, her stronghold, but was also leading in strongly Hispanic Los Angeles County and was about tied with Sanchez in the congresswoman's home county, Orange.
Republican candidates were lagging in single digits. Duf Sundheim, a Silicon Valley lawyer and a former chairman of the California Republican Party, was leading a cluster of Republicans trailing the two Democrats.
In a year when millions of voters embraced outsider candidates in the presidential contest, California Senate voters appeared impressed with the two Democrats' deep experience.
Hoai Le, a 62-year-old mechanic from Santa Ana, said he was backing Sanchez because of her two decades in Congress.
"She's been there for a while. She knows how the system works," said Le, an independent, after casting his ballot at a community center. "She can do a lot better than the new guy."
Sanchez, if elected, could become one of the first Latinas to hold a U.S. Senate seat. Catherine Cortez Masto, who is also Hispanic, is the Democratic candidate for outgoing Sen. Harry Reid's seat in Nevada.
Jeanette Wright of San Francisco, a 47-year-old executive assistant with the state, said she was impressed with Harris, a career prosecutor.
"She's a strong woman. She's been around. She knows what's going on with San Francisco. She knows what's going on with the community," Wright, a Democrat, said of the attorney general.
If elected this fall, Harris, the daughter of immigrants from India and Jamaica, would set historical marks. She would become the first Indian woman to hold a Senate seat and the second black woman elected to the Senate. Illinois Sen. Carol Moseley Braun was elected in 1992 and served one term.
California once was a reliable Republican state in presidential elections. But the party has seen its numbers erode for years, and it now accounts for a meager 27 percent of registered voters.
Democrats control every statewide office and both chambers of the Legislature, while holding a registration edge of nearly 2.8 million voters.
With 12 Republicans on the ballot — and none widely known to voters — the GOP vote was splintered Tuesday, undercutting the party's chances of advancing a candidate to November.
As fellow Democrats, Harris and Sanchez hold similar positions on many issues, including abortion rights and immigration reform.
Harris, 51, a career prosecutor, has played up winning a big settlement with banks accused of improper mortgage foreclosures and her work to defend the state's landmark climate change law.
Sanchez, 56, has stressed her national security credentials built up during two decades in Washington.
Based on reporting by the Associated Press.
Like us on Facebook
Follow us on Twitter & Instagram