In Doral, Donald Trump insists he is popular among Hispanic voters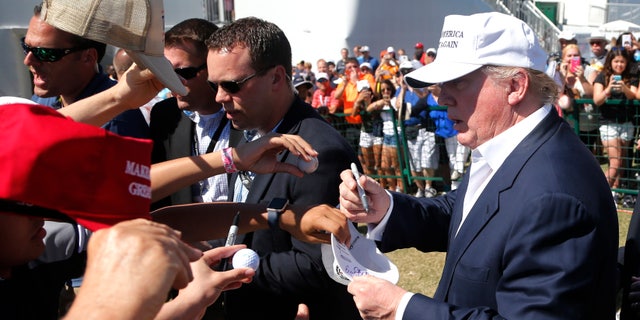 With just weeks to go ahead of the primary vote in Florida, Donald Trump is insisting that he is popular among Hispanics – a potentially significant factor in the state's primary on March 15.
Speaking at his Trump National course in Doral, Florida – where he is at the final round of the Cadillac Championship – the businessman said he has 1,4000 employees there, about 70 percent of whom he described as Hispanic.
Trump says that his employees at Doral get "good salaries, I take care of education, health care, a lot of the things that people don't have."
Trump's disparaging comments he made earlier in his campaign about Mexican immigrants led to swift fallout in the golf, world with the PGA of America last year canceling its Grand Slam of Gold at Trump's course in Los Angeles.
Singer Ricky Martin also pulled his annual Ricky Martin Foundation charity golf tournament from the Trump International Golf Club in Rio Grande, Puerto Rico because of the businessman's comments.
During his stop in Doral on Sunday, Trump once again said that Florida Sen. Marco Rubio should drop out of the race for the Republican nomination after winning no state contests on Saturday night. Rubio has won two contests this election - in Minnesota on Super Tuesday and Puerto Rico on Sunday.
The Florida senator is projected to win all 23 delegates from Puerto Rico, adding to his tally. Trump currently has 389 delegates, while Texas Sen. Ted Cruz is in second place with 302 delegates.
With his landslide win in Puerto Rico, Rubio's tally would go up to 149. He hopes this win will give him a boost in Florida, which has seen a a record number of Puerto Ricans who have fled the island in recent years because of the ongoing economic woes.
Based on reporting by the Associated Press.
Like us on Facebook
Follow us on Twitter & Instagram