In a Rare August Session, Senate Passes $600 million Border Bill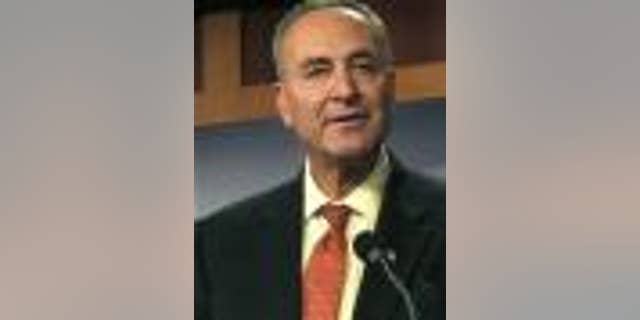 In the briefest of sessions and without the slightest bit of the usual acrimony in the Senate chamber these days, members unanimously approved a $600 million border enhancement bill Thursday that increases the boots on the ground at the U.S. border with Mexico - 1,000 more Border Patrol agents and 250 Customs and Border Protection officers, as well as the deployment of unmanned surveillance drones.
Sen. Chuck Schumer, D-NY, the bill's author, hailed the "rare bipartisan consensus," as he departed the chamber after the 30-minute session, a necessity after the Senate first passed the bill two weeks ago but ran into a constitutional issue that required House passage of a separate measure identical in substance.
The proceedings went off without a hitch, with no Republicans returning, though there were moments when Mother Nature looked as if she might filibuster the bill. Sens. Schumer and Ben Cardin, D-MD, were scheduled to be in the chamber at 10am ET to shepherd the bill to passage, but a powerful, unexpected storm nearly scuttled the Democrats' plans.
Feeling good after a win Wednesday night by his beloved Yankees, Schumer said he hopped on an early morning flight Thursday, only to get stuck on the tarmac for nearly an hour as his destination city was pummeled by high winds, rain, and lightning. But the storm did not last long, and the senator was soon on his way, skidding into the chamber with just five minutes to spare, rushing to the nearby closet to grab his own lectern as none of the young pages were present to do their usual jobs. (Schumer was once a page, so he said it was "no big deal.")
Reporters joked back with the number three Democrat in the chamber, who is known to have designs on the majority leader's position, should its current occupant, Harry Reid of Nevada, not make it though this year's elections. Did Schumer like standing there in the Leader's position? "I'm happy to be in my seat I'm in, in every way!" Schumer said repeatedly in a raised voice (to be heard above the laughing).
And the commute was even more difficult for Cardin who lives just north of Baltimore. With accidents littering the highways around the DC metro area, the senator said his usual one-hour drive doubled in length.
Still, the two were all smiles as they completed their business and prepared to get on with their schedules for the day. They even took time to joke with reporters about how much easier it was in the chamber without anyone on the other side of the aisle.
Both said were sorely tempted to make a little mischief, as they held down their majority of two.
"We had a long list of things we were tempted to take up and pass, climate change, judicial nominations," Schumer joked with a Cheshire cat grin, noting that the senior floor staffer to Senate GOP Leader Mitch McConnell, R-KY, Dave Schiappa, had his own plans should there be any chicanery. "Dave said, 'My instructions were to get on the floor and have a fit, an actual physical fit to stop the proceedings," Schumer chuckled.
The bill, itself, is not without some controversy, however, despite its overwhelming congressional approval. Advocates of comprehensive reform say this bill does nothing, but Schumer said in his defense, "I think it can help. The other side keeps saying 'border security first,' and lots of moderates on our side want border security. So, we've done a tough border bill in a bipartisan way, even though it's not going to solve the problem."
The Schumer measure looks to raise fees on companies that bring in high tech workers under H-1B visas who quickly return to their home country. Schumer recently called these firms "chop shops," but on Thursday he said he had spoken incorrectly. "The word is 'body shops', because they do do labor arbitrage," Schumer said emphatically.
The Schumer bill, which he co-wrote with Sen. Claire McCaskill, D-MO, hits companies that employ less than 50 percent of their labor force with Americans with a $2,000 dollar increase in their work visa fees. The current fee is $2,500 dollars.
According to Schumer's office, the companies directly affected by the change are Wipro, Tata, Infosys and Satyam, all India-based firms. All have protested the move but to no avail, particularly in an economy struggling to recover from a recession with a steady, high unemployment rate.
But Schumer said the companies were not being singled out. "It's not four companies, but they are the major companies. They are misdirecting the purpose of the H1-B program...These companies recruit people only for the purposes of coming to America....recruiting them only for the purposes of lower cost," Schumer said, threatening, "Whether it's a company from Bangalor or Boston, we're going after them, because they are perverting the process."
The bill now heads to the President's desk for his signature.