Immigration whiplash? Trump says he won't sign Ryan's moderate bill, then WH apparently tries walking it back
President Trump on Friday morning said he would not sign a moderate immigration bill currently working its way through Congress -- although by the afternoon, the White House seemed to try walking it back, prolonging a day of confusion amid Congress' long fight for an immigration policy overhaul.
In an interview with "Fox and Friends", Trump said that while he was "looking at both" immigration proposals in Congress– one spearheaded by Republican Rep. Bob Goodlatte of Virginia and the more moderate bill proposed by House Speaker Paul Ryan, R-Wis. – he would not sign Ryan's so-called compromise bill because it lacked an emphasis on border security.
"I certainly won't sign the more moderate one," Trump said outside the White House on the eight-year anniversary of the Obama administration's announcement of the Deferred Action for Childhood Arrivals program. "I need a bill that gives this country tremendous border security."
A senior White House official speaking on condition of anonymity, however, told The Associated Press later in the day that Trump misspoke. The official said Trump believed that Fox News' Steve Doocy was referring to a separate push by Republican moderates to force a floor vote on a number of immigration bills — not the compromise bill.
"The President fully supports both the Goodlatte bill and the House leadership bill. In this morning's interview, he was commenting on the discharge petition in the House, and not the new package. He would sign either the Goodlatte or the leadership bills," White House Principal Deputy Press Secretary Raj Shah told reporters Friday evening.
Ryan's 293-page bill, which was presented to lawmakers on Thursday, does include a number of measures aimed at winning over the GOP's more moderate factions and even Democrats such as providing a path to citizenship for young immigrants.
But the bill also allocates $25 billion to border security – including technology, roadways and money for Trump's controversial border wall – authorizes National Guard troops at the U.S.-Mexico border, and calls for the deployment of a biometric entry-exit system for all entry ports that has long been under debate.
PRESIDENT TRUMP UNLOADS ON COMEY, 'SCUM ON TOP' OF FBI A DAY AFTER DAMNING IG REPORT'S RELEASE
Furthermore, it shifts away from the nation's longtime preference for family immigration to a new system that prioritizes entry based on merits and skills.
Despite the compromises made in Ryan's bill, Democratic lawmakers and a number of immigration advocates have voiced strong opposition to the measure and hammered the GOP over the family detention issue. Ryan's measure proposes keeping children in detention with their parents, undoing 2-decade-old rules that limit the time minors can be held in custody – a change sought by the White House.
Trump tweeted on Friday that the Democrats were forcing families to be broken apart and added that any immigration bill needs full funding for the border wall.
The Trump administration is also weighing whether or not to build a tent city in Texas to house between 1,000 and 5,000 unaccompanied minors.
GOP MODERATES' BID TO FORCE DACA VOTE FALLS 2 SIGNATURES SHORT
House Minority Leader Nancy Pelosi, D-Calif., called the legislation "nothing more than a cruel codification of President Trump's anti-immigrant agenda that abandons our nation's heritage as a beacon of hope and opportunity."
Kerri Talbot, the policy director at Immigration Hub, called it a "wish list" from top White House immigration adviser Stephen Miller that "would allow the Trump administration to jail children for long periods of time."
GOP leaders have said they may take up the family detentions issue separately, if needed, as the crisis of children being separated from their parents continues. Administration officials have said they need more money for detention beds to house the influx of immigrants resulting from the administration's "zero tolerance" policy of stepped-up border enforcement.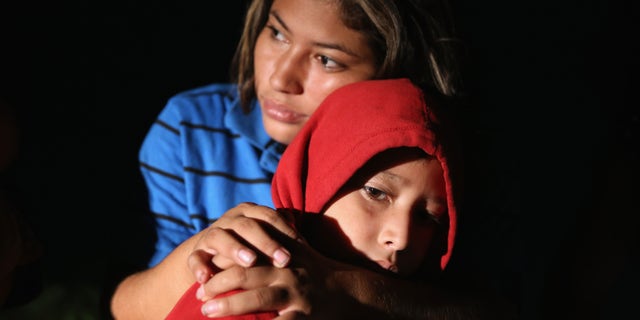 MEXICAN MAN DEPORTED THREE TIMES SENTENCED TO EIGHT YEARS IN FEDERAL PRISON
With Trump saying he won't sign the compromise bill that leaves Goodlatte's more conservative legislation under consideration.
The bill – titled the Securing America's Future Act – is much more in line with the president's stance on immigration. It authorizes the construction of the border wall, calls for the hiring of thousands more Border Patrol agents and Customs and Border Protection officers and also permits the detention of children apprehended at the border with their parents.
"Goodlatte's bill is not perfect, but it is better than Ryan's," Mark Krikorian, the executive director of the Center for Immigration Studies, a conservative think tank based in Washington D.C., told Fox News. "Ryan's bill not only provides amnesty for people with DACA, but adds even more people."
DACA, the Obama-era policy that allows children brought to the U.S. illegally by their parents to apply for a renewable two-year referral from deportation and to become eligible for a work permit, has been one of the most hotly contested issues in the immigration debate since it was announced eight years ago.
The Trump administration announced in September of last year plans to end the program and gave Congress six months to pass the so-called DREAM Act, which has been batted around in Congress since 2001 and would provide a path to citizenship for the 700,000 DACA recipients.
Goodlatte's immigration bill would only give DACA recipients a three-year renewable legal status and the use of existing paths to permanent resident status, while Ryan's legislation provides a path to citizenship for as many as 1.8 million young people who have been living in the U.S. illegally since childhood.
Eventually, young people, who are under 31 years old and have been in the country since at least June 2007, could begin to be awarded green cards based on a point system. It prioritizes education, English language proficiency, military service and continued employment. After that, they could apply for citizenship, as is the situation under current law for those with permanent legal status.
Given the support of moderate Republicans and some Democrats, Ryan's compromise bill has the chance to make it out of the House, but Goodlatte's measure has been opposed by Democrats and many centrists in the GOP. Neither bill is expected to make it through the Senate even if they pass in the House.
Fox News' Kelly Chernenkoff, Chad Pergram and The Associated Press contributed to this report.