Huntsman Makes it Official in South Carolina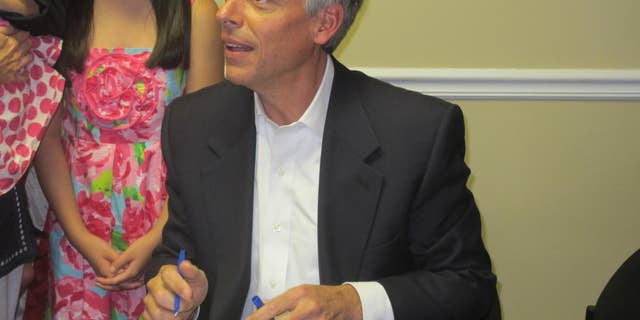 NEWYou can now listen to Fox News articles!
COLUMBIA, SC -- Jon Huntsman officially became a candidate for the first-in-the South GOP presidential primary Wednesday afternoon, after filing his paperwork in South Carolina's state capital of Columbia.
"I could not think of a better place to be on the first official day as a candidate than here in South Carolina," Governor Huntsman said in a press conference Wednesday afternoon. "This is going to be a state that is going to be incredibly important for our campaign...a state we are going to take very, very seriously and work very, very hard in."
Huntsman was joined by his wife and five of his seven children (along with his son-in-law) as he filed his paperwork at the South Carolina Republican Party in downtown Columbia. This is Huntsman's second time in the Palmetto state in the past two months. He came in May to speak at a University of South Carolina commencement and to meet privately with Republican Governor, Nikki Haley.
"We can't be everywhere. But we can be in some early states with a formidable presence and expect a very solid outcome," Huntsman told Foxnews.com. "In New Hampshire and South Carolina, I think we can be extremely competitive. The pathway is starting in New Hampshire, moving to South Carolina, and then down to Florida."
Though many have already labeled Huntsman as a 'moderate' Republican, he believes his record from Utah can win the votes of the most conservative Republicans.
"I am a conservative problem solver and I would simply invite people to look at my record....understand what we've done and I'm confident people are going to say 'he is a conservative problem solver. I think he's ok,'" said Huntsman.
The former Utah Governor officially declared his run for the presidency on Tuesday morning in New Jersey. He leaves South Carolina Wednesday evening and heads to Florida, where his campaign headquarters are based.