Huntsman Announces Presidential Bid, Looks to Shake Up GOP Field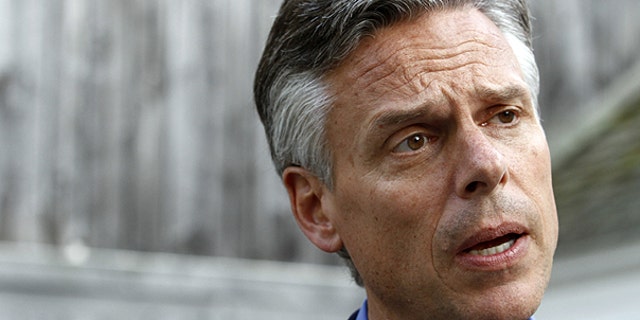 NEWYou can now listen to Fox News articles!
Former Utah Gov. Jon Huntsman announced his campaign for president Tuesday morning, offering an alternative candidacy aimed to excite an uncommitted GOP base.
With the Statue of Liberty as his backdrop, the former ambassador to China under President Obama cast his candidacy as something entirely new to the race. While he pledged to keep his campaign civil, he took an early and direct shot at his old boss in outlining his rationale for running.
"We need more than hope," Huntsman said. "We need answers."
He pitched his late-to-the-field campaign as the best option to avert what he described as the fiscal "disaster" looming ahead. He pledged not to shy away from making the "hard choices" necessary to cut the budget, warning that entitlement spending and interest on the debt will otherwise eat up the entire budget by the end of the decade, sending the country on a downward spiral.
"For the first time in history we are passing down to the next generation a country that is less powerful, less compassionate, less competitive and less confident than the one we got," he said. "This ... is totally unacceptable and it is totally un-American and it need not, must not and will not be our permanent condition."
After months of flirting with a bid, the infrastructure of Huntsman's campaign is now up and running, including his official campaign website and Twitter account.
In an email to supporters he said: "Our campaign is different. Our ideas are different. Our results will bring America back to the top."
Huntsman gave his first speech as a candidate at Liberty State Park in New Jersey. It's the same place where Ronald Reagan announced his candidacy in 1980.
Despite the brief-but-dismissive reference to Obama's "hope" theme in the last election, Huntsman pledged to keep his campaign civil.
"I don't think you need to run down someone's reputation in order to run for the office of president," he said.
Though he may have a tough time convincing conservatives to support someone who served inside the Obama administration, the ex-governor finished a strong second in a Republican straw poll over the weekend and has been hitting the talking points considered most critical to the 2012 election -- jobs and fiscal responsibility.
He argues that with his business background and fiscally conservative views he can help the U.S. economy rebound.
Huntsman's moderate stance on some issues and his service in the Democratic Obama administration could work against him in the Republican primaries, where conservative voters dominate, even though he also has worked for three Republican presidents. At the same time, he remains a candidate to be feared by the Democrat in the White House should he somehow capture the nomination.
Huntsman's Mormon faith could also be a liability: A Gallup poll released Monday found that one in five Americans said they would not vote for their party's nominee for president if that person was a Mormon. Mormonism could also be an issue for perceived Republican front-runner Mitt Romney, the former governor of Massachusetts.
As Utah governor, Huntsman supported legislation to deal with climate change and backed civil unions for gay couples, positions that angered the solidly conservative Republican base but had little impact on his overall popularity.
Still, he was re-elected with 75 percent of the vote in 2008 in the solidly conservative state. He resigned as governor less than a year later when Obama tapped him to serve as his ambassador to Beijing. He learned to speak Mandarin while on a Mormon mission to Taiwan.
Taking up his post in Beijing amid sometimes unsteady U.S.-China relations, Huntsman prodded the Chinese on human rights and worked to expand U.S. engagement with the growing economic powerhouse.
Democrats may have thought that putting Huntsman to work for Obama effectively took him out of the 2012 political equation, but that appears to have been a flawed assumption.
As he starts his campaign, the 51-year-old Huntsman ranks in single digits in polls of Republican voters.
But he would potentially make a tough opponent for Obama, possibly attracting moderates and independents who often swing races. He can rely on his vast personal fortune to help finance his campaign.
Although Romney is seen as leading the Republican pack, the race is considered wide open and some big names have still not announced whether they will run. They include former Alaska Gov. Sarah Palin, the party's 2008 vice presidential nominee, and George W. Bush's successor as Texas governor, Rick Perry.
After his announcement, Huntsman plans to travel to New Hampshire, which holds the first presidential primary of the campaign season, and to Florida, a perennial battleground and host of the 2012 party nominating convention. He also plans stops in his home state of Utah and in the early caucus state of Nevada.
The Associated Press contributed to this report.