Huntsman Allies Assemble Campaign, Need Candidate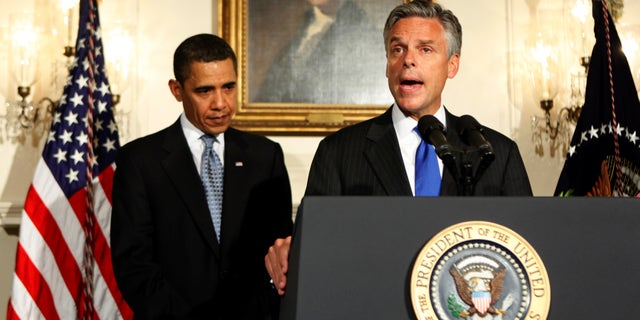 NEWYou can now listen to Fox News articles!
The campaign is revved and ready, a turn-key operation if there ever was one, with high-powered political strategists and big-time fundraisers who are more than eager to make a splash in the 2012 Republican presidential race as early as mid-May.
Now all they need is a candidate.
Or more precisely, a candidate named Jon Huntsman, who has suggested that he's open to running.
"We may have one final run left in our bones," President Obama's ambassador to China told Newsweek late last year. Weeks later, he announced his departure this spring from the high-profile diplomatic post in a Democratic administration.
When he returns to Washington next month, the former Utah governor will have a full-fledged campaign-in-waiting at his disposal, built by supporters who insist they orchestrated it all without Huntsman's direction. Their theory: The wide-open Republican field has an opening for a former business executive who has adopted a series of moderate positions.
Money wouldn't be an issue. The one-time Mormon missionary to Taiwan would have access to a personal fortune and deep-pocketed Mormon donors.
His loyalty to the GOP would be an issue. Huntsman worked for Obama after a GOP career that included stints in Ronald Reagan's White House, as President George H.W. Bush's ambassador to Singapore and as President George W. Bush's trade envoy.
Several allies associated with Huntsman's recently created political action committee sketched out their thinking on the condition of anonymity because legal barriers prevent him from orchestrating a presidential bid while representing the United States in Beijing.
"There are a lot of limits on what you can and can't do with PACs -- don't make any mistakes, keep your powder dry," said Peter Spaulding, a former top GOP elected official in New Hampshire and part of group of Huntsman backers who met in New Orleans recently to talk about a would-be campaign.
The telegenic former governor from a solidly conservative state long had been considered a serious potential challenger to Obama in 2012. The Democrats' political team sought to sideline Huntsman early, offering the Mandarin speaker the China job in 2009. He accepted. The White House was credited by insiders with vanquishing a GOP rival.
A year later, Huntsman bought a $3.6 million Washington mansion that most recently housed contestants on Bravo's "Top Chef" reality show, and he hinted at national aspirations in interviews.
Since then, strategist John Weaver, who directed Arizona Sen. John McCain's failed presidential campaign in 2000 and set up McCain's 2008 presidential operation before leaving when it went broke, has been overseeing the creation of Horizon PAC. Its website doesn't mention Huntsman, but includes a giant red letter "H."
It's essentially a shadow campaign for Huntsman. Supporters are not-so-quietly putting the pieces in place to be ready to move if Huntsman gives them a clear go-ahead.
They're floating a rationale for his candidacy.
-- Huntsman could attract independents and centrists while the other candidates fight over -- and split the vote of -- conservatives who dominate GOP primaries. His support of civil unions for gay couples and belief in humans' role in climate change, not to mention his time in the Obama administration, could enrage the party's powerful right wing or alienate tea party voters.
--He would focus on states with nominating contests where non-Republicans are permitted to vote and where his moderate positions could be attractive. He'd likely skip conservative Iowa, where evangelicals likely would view his Mormonism skeptically. He'd play hard in New Hampshire, where cranky Yankees tend to favor fiscal conservatives and are generally agnostic on social issues. South Carolina, with an open primary, would get attention. So would Florida and Michigan.
They're testing messages.
--The Horizon PAC website suggests themes of service to country and solutions to the nation's ills. It says, "Maybe someday we'll find a new generation of conservative leaders. What happened to actual lasting solutions to problems?"
They're trying out comebacks for likely attacks.
--On Huntsman's link to Obama, they say Huntsman was serving his country, not a partisan administration, and he would be the best positioned to go head-to-head against his former boss. But Obama and top aides already are trying to make the relationship a liability for Huntsman, a taste of what's to come if he runs.
"During his tenure, Jon has been an outstanding advocate for this administration and for this country," Obama has said. The president also has joked that Huntsman "having worked so well with me will be a great asset in any Republican primary."
Weaver has spent the past few months recruiting and hiring experienced GOP talent, many of whom have never even met the ambassador, to study McCain's campaign against Obama and learn from it.
Weaver, who has worked for both Republican and Democratic candidates, has been leading daily strategy talks for a team that draws heavily from McCain's previous bids.
Hollywood-based ad maker Fred Davis and his Washington-based partner Brian Nick would help shape his image. Former Republican Rep. Tom Loeffler of Texas, one of the party's best fundraisers who helped McCain and then-Texas Gov. George W. Bush collect millions, has talked with his friends about money. Matt David, who worked on McCain's 2008 run, is the group's communications chief while fellow McCain alumni Jake Suski and Tim Miller are spokesmen.
It's not unheard of for an ambassador to figure prominently in presidential politics -- or have a campaign ready for him.
In 1964, supporters of Henry Cabot Lodge, the U.S. ambassador to South Vietnam under President Lyndon B. Johnson, organized a write-in campaign that won him the New Hampshire GOP primary but little more. Lodge never returned to the United States, and Republicans ended up nominating Arizona Sen. Barry Goldwater.
A decade earlier, it was Lodge who orchestrated a similar shadow campaign for Dwight D. Eisenhower, who was leading NATO in Europe. Eisenhower ended up winning the 1952 Republican nomination; he returned to the United States to accept it and won the presidency as a first-time candidate.
"Everyone was waiting to find out whether Eisenhower was Republican or a Democrat," said Jeremy Mayer, an assistant professor at George Mason University who teaches on the American presidency. "When they found out he was a Republican, there was a campaign waiting for him."
Just like there's one for Huntsman.