Hundreds Of Millions In U.S. Aid, More Detention Centers Planned To Deal With Border Crisis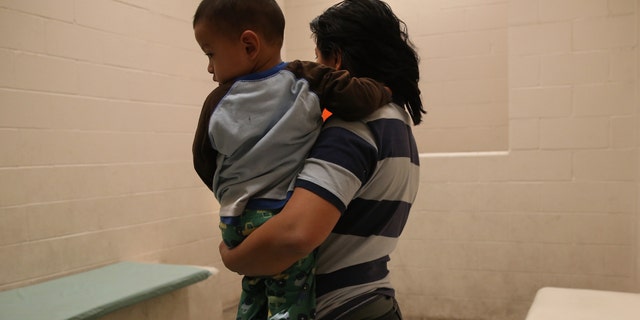 NEWYou can now listen to Fox News articles!
Under fire over a growing tide of Central Americans, including thousands of unaccompanied minors arriving across the U.S.-Mexico border, the Obama administration plans to provide hundreds of millions of dollars in aid to the nations from which the migrants are coming, and to create more detention space to hold them.
More than 174,000 people, mostly from Honduras, El Salvador and Guatemala, have been arrested in Texas' Rio Grande Valley so far this year.
The administration announced Friday it will give those three countries $9.6 million to help local authorities reintegrate returned immigrants. Meanwhile, the U.S. Agency for International Development (USAID) will launch a $40 million program to help improve citizen security in Guatemala.
USAID will also start a $25 million crime and violence prevention program in El Salvador.
More than $18 million will be used to support community policing and law enforcement efforts to combat gangs in Honduras under the Central American Regional Security Initiative, or CARSI. The U.S. government will also provide $161.5 million for CARSI programs focused on security and government challenges in the region.
Also on Friday, Homeland Security Deputy Secretary Alejandro Mayorkas said the administration was actively looking for additional space to house immigrant families, primarily mothers with young children, caught crossing the Mexican border illegally.
He did not say how many people the new family detention centers would house or where they will be located.
The government currently operates only one such facility, in Berks County, Pennsylvania, with space for fewer than 100 people.
The United States has numerous detention facilities across the country, many of them operated for immigration authorities by private prison contractors. They usually house immigrants who have civil immigration violations, or request political asylum, as well as immigrants who have been charged with or convicted of a serious crime.
Although immigration officials call them detention centers and avoid the term jail, they often have many of the rules and feel of prison, complete with correction officers, detectors, restraints, head counts, attorney-client meeting rooms, visitation hours and uniforms for the detainees.
Families, especially with minors, are kept in less jail-like settings, although they are under constant supervision and not free to leave. Such facilities usually have more activities for the detainees, and provide classes for the children, among other things.
Family detention is an awful and damaging process. It profoundly and irreversibly affects the physical and mental health of children and breaks down parent-child relationships.
The plan to expand detention to accommodate families drew an immediate outcry from advocates for more lenient immigration policies, and also from Obama's fellow Democrats.
"I appreciate that the administration is taking a hard look at addressing the root causes of this crisis and putting resources into programs," said Sen. Robert Menendez, a New Jersey Democrat, in an emailed statement. "Development and security in the region, however, have been consistently underfunded and we are playing catch-up in the midst of a crisis."
"While the announcement of new funding is welcome news, I still think we are falling short in terms of meeting the crisis that has developed in our front yard," Menendez said. "I'll be holding hearings on this issue and expect that we are going to need to consider wholesale approach – in coordination with regional governments – similar to how we approached the crisis in Colombia in the 90s."
He objected to expanding detention as a way to handle the families.
"I don't think children should be locked up in jail," he said. "There is consensus that we must quickly address this refugee and humanitarian crisis, but to say that a child who is apprehended at the border with their parent must remain locked up throughout their judicial proceeding is simply a step too far."
The administration has released an unspecified number of them into the U.S. in recent months with instructions to report later to U.S. Immigration and Customs Enforcement offices. Mayorkas, the No. 2 official at the agency and former head of U.S. Citizenship and Immigration Services, told reporters he didn't know how many people have been released or subsequently appeared as ordered.
Mayorkas said the administration will also send more immigration judges, ICE attorneys and other immigration officials to the region to help process immigrants caught crossing the border illegally and, when possible, quickly return them to their home countries.
Family detention has long been a contentious issue for Homeland Security. In 2009 the department was forced to shutter a large family detention center in Texas after legal challenges about the conditions of the facility. And in 2012, ICE abandoned plans to accept bids for a new family detention center in Texas amid complaints from advocates about the possibility of housing immigrant families in jails.
Michelle Brané, Director of Migrant Rights & Justice Programs at Women's Refugee Commission, urged the administration in a statement to the press to consider alternatives to detaining families with children.
"Plain and simple, family detention is an awful and damaging process," she said the statement. "It profoundly and irreversibly affects the physical and mental health of children and breaks down parent-child relationships."
She said that a visit by her organization to a detention facility that housed families proved that such an approach did more harm than good.
"When we visited the Hutto facility in 2006, DHS claimed the facility was specially equipped to meet families needs and would put an end to the separation of families in detention," she said. "Instead, we found babies in prison jumpsuits, families sleeping in cells with open-air toilets, highly restricted movement and only one hour of recreation per day. Detainees were subject to alarming disciplinary tactics, including threats to separate children from their parents. After public outrage and lawsuits, that facility was closed for families."
The Associated Press contributed to this report.
Follow us on twitter.com/foxnewslatino
Like us at facebook.com/foxnewslatino