Hundreds cheer, jeer Kentucky's Senate candidates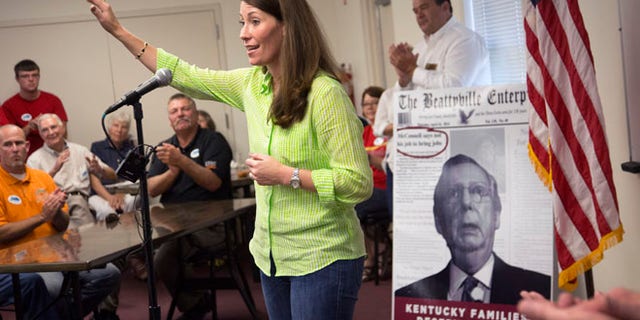 FANCY FARM, Ky. – For a church picnic, the congregation at Fancy Farm is anything but reverent.
Hundreds of people flocked to this small western Kentucky town on Saturday to cheer and jeer their way through speeches from Republican Mitch McConnell and Democratic challenger Alison Lundergan Grimes at a church fundraiser that doubles as the official start of Kentucky's campaign season.
Some Republican supporters carried signs touting "Alison's dilemma ... be a devout Democrat or a real Catholic." On the Democratic side, a supporter held a sign asking "What would Jesus do? Vote 4 Grimes."
Competing in one of the most-watched Senate races in the country, McConnell and Grimes put some snark of their own in their usual campaign rhetoric -- and sat just a few feet away from each other in a rare joint appearance. So far, their expensive campaign has been waged mostly through TV ads and news releases.
While Grimes, a Catholic, and McConnell, a Baptist, have hardly mentioned faith in their pitches for votes, religion was on display in the parish of the St. Jerome Catholic Church almost as much as the barbecue served up to picnickers and politicos.
St. Jerome church member Tony Thomas, a registered Democrat who supports McConnell, said he didn't know Grimes was Catholic. "If I was coming to a Catholic picnic, I would sure let that be known," Thomas said, adding: "It's not that we like Mitch McConnell, but it's a vote against Barack Obama."
Reba Cobb, a Cooperative Baptist Minister, said she found more of a connection between her faith and Grimes than her Republican opponent.
"I've studied scripture and I truly believe that Jesus is for justice for all people," Cobb said. "I believe in justice for everybody, and I believe that Alison represents that."
Both campaigns bused in hundreds of supporters from across the state who were as much a part of the speeches as the candidates. Those in red shirts backed McConnell, those in blue Grimes.
And they knew their lines, too. Grimes started a call and response that began with "Mitch McConnell" and ended with "doesn't care" from the sea of blue shirts to the left side of the stage.
"I so firmly believe in Alison that I wouldn't have missed it," said supporter Liz Toohey, who traveled four hours from Frankfort with the help of the Grimes campaign.
The red shirts chanted "Obama needs Grimes. Kentucky needs McConnell" during pauses in McConnell's speech.
McConnell supporter Sheila Hodges said she traveled from Tompkinsville with the help of the McConnell campaign to stand and sweat for four hours so she could shout her opinions, including, "No more Obama bots!"
"I'm sick of what's going on in Washington and I don't want her in Washington. She is going to be exactly what we've got there, just another minion for Obama," Hodges said.
Grimes used her speech to announce an endorsement from the United Mine Workers, a counter to the McConnell campaign saying Grimes is against the coal industry in Kentucky, the third-most coal producing state in the country.
She continued to criticize McConnell on pocketbook issues, including his vote against a bill that would have mandated fair wages for women workers.
"If Mitch McConnell was a TV show, he'd be `Mad Men,' treating women unfairly, stuck in 1968 and ending next season," Grimes shouted.
Seated behind Grimes during her speech, McConnell smiled through most of it. His speech contrasted his 30 years of federal government experience to Grimes, a first-term secretary of state responsible for state elections and business filings.
He poked fun at Grimes' comments last week about Israel's Iron Dome missile defense system -- she said it prevented terrorists from tunneling into Israel. But most of McConnell's speech was less about Grimes than it was about Obama, who remains unpopular in Kentucky.
"Kentucky is under attack from Barack Obama's administration, and we need to fight back," McConnell said. "There's only one thing Barack Obama needs to keep his grip on power. He needs the U.S. Senate."
And he drew cheers from the red shirts with another Grimes-Obama crack.
"Barack Obama has been a disaster for our country," McConnell said. "If you think about it, that's what you get for electing someone with no experience. He was only two years into his first job when he started campaigning for the next job. Sound familiar?"
Next week, both campaigns will visit the coal country of eastern Kentucky as former President Bill Clinton campaigns for Grimes and Republican Rep. Hal Rogers appears with McConnell.