Hugo Chavez Stable After Respiratory Infection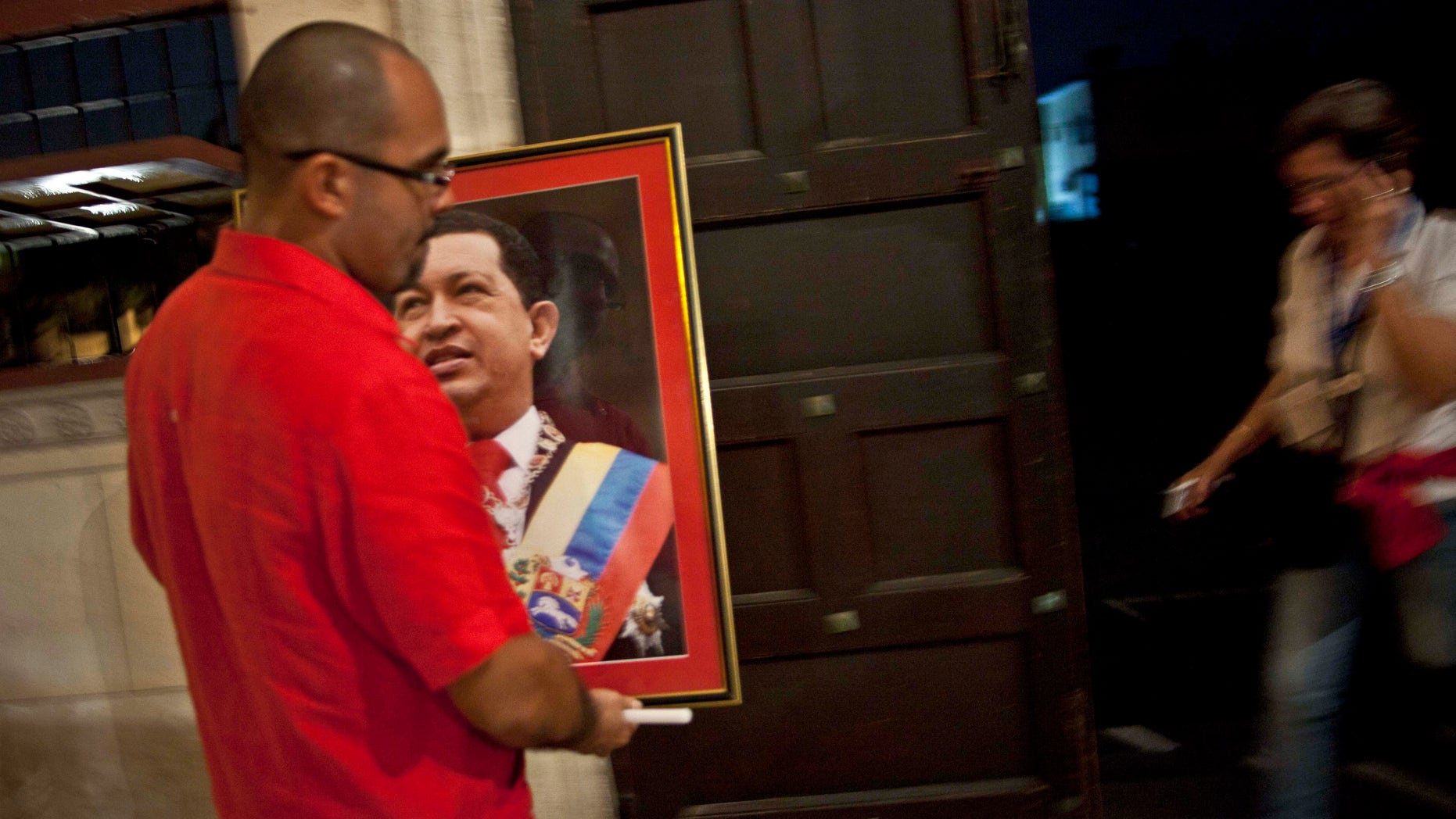 Venezuelan President Hugo Chávez, who has been recovering for more than a week in Cuba after an operation to deal with the return of his cancer, is in stable condition after his medical team treated him for a respiratory infection.
Communications Minister Ernesto Villegas announced on radio and television that Chávez's "general condition...at this time is one of stability" after on Monday "he was diagnosed with a respiratory infection, which the medical team immediately proceeded to treat and it has been controlled."
The infection appeared a week after a six-hour operation that the government has said involved complications.
"The medical team has said that President Chávez should have complete rest in the coming days and receive...the prescribed medical treatment, with the purpose of maintaining the stability of his vital signs that he currently enjoys," Villegas said.
Concluding the statement, he said: "Long live Chávez!"
Tuesday's announcement came amid uncertainty and concern over the 58-year-old president's health.
Chávez hasn't spoken publicly since his Dec. 11 surgery for an undisclosed type of pelvic cancer. It was his fourth cancer-related operation since June 2011.
Medical experts say that it's common for patients who have undergone major surgeries to suffer respiratory infections and that how a patient fares can vary widely from a quick recovery in a couple of days to a fight for life on a respirator.
Five experts consulted by The Associated Press agreed that it's hard to predict what Chávez's likely scenario might be given the available information.
"If it's not pneumonia...it can be resolved in 48 hours with the proper antibiotics," said Dr. Maria Crista de Blanco, an internist at the University Hospital of Caracas.
Dr. Carlos Castro, scientific director of the Colombian League Against Cancer in Bogota, said that because Chávez has gone through chemotherapy and has probably been taking steroids, his immune system is weakened and complications of various sorts may be more likely.
"That he's stable doesn't mean that he's completely been cured of the infection," Castro told the AP in a phone interview. "I don't think he's out of danger. The first 10 days after surgery are very critical, and anything can happen."
He said that Chávez must be in an intensive care unit and under constant observation.
Chávez's elder brother, Adan, planned to travel to Cuba on Tuesday to visit the president, the government newspaper Correo del Orinoco reported. It also said that the president's father, Hugo de los Reyes Chávez, had plans to travel to Havana and that Chávez's mother might go with him, though that had not been confirmed.
Against the backdrop of Chávez's illness, many Venezuelans are talking about the possibility of a looming transition of power and a new presidential election. Before undergoing surgery, Chávez designated Vice President Nicolás Maduro as his chosen successor to take his place if necessary.
Colombian President Juan Manuel Santos expressed concern Tuesday about what might happen if a post-Chávez transition were to go badly. In a radio interview, he said a peaceful and problem-free change would have "no repercussion in the region."
"What would be terrible is if that transition weren't easy, were problematic," Santos said in an interview with Colombia's W Radio. "That would generate problems in the region. That's why I've said that Chávez is a factor of stability at this time."
Chávez's government has been appointed a facilitator in peace talks between Colombia's government and rebels, and Santos noted that he has had a good relationship with Venezuela's leftist leader despite their differences.
"I hope it stays that way, whether with Chávez or with his replacement," Santos said, adding that he had spoken with Maduro on various occasions.
Government officials say the president's four children and a son-in-law have been with him in Havana since the operation. The government has said Chávez suffered complications during the operation but has been recovering.
Santos said he didn't have specific information about Chávez's condition.
"I know that it's complicated," Santos said in the interview. "He wouldn't have said goodbye in that way if he didn't have complications, but today I don't know his exact state of health, and nobody does."
"We've discussed this with other presidents, and the truth is they aren't very informed about exactly what state of health he is in today," Santos added.
The leaders of Bolivia and Uruguay have both expressed interest in traveling to Havana to visit Chávez, though so far neither has made the trip.
Brazilian President Dilma Rousseff called Maduro on Tuesday to congratulate Chávez's allies for winning most gubernatorial seats in elections on Sunday, and she also asked about Chávez's health.
"Maduro told Dilma that Chávez is recovering, and the president wished the Venezuelan president a speedy recovery," Rousseff's office said in a statement on its website.
Adan Chávez, who is the eldest of six brothers in the president's family, was re-elected governor in the president's home state of Barinas over the weekend.
On Tuesday, the governor said the relatively low 53 percent turnout in the nationwide elections was a problem that affected candidates in both camps. He added that some who voted for the president's re-election in October had apparently voted for the opposition this time.
"Some seem to have had the nerve to have voted for opposition candidates. That, of course, is a big contradiction," he said in a televised speech. "It shows an ideological weakness that we have to continue working on."
Chávez is scheduled to be sworn in for a new six-year term Jan. 10. Under Venezuela's constitution, if the president dies, is incapacitated or steps down, a new election would be held within 30 days.
National Assembly President Diosdado Cabello declined to speculate when asked at a news conference whether Chávez will be back in Venezuela by Jan. 10.
"There's a date established in the constitution, and our concern really is that the president recovers and is totally healthy, and, God willing, he will be," Cabello said.
Based on reporting by The Associated Press.
Follow us on twitter.com/foxnewslatino
Like us at facebook.com/foxnewslatino