Huckabee stands by Duggar family amid molestation scandal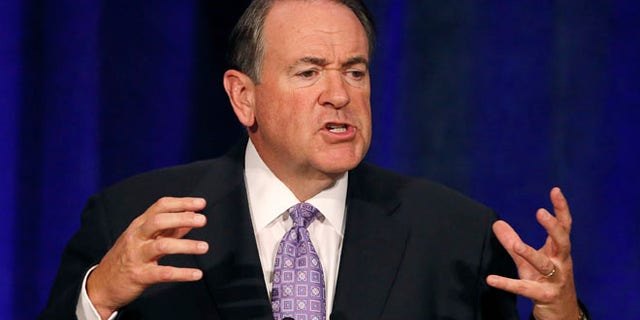 NEWYou can now listen to Fox News articles!
WASHINGTON – GOP presidential hopeful Mike Huckabee said Friday he is standing by the Duggar family following an admission by the eldest son, Joshua, that he molested five girls when he was a teenager.
Huckabee, in a Facebook post, called the actions "inexcusable" but added that didn't mean "unforgivable."
"Janet and I want to affirm our support for the Duggar family. ... He and his family dealt with it and were honest and open about it with the victims and the authorities. No purpose whatsoever is served by those who are now trying to discredit Josh or his family by sensationalizing the story," he said.
The Duggars, a family from Arkansas, are part of the TLC reality show "19 Kids and Counting."
Joshua Duggar apologized and resigned from his position at the Family Research Council Thursday after reports surfaced that he allegedly sexually assaulted four female siblings, plus an additional female victim.
The incidents date back to 2002 when Duggar would have been 14 years old. In the 33-page police report that FOX411 viewed, the name of the Duggar family members in question are redacted throughout.
Several members of the Duggar family were interviewed by police, as detailed in the report, and they confirmed the incidents, but all the victims said they felt safe at their home, and that no incidents had occurred since Josh returned from a "training center."
They said the incidents brought the family closer to God and that their brother had been forgiven.
"No one needs to defend Josh's actions as a teenager, but the fact that he confessed his sins to those he harmed, sought help, and has gone forward to live a responsible and circumspect life as an adult is testament to his family's authenticity and humility," Huckabee wrote.
TLC confirmed Friday it has pulled reruns of the show from its schedule. It has not said whether the show will be cancelled.
"We are deeply saddened and troubled by this heartbreaking situation, and our thoughts and prayers are with the family and victims at this difficult time," said the network statement emailed by publicity chief Shannon Llanes.