How Connecticut gun bill compares to new New York, Colorado laws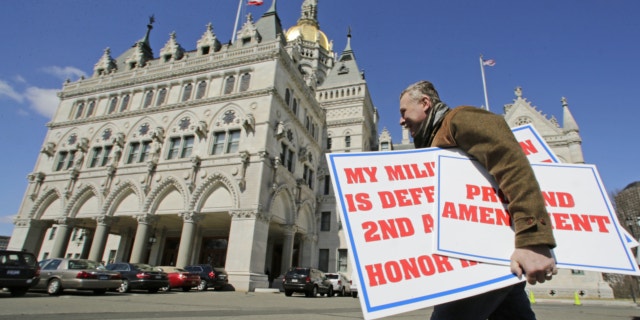 Gun control measures proposed in Connecticut after the December massacre in Newtown and expected to win approval Wednesday would be among the strongest such laws in the country. Here is a look at how the proposals compare to laws passed this year in Colorado and New York:
------
AMMUNITION MAGAZINES
Connecticut would ban the sale or purchase of ammunition magazines holding more than 10 rounds. The legislation allows people to keep high-capacity magazines they already own if they're registered with the state by Jan. 1 but limits their use to the home and a shooting range.
New York restricted ammunition magazines to seven bullets and gave current owners of higher-capacity magazines a year to sell them out of state. Colorado banned ammunition magazines that hold more than 15 rounds.
------
ASSAULT WEAPONS BANS
Connecticut wants to expand its assault weapons ban, adding more than 100 types of weapons in addition to those that have more than one banned military-style feature.
New York also expanded its assault weapons ban. Colorado did not pass an assault weapons ban.
------
BACKGROUND CHECKS
Connecticut would require universal criminal background checks for the sale of all guns as soon as the bill passes, closing a loophole in private sales of rifles and shotguns. Background checks also would be required to buy ammunition and magazines.
Colorado expanded background checks to private and online gun sales but did not require them to buy ammunition. New York expanded background checks to private gun sales and became the first state to require background checks to buy bullets.
------
DANGEROUS WEAPON OFFENDER REGISTRY
Connecticut created what officials called the first statewide dangerous weapon offender registry in the nation. Individuals who have been convicted of any of 40 weapons offenses must register with the state for five years after their release.
------
MENTAL ILLNESS
People involuntarily committed by court order to a hospital for psychiatric disabilities within five years would not be allowed to possess a gun, up from one year under current Connecticut law.
New York required mental health professionals to tell state authorities if a patient threatens to use a gun illegally.
------
FIREARMS STORAGE
Connecticut wants to expand the legal duty to securely store a firearm to cover situations where a resident of the premises poses a risk of personal injury to themselves or others.
New York requires locked storage of guns if you live with someone prohibited from them because of a crime, commitment to a mental institution or court protection order and made the unsafe storage of assault weapons a misdemeanor.