House Republicans Pitch Jobs Plan as Obama Prepares to Roll Out New Agenda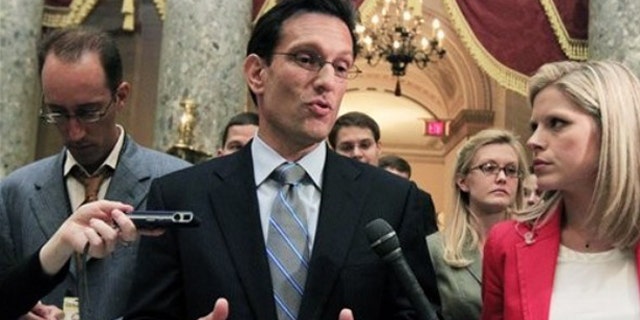 President Obama announced Monday that he will outline his new jobs plan next week, calling job creation an "urgent mission," as House Republicans unveiled a new set of jobs proposals aimed at stripping regulations and easing the tax burden on small businesses.
Details of the president's plan are sparse, but the president offered broad strokes during an announcement naming Alan Krueger as his nominee to lead the Council of Economic Advisers. Obama said the plan would "immediately" help middle-class families, make it easier for small businesses to hire and put construction crews to work.
"These are bipartisan ideas that ought to be the kind of proposals that everybody can get behind," he said.
Upping the ante as officials look to reset the economic agenda, both parties may be forced to moderate past proposals.
With a supercommittee tasked with finding $1.5 trillion in deficit savings before the end of the year, Democrats' hands are tied when it comes to New Deal-style programming. One outgoing Obama economic adviser insisted the president won't be offering another stimulus proposal.
On the Republican side, House Majority Leader Eric Cantor, in a memo to fellow Republicans Monday, narrowed the GOP focus on job growth to two prime areas -- regulation and tax treatment of businesses.
"What we're looking to do as we return to Washington next week is to focus on how to stop the federal government from making it so difficult for small business people to create jobs," Cantor told Fox News.
Cantor said Washington has started to address its debt crisis, but must move next to what he described as a "very critical jobs and growth crisis."
"We want to grow. Want to put in place policies that help small businesses grow," he said.
Cantor vowed to pursue a "steady repeal" of select regulations to empower businesses to kick up hiring. He listed 10 in particular, many dealing with Environmental Protection Agency policies -- including new requirements on employers using boilers, and regulations affecting cement plants.
The Obama administration has similarly moved to roll back regulations, recently announcing a set of changes officials claim will save businesses $10 billion over five years. They aren't the same regulations Cantor is talking about, and House Speaker John Boehner has said the administration has more than 200 new regulations on the books this year.
Cantor also proffered two tax-relief proposals aimed at businesses. One would repeal a yet-to-be-implemented requirement on governments at all levels to withhold 3 percent of payments over $100 million to contractors similar to income withholding for individuals. The other would allow small businesses to claim a deduction worth 20 percent of their income.
The administration, like Republicans, is also talking about tax relief as a way to spur growth.
Outgoing White House economic adviser Austan Goolsbee, speaking on MSNBC Monday morning, said tax incentives for businesses should be in the cards -- incidentally, something that Obama's pick to replace Goolsbee, Alan Krueger, studied while at the Treasury Department.
The administration is still fiddling with the rhetoric it's using to sell these proposals. Goolsbee, on Fox News last week, said the administration is looking for "investment incentives" like last year's payroll tax cut to help the private sector.
Obama for weeks has urged Congress to act on proposals ranging from patent reform to trade deals to a public-private "infrastructure bank."
Cantor welcomed the first two, saying in his memo Monday he would "not hesitate" to set votes on the trade bills when the president sends them over.
Brian Darling, a former Republican Senate aide who now works as senior fellow for government studies at the Heritage Foundation, said he's not holding out much hope for the next round of proposals.
"There just doesn't seem to be common ground on any of these issues," Darling said. He claimed Obama's plan would amount to a "messaging document" for the campaign more than a bona fide proposal with a chance of passing Congress.
Democratic Sen. Chuck Schumer, though, accused Republicans of trying to "play catch up" in their latest memo.
"Their agenda seems intended only to provide cover for blocking the kind of pro-growth proposals needed to make a difference," he said in a statement.
Meanwhile, the conservative Republican Study Committee is looking to produce its own jobs agenda -- the plan may cover similar territory, but at the same time broaden the group's focus beyond debt-conscious spending cuts. Chairman Rep. Jim Jordan, R-Ohio, solicited ideas from members in a letter last week.
"The debate offers us an opportunity to further develop our Cut, Cap and Balance idea by adding robust growth components, like tax reform and regulatory reform, just to name a few," he wrote, referring to the deficit-reduction plan conservatives pushed during the debt-ceiling debate. A spokesman said the group is still in the process of getting feedback from lawmakers for a "growth" plan.