House Republicans moving toward possible lawsuit against Obama immigration action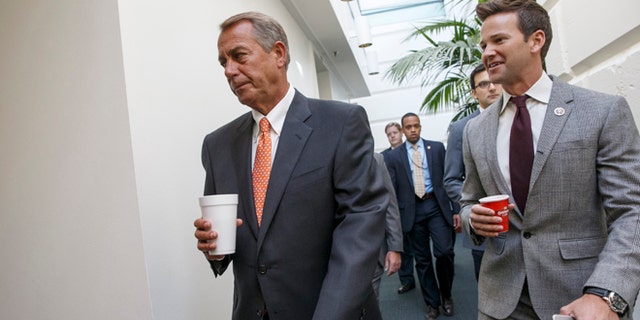 NEWYou can now listen to Fox News articles!
WASHINGTON (AP) – House Republicans are moving toward a vote authorizing legal action against President Barack Obama over his executive actions on immigration.
House Speaker John Boehner announced the plans in a closed-door meeting with lawmakers Tuesday, according to a person in the room. He told them GOP leaders are finalizing a legal plan with the best chance of blocking Obama's moves lifting the threat of deportation for millions of people here illegally.
Options include joining a lawsuit already filed by states over the issue, or filing a separate lawsuit. The person in the room spoke on the condition of anonymity to discuss the private meeting.
The House already has passed legislation to overturn Obama's immigration actions, but the Senate looks unlikely to agree to the measure, which was added to must-pass legislation to fund the Department of Homeland Security beyond February.
It's not clear how that issue will be resolved. "At this point it's up to the Senate to act, and I expect that they will soon," Boehner told reporters Tuesday.
The uncertainty has frustrated conservative Republicans who believe Congress' top priority on immigration should be to hold firm against Obama. They united against a separate border security bill that was scheduled to come to a vote on the House floor Wednesday, and GOP leaders delayed action, citing changes to the House schedule caused by the inclement weather. It's now not clear when that bill will come back up.
House Republicans already have sued to try to undo Obama's health care law.