House Republicans Launch Sweeping Latino Outreach Campaign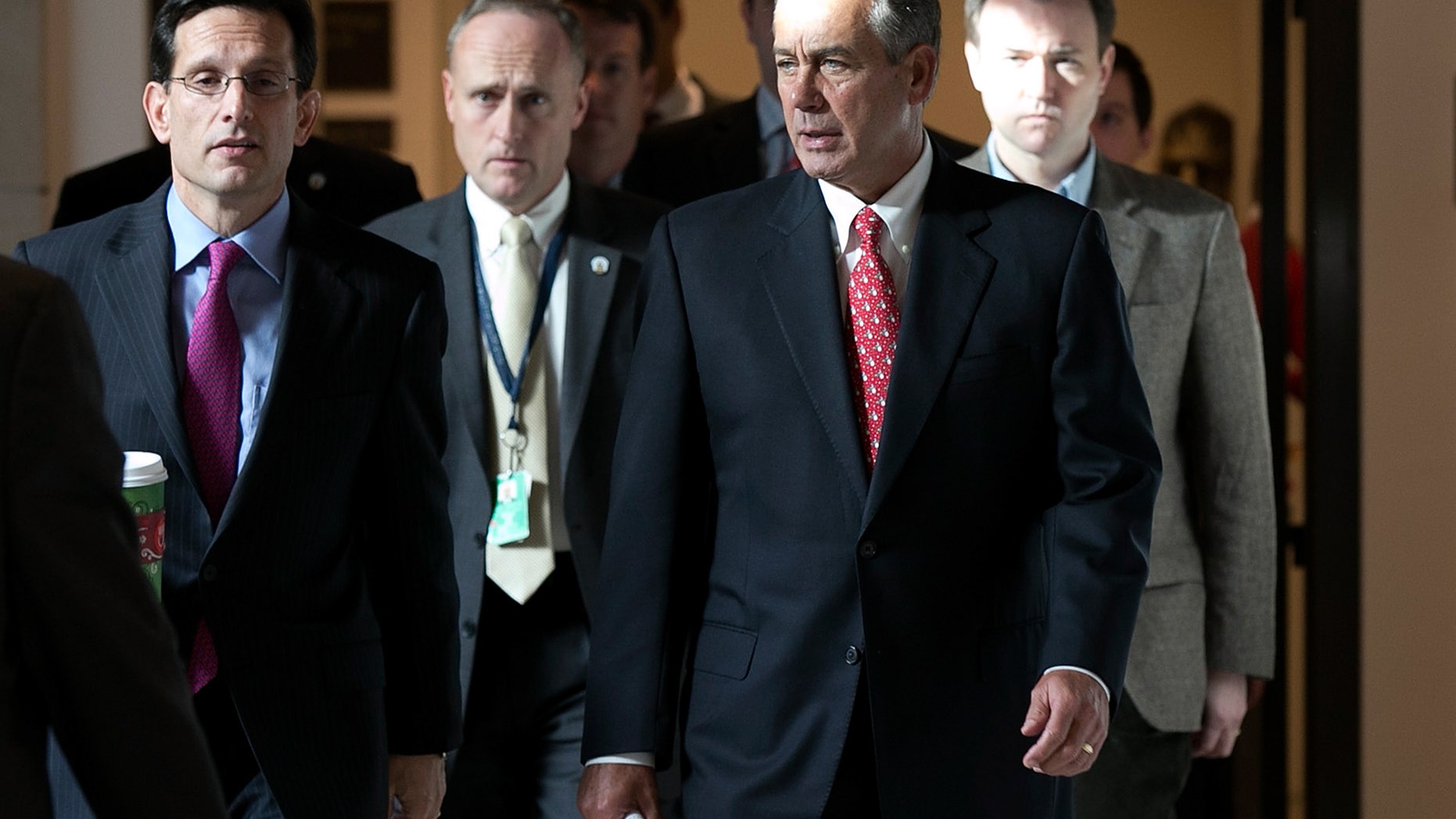 A Spanish-only Website. A Twitter account aimed at Latinos. New staff members focused uniquely on building relationships with Hispanics.
It's all part of a new quiet but emphatic effort underway by Republicans in the House of Representatives — including some of the most conservative members of Congress — to try to repair their image with Hispanics.
The campaign, unprecedented for House Republicans, will debut on Monday, when @GOPEspanol appears on Twitter, said Rep. Cathy McMorris Rodgers, the chairperson of the House Republican Conference.
And plans for it are ambitious, said McMorris Rodgers, who embodies the change in philosophy, having come a long way since backing hawkish immigration bills years ago.
She said that under consideration are a a Spanish-language website, providing Spanish versions of press releases, establishing ties with Spanish-language media and news organizations that target Latinos in English, meeting with leaders of Latino organizations from around the country and sending GOP members to Latino conferences and events in their home districts, she said.
"It's a recognition that we, as Republicans, did not do as well as we hoped in the 2012 elections with a number of groups – with young people, with women, and with Hispanics," said McMorris Rodgers, who is from the state of Washington and was the House GOP liaison to Mitt Romney's presidential campaign.
The tone of a few [Republicans] has unfortunately been offensive. . .We have to build trust.
"It's being aware that [Hispanics] are a growing media market, a demographic in the country. We need to be reaching them with our goals, our vision."
It is a giant sprint for Republicans, who have been jogging gingerly, so to speak, toward policy ideas on immigration and other things — such as using Spanish in high-profile government activities — that they until recently vehemently opposed.
McMorris Rogers herself co-sponsored legislation in 2007 demanding that English be the sole language of all U.S. government business and ceremonies. And she voted for measures calling for tighter immigration enforcement before legalizing undocumented immigrants is discussed.
The courting of Latinos by Republicans will have another milestone moment on Tuesday, when Sen. Marco Rubio, a Tea Party favorite from Florida, will become the first Latino to deliver the GOP response to a president's State of the Union address — in both English and Spanish, to boot.
At stake may be nothing less than the very future of the Republican Party, said political scholars and even decision-makers in the party itself.
Romney won only 27 percent support from Hispanics and even less from Asians in the 2012 presidential election. And an AP-GFK poll last month showed 62 percent of voters want to let otherwise law-abiding undocumented immigrants eventually become citizens — up 12 percentage points from 2010.
During the GOP primaries, Romney wooed the party's right by echoing their rhetoric on immigration and advocating "self-deportation" — making life in the U.S. so miserable for undocumented immigrants they would voluntarily return home. His campaign staff later said they regretted the sharp turn because it alienated minority voters.
Some of the most biting comments among Republicans against immigration proposals that would give the undocumented any kind of break, however, came from those in the House of Representatives.
Reps. Steve King of Iowa, Lamar Smith of Texas, and John Boehner of Ohio denounced a pathway to legalization for undocumented immigrants as amnesty, and vowed to do all they could to stop any bill that would allow it. King went even further, making headlines again and again with statements that, for example, called for putting an electrified fence along the U.S.-Mexican border, saying it works for controlling cattle.
"The tone of a few has unfortunately been offensive," said McMorris Rodgers, a rising star in the GOP who beat out a Tea Party veteran conservative, Rep. Tom Price of Georgia, for the chairmanship of the GOP caucus. "We have to build trust. When people sit down and have a conversation, the reason they come to this country is because of Republican principles – the freedom to pursue your dreams, take a chance, and there's the role that family plays in our lives."
The caucus, which represents the more than 230 Republicans in the House, will be aiming to change the party's image of older white men who are out of touch with – and indifferent to – younger Americans, women and minorities.
"We allowed Democrats to define who Republicans are, and what we're all about," McMorris Rodgers said. "We will be building a relationship with the Hispanic community, utilizing those that are Hispanic as well as other members, making them more a priority and be aware that we need to be including Spanish-speaking media. We'll be identifying Hispanic organizations, and when they will be in Washington D.C. We'll take the time to address their conferences, meet their leadership and have a conversation about priorities."
McMorris Rodgers is careful not to use trigger words that many Hispanics said alienated them – words such as "illegals," "aliens," and "amnesty." Instead, in her interview with Fox News Latino, for instance, she used the term "undocumented," most often used by those who favor more lenient immigration policies, but anathema to many hardliners who view it as pandering and sugar-coating.
The caucus chair is careful, however, not to give the impression that the outreach is tantamount to selling out – a view that could keep some Republicans, especially the more conservative ones, from getting onto the outreach bandwagon.
"Hispanics, along with all Americans, want an economic environment that will create jobs, they care about good education, affordable healthcare," she said.
What the new outreach will show both those in her party and Hispanics, she said, "is that there's a lot of common ground between Hispanics and Republican Party."
Republicans who have been urging moderation among their colleagues and more sensitivity when addressing issues relating to Latinos said the new outreach is long overdue.
"It's smart," said Jennifer Korn, executive director of the Hispanic Leadership Network, a center-right group. "We've been talking to Republicans about reaching out, improving their relationship with Hispanics, ever since George Bush was president."
So, in other words, about time, Korn said.
"Why wouldn't they engage with Hispanics," she asked. "Hispanics are Americans. They're voters and they are part of the constituency."
Proponents of strict immigration reform are likely to frown on the outreach; some interviewed by Fox News Latino said they were horrified by it.
"The Republican leadership has no idea what it's doing, careening aimlessly from one thing to another," said Mark Krikorian, head of the Center for Immigration Studies, a Washington D.C. group that favors strict immigration policies.
As for whether – or to what extent – the sweeping outreach and efforts will persuade the most conservative Republicans to support more lenient immigration measures, McMorris Rodgers would make no such predictions.
To be sure, while many Republicans who were until recently the most hawkish on immigration have changed their positions on measures like legalizing undocumented immigrants, others, such as Reps. Raul Labrador (R-Idaho) and Lamar Smith have said they will not support "amnesty" or "rewarding lawbreakers."
"The focus first needs to be on fixing a broken immigration system, then we can better make decisions on how to deal with the many who are here undocumented," McMorris Rodgers said.
Democrat strategist Doug Thornell says that if Republicans want to attract a bigger share of Hispanic and black voters, they need to do more than nominate Cuban-American Rubio as their presidential nominee in 2016 and grudgingly let an immigration overhaul occur that includes a path to legalization for undocumented immigrants.
Republicans "have no roots or connection in either community," Thornell said. "It's shortsighted to believe that if immigration reform is done, somehow Republicans are going to cleanse themselves of openly hostile language that has been directed at Hispanics."
Point well taken, leading conservative Hispanics said.
"This kind of outreach," said Korn, "should be an ongoing, sustained effort all year around."
The Associated Press contributed to this report.