House GOP candidate takes heat for using Foley beheading video in ad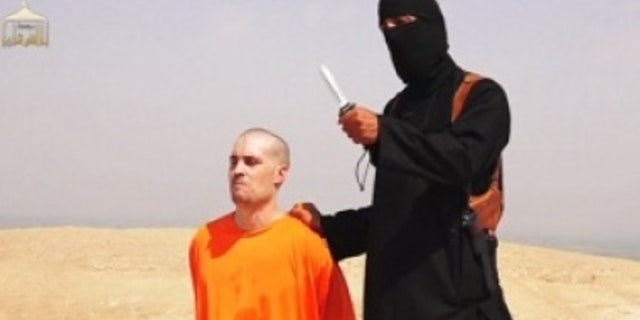 A Republican House hopeful in Arizona is taking heat for featuring scenes from a video of the beheading of American journalist James Foley in an attack ad against her Democratic opponent.
The ad from the campaign of Wendy Rogers, who is running against Rep. Kyrsten Sinema in Arizona's 9th district, is now listed as "private" online. However, according to the Associated Press, it features footage from the video of Foley's execution by an Islamic State terrorist on August 19. It cuts away before the actual beheading is shown.
Democrats immediately slammed the ad as over the line and "reprehensible," and insisted Rogers remove it and apologize to the Foley family.
However, a spokesman for the Rogers campaign defended the ad to FoxNews.com as an appropriate use of current events to highlight the differences between the two candidates.
"The execution of James Foley was a tragic incident, and the entire nation is in mourning," Rogers spokesman James Harris said in a statement. "Our nation is facing a new threat in ISIS, and as our public officials are debating how America will approach this terrorist organization, so should we. To have a productive debate, we must have all the information, and the people should know about Congresswoman Sinema's actions and anti-defense votes."
In the ad, a narrator states Sinema is failing at "her job" by not adequately protecting Americans.
"Terrorist threats are growing. Are we secure? Are we protected?" the narrator says. "Keeping us safe and secure is Congress' job. Kyrsten Sinema hasn't done her job. ... She's allowed her liberal agenda to get in the way of our safety."
A spokesman for the Democratic Congressional Campaign Committee told FoxNews.com in a statement that the ad's accusations cross the line.
"It is reprehensible and unbecoming of anyone seeking elected office to use the footage of an American tragedy for political gain, and Wendy Rogers should remove this ad immediately and apologize to Mr. Foley's family," Tyrone Gayle said. "For Wendy Rogers to use such a reprehensible tactic to make baseless claims just to smear Representative Sinema proves how desperate her campaign has become."
The ad, so far, has also drawn a significant amount of ire on social media. Commenters on Rogers' Facebook page slammed the spot as a "complete disgrace" and "disgusting."
"You know, it's not even a matter of bad taste," one commenter wrote. "It's a matter of utter lack of humanity. I would never expect this from any mother. You have totally disrespected James Foley's parents and his memory."
Rogers is the first congressional candidate to use an image of Foley in a campaign ad but not the first to reference his killing.
Politico reported in August that Republican New Mexico Senate hopeful Allen Weh came under fire for showing an image of Foley's killer in an ad.
Rogers has purchased about $124,000 worth of ad time to air the commercial in the Phoenix market and on cable, according to ad buys. Although Sinema narrowly won her seat in 2012, she is considered a favorite to win re-election.
FoxNews.com's Stephanie McNeal and The Associated Press contributed to this report.