House Ethics Committee Launches Investigation Into Congressman Luis Gutierrez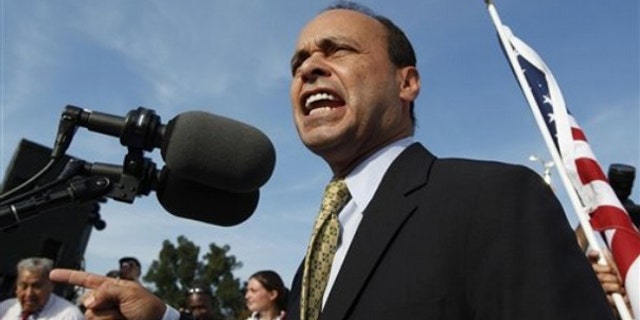 Actions by Democratic Rep. Luis Gutierrez of Illinois are being scrutinized by the House Ethics Committee.
Gutierrez, 60, is in his 11th term representing Chicago and surrounding areas and is a leading advocate of overhauling immigration laws.
The ethics panel did not reveal the nature of the inquiry, but a spokesman for Gutierrez said Thursday that it relates to a long-standing service contract made by Gutierrez over the past decade.
Spokesman Douglas Rivlin said the contract was reviewed and approved by the House Administration Committee and was submitted for renewal every other year for 10 years. Gutierrez canceled the contract last year.
USA Today reported last year that Gutierrez had hired Chicago lobbyist Doug Scofield — the congressman's former chief of staff — to work side-by-side with his congressional staff, starting in 2003. Gutierrez paid Scofield more than $500,000 over 10 years to train staff, review and draft news releases, and help publicize Gutiérrez's activities, the newspaper reported.
Scofield also continued to represent clients in his Chicago-area lobbying and public affairs practice.
Rivlin, the congressman's spokesman, said the contract with Scofield "was consistently and properly reported" to House officials, adding that Gutierrez has cooperated with the outside organization, the Office of Congressional Ethics, that referred the case to the House ethics panel.
The Ethics Committee chairman, Rep. Michael Conaway, R-Texas, and its ranking Democrat, Rep. Linda Sanchez of California, said in a statement that they have received a referral from the OCE about Gutierrez. Conaway and Sanchez say they will announce any further action by May 5.
A person familiar with the case, who asked not to be identified because the investigation is ongoing, said the ethics panel will examine whether Scofield's contract with Gutierrez constituted a contractor relationship or a consulting relationship. Contractors are allowed under House rules, but consultants are not.
A handbook for members of Congress says members may contract with firms or individuals only for general — nonlegislative and nonfinancial — office services, and only for a specific period not to exceed the member's current term. Contractors are not considered House employees and are not eligible for government-provided personnel benefits.
Follow us on twitter.com/foxnewslatino
Like us at facebook.com/foxnewslatino