House approves bill to cancel $15B in spending at Trump's request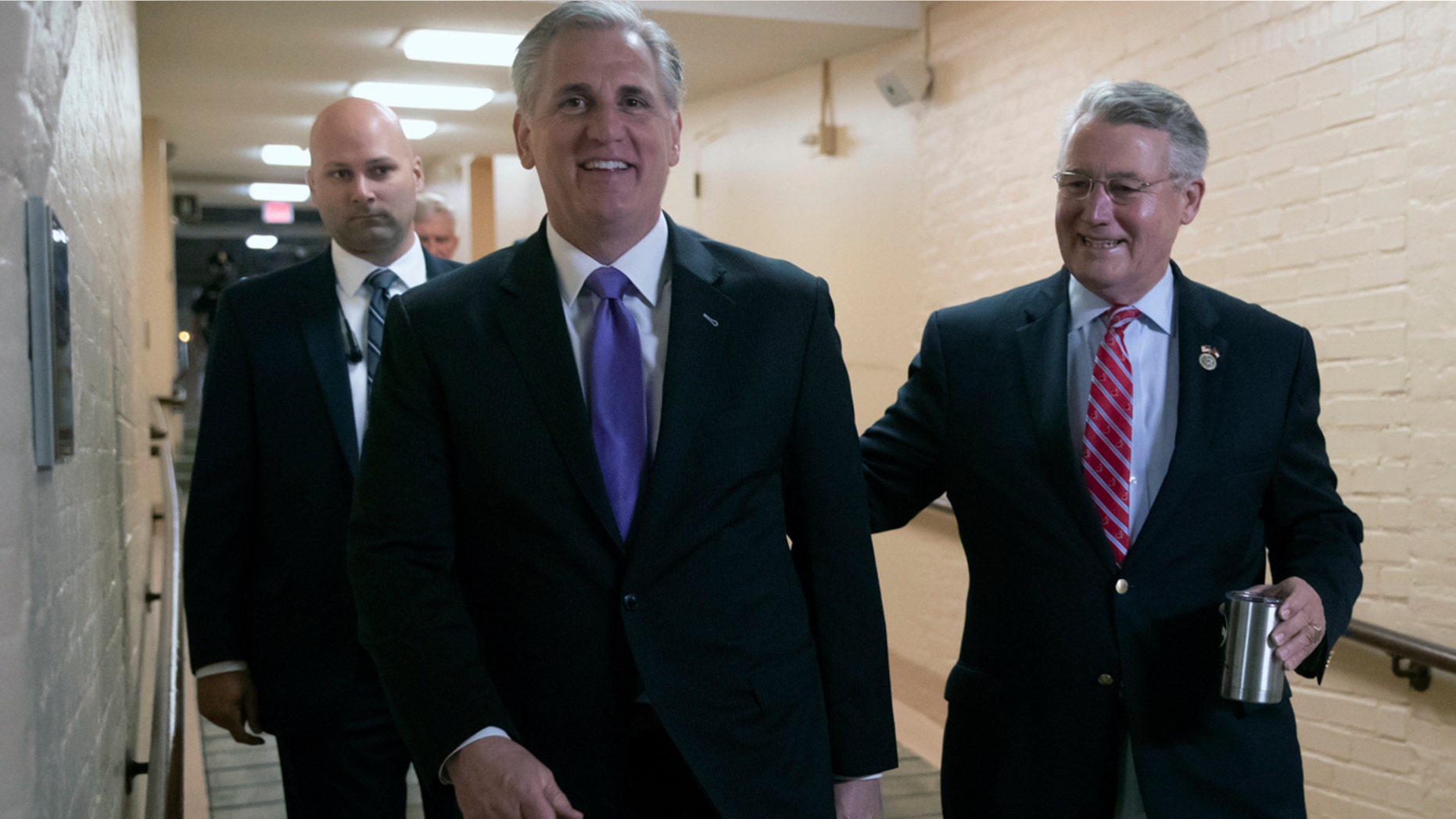 The House narrowly approved a White House plan to cut $15 billion in previously allocated government money late Thursday, a mostly symbolic move designed to demonstrate fiscal discipline in Washington.
The so-called "recissions" package was passed by a vote of 210-206, with 19 Republicans joining 187 Democrats in opposing the measure.
The legislation was embraced by conservative Republicans upset by the March passage of a $1.3 trillion catchall spending bill that they say was too bloated. More pragmatic Republicans on Capitol Hill's powerful Appropriations panels aren't keen on the measure since it would eliminate accounting tricks they routinely use to pay for spending elsewhere.
The measure includes $4 billion in cuts to a defunct loan program designed to boost fuel-efficient, advanced-technology vehicles, rescissions of various agriculture grant programs, and cuts to conservation programs at the Department of Agriculture, among others.
"By voting to rescind these billions in unspent funds, the House supports President Trump's efforts to eliminate wasteful spending and get our fiscal house back in order," White House budget director Mick Mulvaney said in a statement. "The first of several recissions proposals, President Trump is using every tool at his disposal to put taxpayers first and drain the swamp."
While Democrats blasted the cuts, the real objection to some of them, such as $7 billion from popular Children's Health Insurance Program funding, is that it would take that money off the table so it couldn't be used later as it was in the earlier spending bill. The CHIP cuts wouldn't affect enrollment in the program, which provides health care to children from low-income families that don't qualify for Medicaid.
"Targeting CHIP for a rescission prevents Congress from reinvesting in other priorities like child and maternal health, early childhood education, biomedical research and our community health centers," said Rep. Nita Lowey, D-N.Y., the ranking member on the Appropriations Committee.
Some GOP moderates also worry that they're casting a difficult-to-explain vote to cut CHIP funding in the run-up to November's midterm elections.
"I don't think the vote's intended for people in swing districts," said Rep. Ryan Costello, R-Pa.
The nonpartisan Congressional Budget Office weighed in Thursday to estimate that the measure — pushed largely by Mulvaney and House Majority Whip Kevin McCarthy, R-Calif. — would only cut the deficit by $1.1 billion over the coming decade. That's because most of the cuts wouldn't affect the deficit at all since CBO doesn't give deficit credit for cutting money that would never have been spent.
Trump proposed the measure last month, but it was slow to come to a vote because some Republicans came out against it.
The White House submitted a revised package of cuts Tuesday, removing politically troublesome proposals to cut money to fight Ebola funds and to rebuild watersheds damaged by Superstorm Sandy. Trump weighed in soon after to urge Republicans to pass the plan.
The measure is unlikely to go anywhere in the Senate, where pragmatic-minded Republicans are focusing on trying to get the troubled process for handling annual appropriations back on track on a bipartisan basis.
Senate Appropriations Committee Chairman Richard Shelby, R-Ala., told Fox News Monday that "I've not been a big fan of the recissions package."
The White House and tea party lawmakers upset by the budget-busting "omnibus" bill have rallied around the plan, aiming to show that Republicans are taking on out-of-control spending.
"If this body cannot be trusted to reclaim money that will not or cannot be used for its intended purpose, can we really be trusted to save money anywhere else?" McCarthy said.
While some Democrats opposed the spending cuts as heartless, others mostly mocked the legislation.
"After spending nearly $2 trillion on tax cuts for the super-rich and blowing up the deficit, the Majority's bill is like putting a Band-Aid on a gaping wound," said Rep. Jim McGovern, D-Mass. "Republicans are trying to trick the American people into thinking they care about fiscal responsibility. They're not fooling anyone."
Fox News' Chad Pergram and The Associated Press contributed to this report.