Homeland Security Department Blamed for Border Fence Project Delays, Budget Problems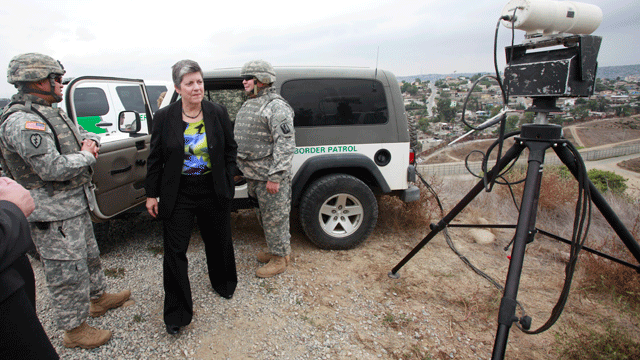 The troubled four-year-old federal program to install a virtual fence along the 2,000-mile U.S. border with Mexico is behind schedule and overbudget -- and the Department of Homeland Security is at least partly to blame, for not adequately policing contractor Boeing, a new watchdog report concludes.
The department's Secure Border Initiative Network, or SBInet, is intended to utilize cameras, ground sensors and radars designed to let a small number of dispatchers watch the border on computer monitors, zoom in with cameras to see people crossing and decide whether to send Border Patrol agents to the scene.
But the Government Accountability Office found that while DHS has put in place some oversight controls for reviewing Boeing's work, it "has not effectively implemented other controls" which have led to "costly rework and contributing to SBInet's well-chronicled history of not delivering promised capabilities and benefits on time and within budget."
In other words, Homeland Security did a poor job of keeping Boeing on task.
GAO also criticized Boeing for providing project information to DHS that was "replete with unexplained anomalies, thus rendering the data unfit for effective contractor management and oversight."
GAO advised DHS to revise its policies and improve its management approach known as earned value management (EVM).
This year, Homeland Security froze funds for expanding the fence after a string of technical glitches and delays. Originally, the virtual fence was supposed to be completed by 2011; that date has slipped to 2014.
The project has cost the government $672 million.
Matthew Chandler, a spokesman for Homeland Security, said in a written statement that Customs and Border Patrol agreed with the recommendations.
"CBP has taken several major steps to improve the previous administration's SBInet program management structure, capabilities, procedures, and processes, in addition to the department-wide reassessment of the program ordered by Secretary [Janet] Napolitano in January 2009 to determine if there are alternatives that may more efficiently, effectively and economically meet our nation's border security needs," he said.
"DHS is currently reviewing the independent, quantitative, science-based reassessment of the SBInet program," he said. "A way forward on the future of SBInet is expected shortly and will be fully briefed to Congress when ready."
Boeing issued a statement saying it has worked closely with the agency "to overcome past performance and management challenges on the SBInet program."
"We have made significant progress improving our application of EVM to assure our customers that we rigorously and effectively use the process to manage program performance for our diverse and often very complex program requirements," the statement reads.
"We have held to a schedule baseline over the past nine months that has resulted in capabilities that are in the hands of Border Patrol agents right now, providing them greater safety, situational awareness and resource effectiveness than ever before."
The virtual fence was developed as part of then-President George W. Bush's border security plan. It was meant to add another layer of protection at the border, along with thousands of Border Patrol agents and 650 miles of real fences.
Both Boeing and government officials have said the technical problems stemmed from an erroneous belief that the first-of-its-kind virtual fence could be put together relatively quickly by tying together off-the-shelf components that weren't designed to be linked.