Holt faces criticism over how he moderated debate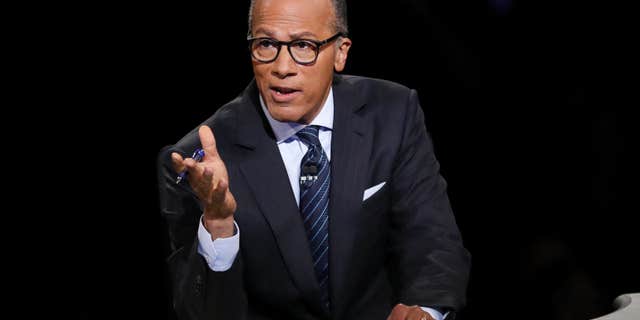 Republicans and some celebrities weren't pleased with NBC's Lester Holt after the first presidential debate Monday, accusing him of letting Hillary Clinton off the hook, while pressing Donald Trump.
The Trump campaign wasn't particularly happy with Holt after the debate, tweeting that he didn't ask Clinton questions on Benghazi, her Foundation or her private email server.
Brent Bozell, president of the conservative media watchdogs Media Research Center, tweeted his displeasure with Holt.
"Lester Holt clearly heard cries of his colleagues in the liberal media to be tough on Trump and ease up on Hillary loud and clear," Bozell said.
Holt also received some additional negative reviews on Twitter about letting Trump and Clinton go punch-for-punch.
One media observer, columnist Nicholas Kristof of The New York Times, tweeted that "Lester Holt has done a fine job as moderator. Not too intrusive, moving things along, fact-checking when necessary."
Despite his campaign's frustrations, Trump said he thought Holt "did a really good job. I thought it was great." He said he thought a lot of good and important topics were brought up.
Holt let the conversation between Trump and Clinton flow at first, but as the debate wore on he would remind the candidates constantly to stick to the time limits. Holt let a 20-second Trump point go on for 55 seconds before Holt interjected with another question.
Later, Holt attempted to fact check Trump, raising Trump's ire in the process. Fact-checking had been a major issue in the debate with Clinton's side arguing that the fact-checking should be left to the moderator and the Trump campaign saying it should be left to the candidates.
The issue of the Iraq war and whether Trump opposed it came up again. Trump said it was "wrong" that he initially supported the war.
"I was against the war in Iraq," Trump said.
Replied Holt: "The record shows otherwise."
"The record shows that I'm right," Trump argued.
When Trump advocated for the "stop-and-frisk" police policy, Holt told him that it was declared unconstitutional in New York largely because it singled out black and Latino young men.
"No, you're wrong," Trump said, adding that he believed the court decision would have been overturned on appeal.
Holt later brought up the issue of Trump's questioning whether President Barack Obama had been born in the United States, and asked him what made him conclude this month that Obama was indeed a legitimate citizen. Trump twice did not address the question, and cut Holt off when he tried a third approach.
"What do you say to American people of color..." Holt started asking.
"I say nothing," Trump replied.
Former New York City Mayor Rudy Giuliani said that Holt should be "ashamed of himself," after his fact-check attempt of Trump on New York City's stop-and-frisk law and whether Trump opposed the Iraq war. Giuliani said that if he was Trump he'd skip the next debates, according to Politico.
"If I were Donald Trump I wouldn't participate in another debate unless I was promised that the journalist would act like a journalist and not an incorrect, ignorant fact checker," Giuliani said. "The moderator would have to promise that there would be a moderator and not a fact checker and in two particular cases an enormously ignorant, completely misinformed fact checker. If you wonder why Donald Trump thinks that the press is a left-wing basically oriented group, Lester Holt proved it tonight."
Holt will now hand the debate moderation over to CNN's Anderson Cooper and ABC News' Martha Raddatz. Fox News' Chris Wallace will moderate the third debate.
The Associated Press contributed to this report.