Holder Urges GOP Oversight To Focus On "Substance," Not "Politically Attractive" Things; Incoming Chairman Vows "Fair" Oversight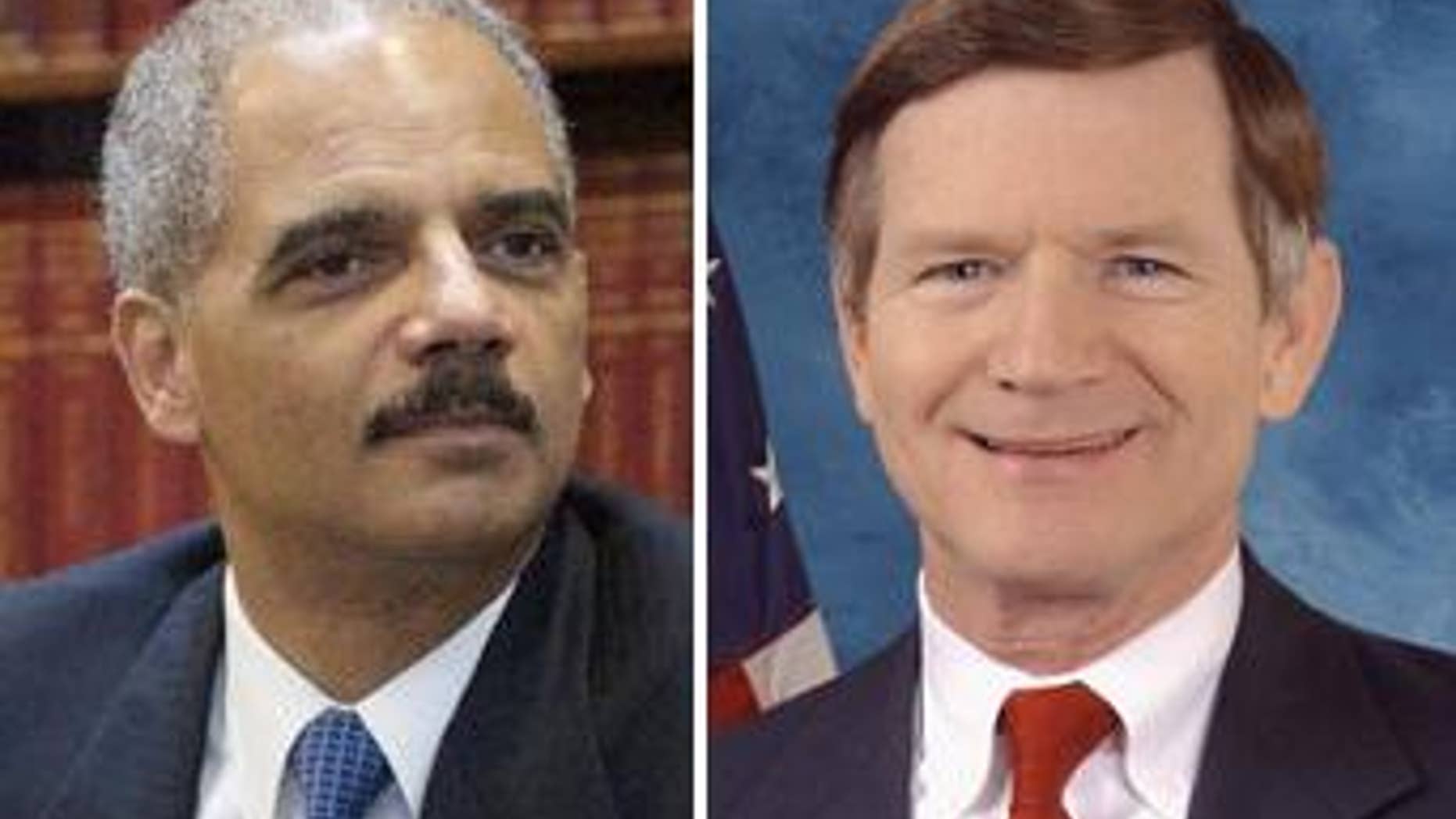 As House Republicans weigh how to spend their time after taking power of the oversight committees in January, Attorney General Eric Holder on Wednesday urged the committee overseeing his department to "focus on things that are not going to be politically attractive but will be of substance."
Before November's mid-term elections, Republicans on Capitol Hill promised to investigate allegations by two attorneys -- one currently with the Justice Department -- that the department's Civil Rights Division is "hostile" toward "race-neutral enforcement" of voting rights laws. But the Justice Department has repeatedly denied such allegations, and congressional hearings on the matter are not a sure thing, with the House Judiciary Committee yet to place such a hearing on its calendar, according to one committee staffer.
"I am committed to fair and reasonable oversight of the Justice Department and to ensuring openness and transparency of our federal law enforcement agencies," incoming committee chairman Lamar Smith, R-Tex., said in a statement.
But, Smith said, the allegations against the Justice Department are "troubling," and, "We need to make sure that our laws are being equally enforced."
The allegations stem from questions over why the Obama administration reversed course on a federal lawsuit against two members of the New Black Panther Party, who some say intimidated Pennsylvania voters on Election Day 2008. The issue came to a head after two attorneys heavily involved in the initial filing of the case appeared before the U.S. Commission on Civil Rights, who conservative majority launched a probe into the matter a year earlier.
During his testimony in September, current Justice Department attorney Christopher Coates only vaguely addressed the New Black Panther Party case and refused to discuss any specific internal discussions about it, but he insisted there is a "deep-seated opposition to the equal enforcement of the Voting Rights Act against racial minorities and for the protection of white voters who had been discriminated against."
In its repeated denials of the allegations, the Justice Department has often pointed to its continued prosecution of Ike Brown, a Democratic official in Mississippi accused of devising a scheme to disenfranchise white voters.
While acknowledging he and Smith "obviously have a different perspective on a number of things," Holder on Wednesday said he hopes Smith will focus on "things that have impact on the day-to-day lives of the American people," citing such issues as national security, the Gulf Coast oil spill and even civil rights.
"There are a lot of really important issues that are of concern that we are dealing with," said Holder, speaking to reporters in Washington after announcing a Justice Department lawsuit against BP and others related to the Gulf Coast oil spill.
Holder said he hopes he and Smith will "have a good dialogue, and that it will be based on things that really matter to the American people."
Asked whether he may be alluding to the prospect of inquiries into the Justice Department's handling of the New Black Panther Party case, Holder declined to answer.
Smith recently joined Holder for lunch at the Justice Department, Holder said Wednesday.
"I think we've had a pretty good relationship," Holder said. "I'm hopeful that in the interaction I had with him and with the committee that he will respect the positions that [we] have taken."
A House Judiciary Committee staffer similarly said Smith has a "good working relationship with Attorney General Holder."
In his statement, Smith said that -- in addition to ensuring equal enforcement of civil rights laws -- the House Judiciary Committee "also needs to make sure that federal laws are being enforced to the fullest extent," citing immigration issues and national security matters."
"We could help make millions of jobs available for legal workers if we simply enforced our immigration laws," and, "We will continue to work with the Justice Department to ensure that our federal law enforcement agencies have the resources they need to prevent terrorist attacks," he said.
Nevertheless, inquiries related to the Justice Department's Civil Rights Division are on the table. The committee will "likely" first send a letter to the Justice Department renewing previous requests for information about allegations made against the Civil Rights Division, according to one committee staffer.
Smith is "confident that the Justice will cooperate with inquiries from the committee," the staffer said. But if a hearing is deemed necessary, a subcommittee within the House Judiciary Committee would likely take the issue up first, and any hearing probably wouldn't happen for several months, with issues related to jobs and economy seen as more pressing, according to the staffer.
Any inquiry into the Civil Rights Division's enforcement practices would not focus on the New Black Panther Party case, the staffer said.
"The committee is interested in the larger issue of whether our civil rights laws are being enforced equally," the staffer said. "It really isn't New Black Panthers."
In October, the head of the Civil Rights Division, Assistant Attorney General Tom Perez, said he "strongly" disagrees with the allegations made by Coates and former Justice Department lawyer J. Christian Adams, who now runs a conservative blog.
"You look at our enforcement actions in the Obama administration in the voting context, and you see cases where we've had African-American defendants and white victims, and you see cases that involve white defendants and African-American victims," Perez said.
In his testimony, Coates said that during lunch meetings in late 2009 a top Justice Department official told Civil Rights Division attorneys "the Obama administration was only interested in bringing traditional types of ... cases that would provide equality for racial and language minority voters."
Asked about those meetings and allegations, Perez said he and "everyone on our leadership team" have "delivered" a "very consistent message that ... we enforce all the laws, and we do so fairly, independently and even-handedly."
"Our actions I think are the best indicator of what our policies are," he said, trying to emphasize the point.
The Justice Department's Office of Professional Responsibility has launched a probe into the handling of the New Black Panther Party case, and the department's inspector general is investigating what it describes as "more broadly the overall enforcement of civil rights laws by the Voting Section" of the Civil Rights Division, including "information about cases such as the New Black Panther Party matter and others."
In April 2009, the Justice Department won a default judgment against the two New Black Panther Party defendants, who on Election Day 2008 were dressed in military-style uniforms. One was shown on videotape carrying a nightstick. In May 2009, though, the Justice Department filed a motion to dismiss charges against the man not seen carrying a nightstick, saying a lack of sufficient evidence meant the case against him wouldn't stand up in court. The Justice Department successfully pursued an injunction against the other man. He is barred him from carrying a weapon within 100 feet of an open polling place in Philadelphia.