Holder, top US official in Paris for terror talks, not seen at unity march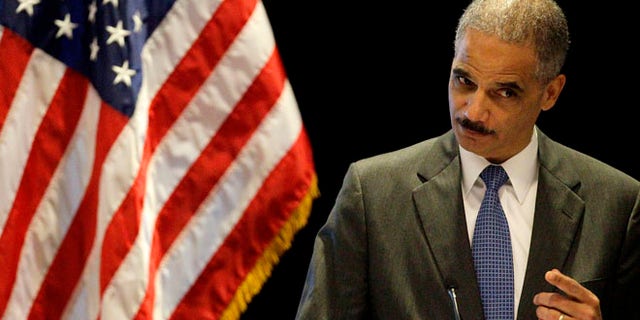 Secretary of State John Kerry announced Monday that he would travel to Paris later this week amid sharp criticism that no top U.S. official attended Sunday's march against terrorism in the French capital.
More than 40 world leaders marched arm in arm through Paris to rally for unity and freedom of expression and to honor the 17 victims killed over three days of terror attacks. However, neither President Obama nor Vice President Biden nor Kerry were among them. Attorney General Eric Holder, in Paris to attend a meeting on fighting terrorism, also did not participate.
The leaders headed a demonstration of at least tens of thousands of people who converged on the capital after three gunmen last week attacked a newspaper office, kosher supermarket and police.
Among the world leaders attending the event, under extremely tight security, were French President Francois Hollande, British Prime Minister David Cameron, Israeli Prime Minister Benjamin Netanyahu and Palestinian President Mahmoud Abbas.
Kerry was in India attending an international investment conference and push to trade ties with the giant South Asian nation ahead of visit by President Obama later this month. He announced his plans to go to Paris during a news conference in Ahmedabad.
The United States was represented in the Paris march by Ambassador to France Jane Hartley.
Speaking from Paris, Holder said in a series of interviews with the Sunday morning news shows in Washington that investigators at this point don't have "any credible information" to determine which terrorist group was responsible for the attacks in Paris.
He also said the White House will hold a summit Feb. 18 in Washington on terrorism.
Al Qaeda's branch in Yemen has said it directed the attack in Paris last week by two brothers against a newspaper that lampooned Islam and other religions, and the gunman in the hostage-taking at a kosher market is seen in a new video pledging allegiance to the Islamic State group.
Holder says both terrorist groups pose a threat to the United States and its allies.
A senior administration official told Fox News late Sunday that security requirements for both the President and Vice President can be distracting from events like this and that the U.S. government continues to work behind the scenes with France.
The Associated Press contributed to this report.