Holder 2020? Ex-Obama attorney general reportedly mulls run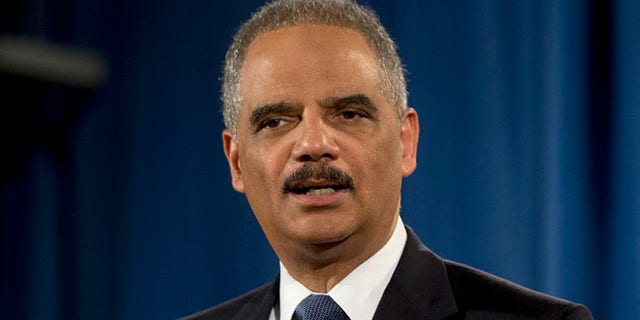 NEWYou can now listen to Fox News articles!
Eric Holder, the Obama-era attorney general who delighted in sparring with congressional Republicans and has since joined the anti-Trump 'resistance,' said in an interview he's planning to become "more visible" – and reportedly could be considering a 2020 presidential run.
Yahoo News reported that Holder is mulling a bid and stepping up his public appearances.
"Up to now, I have been more behind-the-scenes," Holder told Yahoo News. "But that's about to change. I have a certain status as the former attorney general. … So I want to use whatever skills I have, whatever notoriety I have, to be effective in opposing things that are, at the end of the day, just bad for the country."
HOLDER HIRED TO HELP CALIFORNIA FIGHT TRUMP
According to Yahoo News, he said, "Now is the time to be more visible."
What exactly he means by that remains to be seen.
For now, it means helping lead the legal charge against President Trump's agenda.
Earlier this week, Holder helped promote a new California bill that could extend 'sanctuary' policies toward illegal immigrants statewide.
He's already been working with California Democratic lawmakers for months as outside counsel to advise on potential challenges to Trump policies. But his next project reportedly will focus on an Obama-backed group helping prepare Democrats for redistricting in 2020. Yahoo News reports he'll also start making more political appearances and is planning a "PAC-like organization" to help local governments resist Trump.
Holder suggested a more significant role in the Yahoo interview.
"I thought, frankly, along with everybody else, that after the election, with Hillary Clinton as president, I could walk off the field," he said. "So when she didn't win, I thought, 'We'll have to see how this plays out.' But it became clear relatively soon — and certainly sooner than I expected — that I had to get back on the field and be in effective opposition."
The Democrats' 2020 field remains far from clear, with party elders like former Vice President Joe Biden still giving mixed signals about their plans. In the Yahoo News interview, Holder highlighted his ties to Obama and background as the first black attorney general.