Hispanic Leader Defends Pennsylvania Governor's Comment About Latinos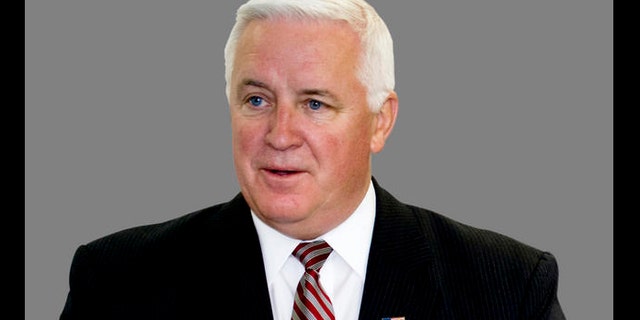 Pennsylvania Gov. Tom Corbett, a Republican who came under criticism recently for saying he did not have Latinos on his staff because he couldn't find any candidates, has an unexpected defender.
It's Ken Trujillo, a Latino Democrat from Philadelphia.
The Patriot-News reports that Trujillo, an attorney, feels the entire controversy has been overblown.
"Frankly I think this whole thing is much ado about not very much," Trujillo said, according to The Patriot-News.
"I think he's done a far better job with the Latino community than this controversy suggests," Trujillo is quoted as saying by the publication. "He's named and nominated Latinos to some of the most important positions, including the school reform commission in Philadelphia, me to the LCB, others to sub-cabinet positions, and cabinet positions such as the Department of Health."
Corbett made the controversial comment earlier this month at a roundtable sponsored by the Spanish-language publication Al Dia News. When asked by Al Dia News managing editor, Sabrina Vourvoulias, about Latinos on his staff, the governor said: "We do not have any staff members in there. If you can find us one, please let me know."
When Vourvoulias responded to his request for potential staffers by saying "I am sure that there are Latinos that ...," Corbett cut her off.
"Do any of you want to come to Harrisburg?" Corbett asked.
Hispanics make up roughly six percent of Pennsylvania's population, or about 800,000 people, in the 2010 Census.
Corbett, who is up for re-election in 2014, later defended the comment, saying that it had been taken out of context to hurt him politically.
Corbett spokesman Kevin Harley said in a statement to the press that the governor had appointed numerous Latinos, including Maria Montero as director of the Governor's Advisory Commission on Latino Affairs, and former Health Secretary Eli Avila.
Harley also pointed to Trujillo, whom Corbett unsuccessfully nominated to the Liquor Control Board.
Montero also came to the governor's defense in an interview with Fox News Latino last week, saying he had appointed numerous Latinos to posts around the state.
But critics say they do not feel reassured by the governor's defenders. They say the comments reflected a low regard for the talent in the ethnic community.
On Friday, House Democratic Chairman Rep. Xavier Becerra, a Democrat from California, joined the chorus of critics.
"It's not as if Pennsylvania is some podunk state out there in the wilderness that doesn't have a dynamic and talented Latino population," he told POLITICO.
Becerra is the highest-ranking Latino and fourth-ranking Democrat in the House.
Oscar Rosario, a founder of the Governor's Advisory Commission on Latino Affairs, said he spoke with the governor about the controversial comment on Thursday when he stopped in at meeting that Corbett was having in the Philadelphia area.
Rosario said that the governor told him to meet with his aides next Thursday to discuss suggestions for more Latino representation in state agencies.
Trujillo, a past president of the Pennylvania Hispanic Bar Association, said people should place more emphasis on Corbett's action than on his words.
"The governor's a good man," he said. "He's a good person, and this stuff is just kind of gotcha. And people get tired of it. He's really one of the last people in the world that anyone should try to paint as insensitive to minorities."
Follow us on twitter.com/foxnewslatino
Like us at facebook.com/foxnewslatino