Hiring Rates Still Stalled at Recession Levels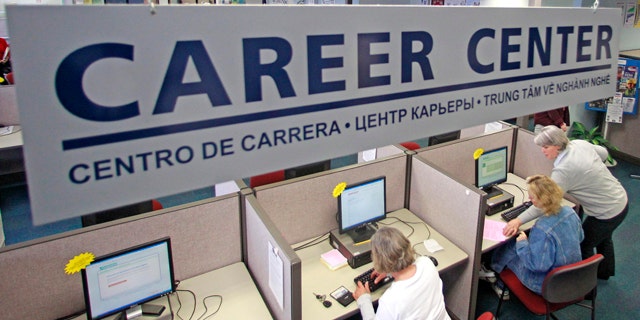 ARLINGTON, Va. -- At the Employment Center, just outside of Washington, D.C., scores of job seekers quietly gaze at computer screens, fine-tuning their resumes and searching for job fairs. They send faxes, emails and await meetings with job counselors. It has been this way for almost three years - an average of 1,500 job applicants a month – with no let up since the recession began.

This forlorn scene is in a Washington suburb home to a federal work force that has largely been spared the ravages of high unemployment still gripping the rest of the nation. Even here, amid the relative plenty of federal employment, is a stark contrast to the rosy picture presented by the Obama Administration of a job market on the rebound.

In several appearances this spring, President Obama has touted burgeoning job growth under his Administration. "In a little bit over a year, we've added more than 2 million jobs in the private sector, " the president said to enthusiastic applause at an Indianapolis hybrid transmission plant this earlier this month.

But those numbers don't tell the whole story.

This week in a Wall Street Journal Op-Ed, Hoover Institution Economist Edward Lazear sees the jobs picture through a different lens.

Lazear, who served as chairman of the White House Council of Economic Advisers under President George W. Bush, cites a little-referenced data point from the Bureau of Labor Statistics, the JOLTS (short for Job Openings and Labor Turnover Survey). The survey says that employers hired no more workers in March of 2011 - 4 million - than they did at the height of the recession in February of 2009.

The only difference between the two months was the number of job losses. In February of 2009, there were 4.7 million. More recently in March of 2011, losses had declined to 3.8 million.

In other words, Lazear maintains, the American economy added jobs not because hiring increased but because firing decreased.

"The reason is simple. Think about what you do if you're an employer - if business is starting to turn bad you start laying people off. When you've laid everybody off and you're at the bottom of the economy you don't lay anybody off anymore, they're already gone," Lazear told FOX News. "So layoffs get very low but you're not hiring either so that's the situation we're in right now."

Asked about Lazear's criticism of the economy's lackluster job production, White House Spokesman Jay Carney said the direction for the jobs market remained positive.

"We measure the job situation based on the data everyone sees and receives," said Carney, who added a dig at the 4 million jobs lost during the Bush administration. "It has shown us that we've had now 14 months of net job creation, private-sector job creation and three straight months of rather strong net private sector job creation."

But anecdotal evidence at the Arlington Virginia Employment Center suggests Lazear may be right. While there has been a mild uptick in the number of job applicants who are finding work, a stronger trend has been the declining number of applicants seeking unemployment benefits.

"We don't see as many people that are filing initial claims online as we did six months ago and definitely a year or so ago," says jobs counselor Charles Washington.

The good news in that, says Lazear, is that when layoffs slow, it's a sign that the economy has probably hit bottom. The bad news is that doesn't mean the economy is recovering.

Lazear says in order for a recovery to truly take hold it must generate upwards of 5.5 million jobs every month. He says, the economy is a half-million jobs shy of that right now.