Hillary Clinton has one word for Donald Trump: '¡Basta!'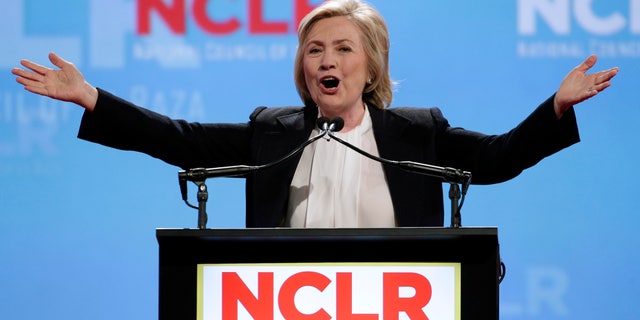 NEWYou can now listen to Fox News articles!
Presidential candidate Hillary Clinton said it was "appalling" to hear real estate mogul Donald Trump's description of Mexican immigrants a few weeks ago.
Speaking in front of hundreds of Latino activists gathered for a National Council of La Raza conference in Kansas City on Monday, the former secretary of state said, "I have just one word for Donald Trump: Basta! Enough!"
Her official Twitter account posted an eye-catching tweet with the word "¡Basta!"in bold letters the same day.
"[Trump] is talking about people you and I know. He's talking about people who love this country, work hard and want nothing more than a chance to build a better life for themselves and this country," she said to a cheering crowd.
"When people and businesses everywhere rejected his hateful comments, did he apologize? No, he doubled down," she said of the GOP presidential candidate.
On Tuesday morning, Trump's campaign issued a statement responding to Clinton's statements.
"Failing candidate Hillary Clinton, who is desperately trying to hold onto her lead in the democratic primary against Bernie Sanders, is knowingly putting out lies about my stance on illegal immigration. I said 'Mexico is sending' – I'm not knocking immigration or immigrants but rather am very critical of the country of Mexico for sending us people that they don't want," the statement read.
"She is desperate, she is sad and she is obviously very nervous when she has to revert to issues that have already been settled given the absolute accuracy of my statement," he said. "She speaks about 'my tone,' and that's the problem with our country's leaders. They are more worried about tone than results!"
During his campaign kickoff speech last month, Trump characterized the Mexicans who enter the U.S. illegally as criminals, drug dealers and rapists.
The businessman has since come under fire from critics inside and outside the Republican Party, but he has refused to back down. Several businesses, including NBC, Univision and Macy's, have cut ties with him as a result.
Meanwhile, Clinton has expressed open support for a comprehensive immigration reform saying that it will be one of the major goals if she is elected president.
"I am 100 percent behind comprehensive immigration reform that includes a path to citizenship," she said during a televised interview last week.
Fox News Producer Christopher Snyder and the Associated Press contributed to this report.