HHS dispatches workers to push ObamaCare info at malls on Black Friday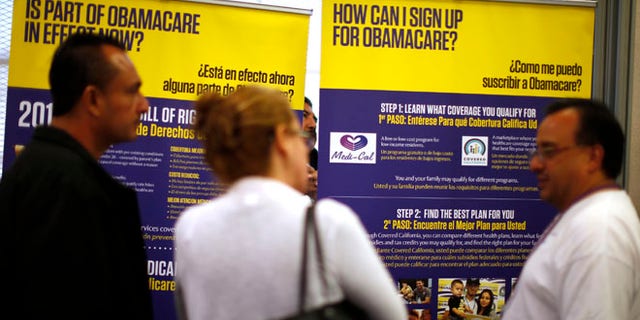 NEWYou can now listen to Fox News articles!
Shoppers ready to look for deep Black Friday retail deals could get more than they bargained for this year. Malls in a number of states across the country are allowing health care navigators to set up shop around stores to hawk the benefits of ObamaCare.
It's all part of a Health and Human Services campaign to snag as many sign-ups as possible. Government reps will be armed with information packets and other promotions to pitch to Americans.
This year's effort marks a stark shift from last year's celebrity-heavy campaign used to build up buzz about HealthCare.gov.
As part of the new outreach initiative, Westfield malls in eight states, including California, Florida, Illinois and New Jersey, will let navigators and other enrollment workers hand out fliers and other outreach work to get people to enroll.
The goal is to get 9 million new sign-ups by next year.
The government's enrollment push with Westfield Shopping Centers will involve setting up outreach tables at malls in Florida, Illinois, New Jersey, Connecticut, Maryland, New York and Washington state. Separately, the California insurance marketplace, Covered California, will work with Westfield malls in that state.
The administration released what it called a snapshot of signups for the first week of the enrollment period, which started Nov. 15. U.S. Department of Health and Human Services Secretary Sylvia Burwell said 462,125 people chose a health plan in the 37 states using the federal website.
Of those, 48 percent are new customers, including enrollees in Oregon and Nevada, which turned over their troubled insurance markets to the federal government. The figures don't include states running their own insurance markets. The numbers represent only the choice of a plan, and not whether consumers paid their first month's premium — a requirement for coverage to start.
"We're off to a solid start but we've got a lot of work every day between now and Feb. 15," the last day of the enrollment period, Burwell said in a conference call with reporters. About 1 million people phoned the enrollment site's help line, she said, and roughly an additional 100,000 callers chose to speak with a Spanish-speaking representative.
Burwell said the administration is sticking with its previously announced goal of signing up 9.1 million consumers for coverage in 2015.
Unlike last year, the website suffered no outages in the first week, officials said, and it's ready to handle 250,000 users at a time during anticipated surges around deadlines. Consumers must sign up by Dec. 15 for coverage to start on Jan. 1.
The figures announced Wednesday don't include dental plans, Burwell stressed. Last week, the administration acknowledged it had been over-reporting the number of enrollees by double-counting about 400,000 who had both medical and dental plans. Burwell said she has directed her staff to find out how the double-counting happened.
Burwell promised a weekly update on enrollment along with more thorough monthly reports that will include what's happening in state-based markets.
Along with the shopping mall campaign, HHS announced marketing partnerships with the National Community Pharmacists Association and the XO Group, a company that runs websites targeting brides, new mothers and homeowners. The pharmacists group will get enrollment information to its members and pharmacy customers, officials said. The XO Group will post blog content on its sites.
The Associated Press contributed to this report.