Haley, DeSantis or Trump vs Biden? Here's where Americans stand on rumored 2024 presidential contenders
Fox News Digital rounds up the latest trends in the polls on the 2024 presidential race
As speculation swirls over would-be candidates in the 2024 presidential race, Americans have begun to weigh in on their picks for the next commander-in-chief.
Among Republican voters, Florida Gov. Ron DeSantis continues to perform well in many polls, while former President Donald Trump has seen mixed results. President Biden has received modest support among Democrats, though a healthy portion of left-leaning voters still express interest in someone else entirely.
According to a recent Marquette University national poll, 64% of registered Republicans would pick DeSantis over Trump as the 2024 nominee, if the choice came down to the pair. The same poll found that registered voters favored DeSantis over Biden, 45% to 38% in a hypothetical 2024 matchup. In a head-to-head match up between Trump and Biden, the duo tied at 40%.
In both hypothetical matchups, Biden's share of support has steadily declined since last summer, while support for DeSantis and Trump has increased in the past year. The Marquette poll was conducted from Jan. 19-20.
TRUMP, NEWSOM, DESANTIS? A LOOK AT WHO'S RUNNING, AND WHO'S OUT OF THE 2024 PRESIDENTIAL ELECTION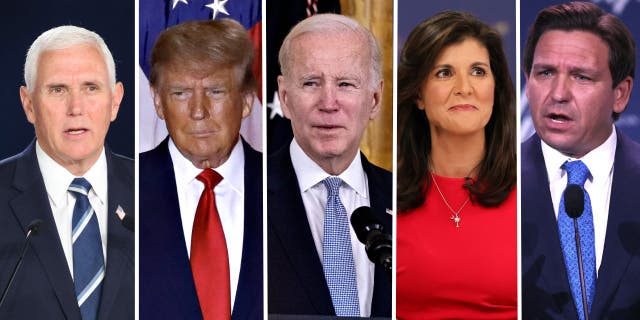 In a December USA Today poll, Biden led Trump in a hypothetical matchup. However, the president continued to trail DeSantis in a head-to-head race, with DeSantis at 47% and Biden at 43%.
In New Hampshire, a critical early state in the presidential nomination process, DeSantis leads the pack of GOP candidates with 42% of likely GOP voters picking the Florida governor as their top choice for president in 2024. Trump follows modestly behind with 30%, with former U.N. Ambassador Nikki Haley next in line with 8%.
The University of New Hampshire poll, conducted from Jan. 19-23, shows steady support for DeSantis since June 2022, though Trump's support among likely Republican voters in the Granite State declined since last summer. The poll had a margin of error of plus or minus 3.3 percentage points.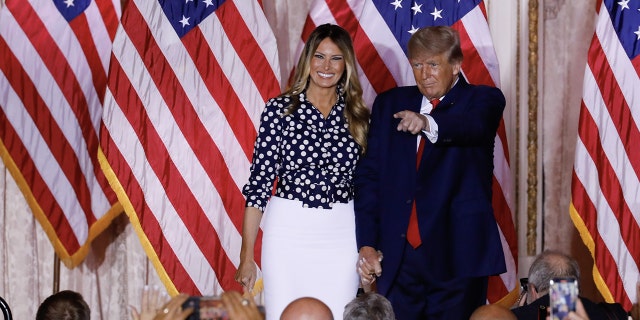 While DeSantis has gained ground among GOP candidates in some polls, a NPR/PBS NewsHour/Marist national poll from December has Trump on top in a field of Republican candidates. The former president had a healthy lead over his competitors with 45% of Republican and Republican-leaning independents supporting Trump in 2024. The poll had a margin of error of plus or minus 3.5 percentage points.
SOUTH CAROLINA'S NIKKI HALEY TO LAUNCH 2024 PRESIDENTIAL CAMPAIGN, JOINING TRUMP IN NOMINATION HUNT
According to the same poll, Biden continues to lead in a Democratic field of contenders with 35% of Democrats and Democrat-leaning independents supporting a Biden re-election, though 27% of respondents support someone other than Biden, Vice President Kamala Harris or Transportation Secretary Pete Buttigieg.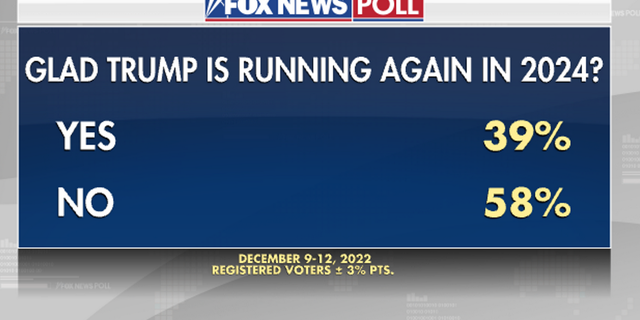 Though Biden has not yet announced his decision to seek re-election, departing White House chief of staff Ron Klain on Wednesday gave the latest sign that the president intends to pursue a second term: "As I did in 1988, 2008 and 2020, I look forward to being on your side when you run for president in 2024," Klain told a group of staff and press.
Sources confirmed to Fox News in January that an announcement on Biden's 2024 presidential campaign plans would not come until after the State of the Union address next Tuesday.
CLICK HERE TO GET THE FOX NEWS APP
Among Republicans, the pool of contenders is also starting to take form, with Trump in the race since November and Haley expected to announce her run on Feb. 15. Other rumored GOP candidates include DeSantis, South Carolina Sen. Tim Scott, former Secretary of State Mike Pompeo and former Vice President Mike Pence.