Henrique Capriles Says Venezuelan TV Station Won't Air His Speeches Live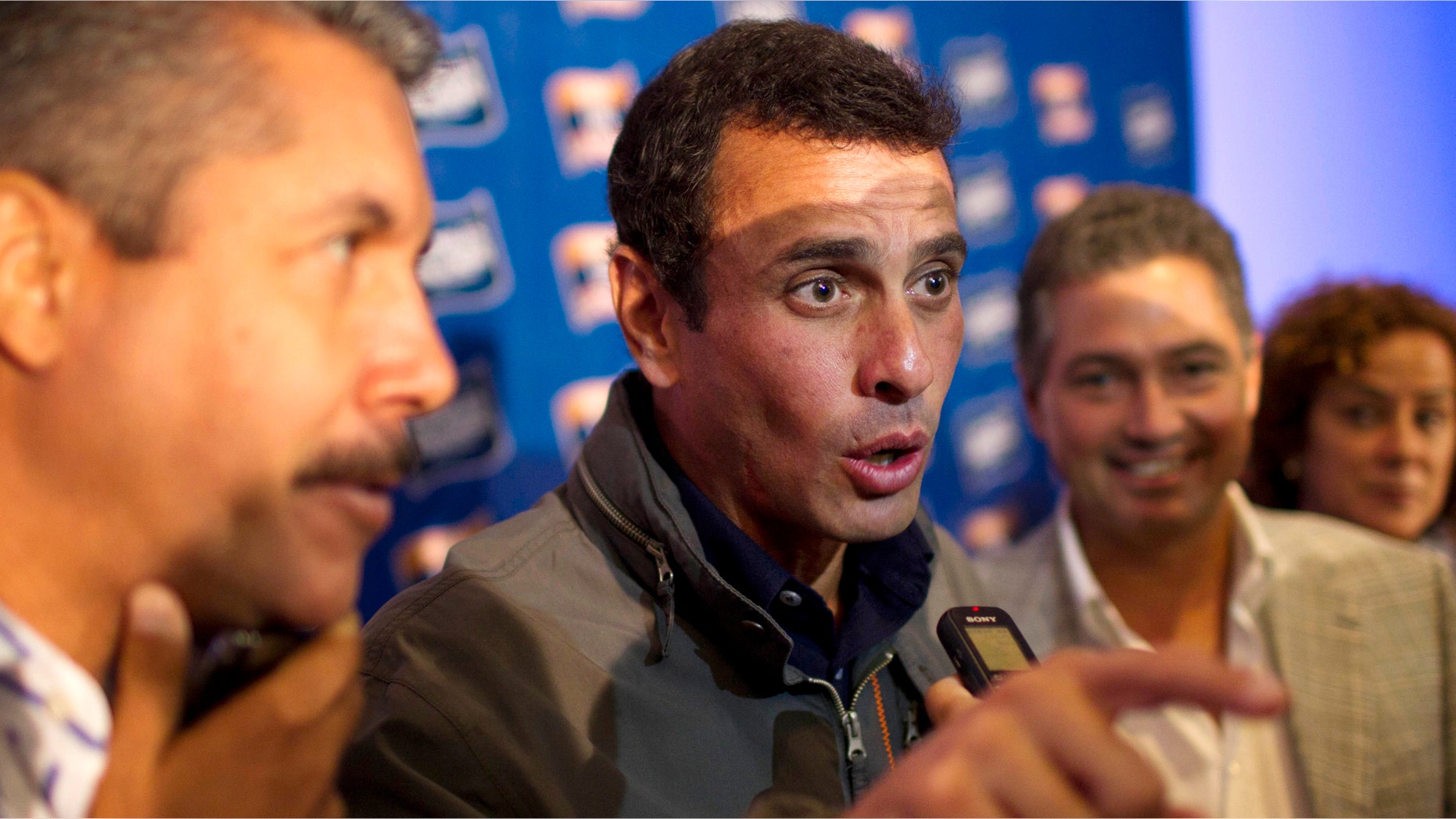 The latest allegation from the leader of Venezuela's opposition party is that the new owners of the local Globovision television news channel won't allow the station to broadcast his speeches live.
On Sunday in messages on Twitter, Henrique Capriles said the channel, which was once a steadfast critic of the government and for years served as the sole media counterweight to state television, caved under pressure.
"Globovision has been a window for the country to have information in real time that's different from that of the government," wrote Capriles, who emerged as the chief political rival to ex-President Hugo Chávez last year and who narrowly lost a contested election in April to Chavez's anointed successor, Nicolas Maduro.
Capriles informed his supporters that Globovision's employees told him the channel's board of directors would no longer allow his speeches to be broadcast live. Prior to this year's election, Globovision often carried live speeches by Capriles that were ignored by state media.
Globovision did not immediately answer a request for comment, though its legal consultant, Ricardo Antela, tweeted on Monday that he would advocate preserving an editorial line "independent of the government and other interest groups."
Antela also noted that he would attempt to fight for "the rights of citizens to receive truthful and opportune information, and opinions, without censorship."
Meanwhile, talk show host Franciso Bautista, who has often been critical of the government, announced on Twitter on Monday that he was leaving Globovision after a dispute with its new owners "over the censorship that they are imposing."
A group of Venezuelan businessmen, including banker and insurance executive Juan Domingo Cordero, bought a majority stake in the station earlier this month, raising questions about its future direction.
After a meeting with Maduro last week, Cordero said Globovision would continue to be a news channel, but that it would also work toward reducing conflict and promote peace in Venezuela.
"We will transmit the news, exclusively the news, and telling the truth," he said.
Signaling a less confrontational stance against the government, he said: "You know the reasons why Globovision didn't come to this palace (under the previous owners). That's not going to happen again with Globovision."
Little is known about the political affiliation of Cordero and his partners Raul Gorrin and Gustavo Perdomo.
A website dedicated to Cordero describes him as a "brilliant economist" who served as a board member on the Caracas Stock Exhcange and the board of trade in the state of Miranda. It says he also served on a commission established by the Central Bank "to integrate the activities of the stock market in the metropolitan area."
The site says Cordero took over Seguros La Vitalicia, an insurance company, with partners Gorrin and Perdomo in 2008.
Raimundo Urrechaga, an official from the government's information ministry, did not respond to an email seeking comment regarding Capriles' allegations that Globovision's owners were pressured by authorities to prohibit the broadcast of his live speeches.
Based on reporting by The Associated Press.
Follow us on twitter.com/foxnewslatino
Like us at facebook.com/foxnewslatino