Health Care Law Looms Large Over 2012 Race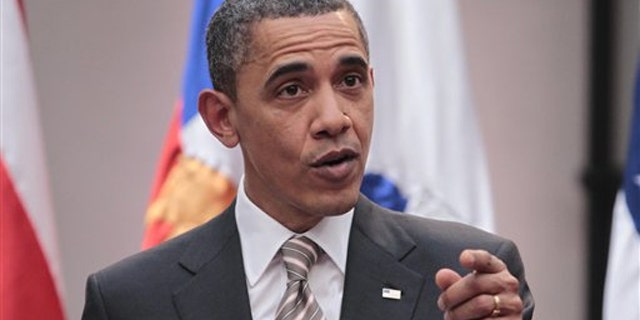 NEWYou can now listen to Fox News articles!
It's been exactly one year since President Obama signed a sweeping federal health care law, and with Republicans determined to undo it, Obama knows his 2012 re-election will be a tough referendum on himself and his signature legislation.
Last month, conservatives from all over the country gathered in Washington at the group's biggest convention, CPAC, uniting behind potential Obama opponents and the call to repeal his law.
"Repeal Obamacare. That would be a good win," cheered former Pennsylvania Sen. Rick Santorum.
"The first political breath I take every morning is to repeal Obamacare," said Minnesota Rep. Michele Bachmann.
Mississippi Gov. Haley Barbour reasoned that "Obamacare repealed and replaced by an improved system" is what would work best.
Last year, after a controversial and extremely drawn-out fight, Obama and his fellow Democrats predicted the law, called the Patient Protection and Affordable Care Act, would gain popularity as different parts of the measure went into effect.
So far, that hasn't happened.
More than half of the states are now suing over the law's constitutionality and the latest Gallup poll suggests it's actually less popular than a year ago. Forty-six percent of respondents think it's a good thing that Congress passed the law, down from 49 percent in 2010.
"The Obama administration is stonewalling serious rethinking of this bill," former House Speaker Newt Gingrich told an audience last week. "In the form it came through and in the way they wrote it, it is clearly an indefensible bill."
The Republican leadership on Capitol Hill agrees. House Speaker John Boehner, R-Ohio, and Senate Minority Leader Mitch McConnell, R-Ky., marked the anniversary with attack videos.
"If there's a constant in this story of Obamacare," Boehner said, "it's broken promises."
"Federal health spending is estimated to go up over $450 billion over the next decade," McConnell argued. "Taxes will go up more than $550 billion."
The conservative advocacy group Crossroads GPS filed a federal suit Wednesday against the administration for failing to comply with the Freedom of Information Act and requests regarding the 1,000 waivers that have been issued by the Health and Human Services Department letting organizations and businesses opt out of the plan until at least 2014. Adding fuel to opposition fire is the fact that nearly half of those waivers have been granted to labor unions, typically Democratic allies.
The anniversary drew reactions from most of the prospective 2012 GOP field.
Mitt Romney says if he were president he'd give all 50 states a waiver to opt-out of the federal mandate. But it's a touchy subject for the 2008 presidential contender. As governor of Massachusetts he signed a law similar to Obama's. It required citizens to purchase coverage and there were fines for noncompliance. He's reasoned that it's different when done on the state level, but the similarities are a fact Romney can't escape.
"I agree with Mitt Romney, who recently said he's proud of what he accomplished on health care in Massachusetts," the president said last month.
And a Twitter war Wednesday between the men's top advisers suggests Obama will keep reminding the public that Obamacare and Romneycare aren't much different.
Romney is already on the defense in early voting states like New Hampshire where conservatives hold sway.
"Our experiment wasn't perfect," Romney explained at the Granite State's Lincoln Day Dinner. "Some things worked, some didn't, and some things I'd change."
Former Utah Gov. Jon Huntsman is hiring campaign staff now that he's resigned as Obama's ambassador to China. Huntsman oversaw passage of a health care law in his state that didn't include mandates, although he did support the idea initially.
The Republican field of 2012 hopefuls mostly agree that they would repeal and replace the current health care law with market-based reforms. Former Minnesota Gov. Tim Pawlenty so far is the only major candidate officially exploring a run. He issued a statement Tuesday calling the law "one of the most flawed and misguided laws in modern history."
Obama has said more than once that he'd risk being a one-term president to pass his health-care legislation. Republicans are virtually certain to nominate an opponent committed to repealing it.
Megan Dumpe Kenworthy contributed to this report.