Hailing From Arizona, Napolitano And McCain Duke It Out In Washington Over Immigration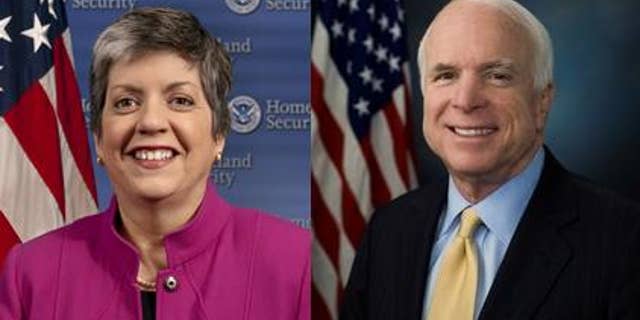 Two Arizona natives battled in Washington on Wednesday over increased violence near their native state, with Homeland Security Secretary Janet Napolitano telling Sen. John McCain that administration efforts along the Southwest border are being "misconstrued" and "misinterpreted" by critics.
"What we have done in the past two years is put more resources on the Southwest border than ever before, both in federal [efforts] and providing resources to the states," she said during a six-minute exchange with McCain that became increasingly heated. "We have removed and will be removing more criminal aliens from this country than ever before, and I think that's the right policy. ... I measure what we're doing by the results, and what should be going up is going up, and what should be going down is going down"
McCain, however, suggested Napolitano, who was governor of Arizona before joining the Obama administration, is the one misinterpreting things.
"From my visits to the southern part of our state, they don't see this dramatic improvement, Madam Secretary," he told her. "In fact, they are more worried than they've ever been. They see continued home invasions, they see continued requirements for our government to put up signs that say, 'Warning to our citizens' that they are in a drug smuggling area, a human smuggling area. They don't have the same security that people do in other parts of our country."
The exchange during a Senate Homeland Security Committee hearing stemmed from an initial question about new policy being considered by Immigration and Customs Enforcement, which McCain said would "let illegal immigrants go free."
In late August, ICE posted on its website a memo labeled "Draft Only For Discussion and Comment," which ICE said was "not a final policy" and "disseminated solely to collect feedback" from the public. Among the policies outlined in the draft memo was a directive that immigration officers "should not" detain "an alien charged only with a traffic-related misdemeanor" if that person is not a threat to public safety.
On Wednesday, McCain asked Napolitano if ICE "has proposed to enact a policy that would prevent law enforcement officers from reporting illegal immigrants identified during the course of a traffic-related stop to federal authorities unless they are convicted felons."
Napolitano insisted "that is not the policy of ICE," saying ICE's guidance is only to "prioritize those" who pose a danger to society, "and our removals of those individuals are at record numbers."
Whether an illegal immigrant is detained or not "depends on the seriousness of the offender, and the availability of bed space," according to Napolitano.
"This is a real problem along the border," she said after a follow-up question from Sen. Scott Brown, R-Mass. "We don't have enough beds ... to detain everybody who crosses the border."
She echoed what a DHS official previously told Fox News: Under ICE's proposed new policy, illegal immigrants who are stopped for traffic violations would be placed into the removal process, with at least an order to appear in court, but not all illegal aliens would be detained pending their court appearances.
"If, however, it's somebody who has crossed illegally, and they have a felony record, or they're a gang member, or they're somebody who's a fugitive, then we will be able to seek detention and removal," Napolitano said.
At one point, Napolitano and McCain seemed to challenge each other to produce sheriffs and others from along the border who could corroborate each of their claims.
"They're down there on the front lines, and they'll tell you they have not seen improvement," McCain said of the sheriffs supporting his position.
"Let's get them all up here," Napolitano responded as the two talked over each other, prompting the Senate committee's chairman, Sen. Joe Lieberman, I-Conn., to interrupt by saying, "All right, thank you both."
The Senate hearing, which primarily focused on the administration's counterterrorism efforts, came one day after Senate Republicans blocked efforts by Democrats to pass the "Dream Act," which would help some children of illegal immigrants become citizens, and one day after Senate Republicans wrote a letter to Napolitano demanding answers about the U.S. government's plans to address illegal immigration.
In what was at least their fifth related letter in four months to the Obama administration, seven senators told Napolitano, "We write to you again to express our growing concern about the Department of Homeland Security's execution of U.S. immigration laws."
The letter referenced several recently-disclosed DHS documents, including the ICE draft memo discussed by McCain and Napolitano on Wednesday and a U.S. Citizenship and Immigration Services draft memo outlining "administrative alternatives to comprehensive immigration reform."
"Whether or not the proposals ... have been officially implemented, it is increasingly clear that this Administration is following the spirit of these proposals by dramatically narrowing its efforts to remove whole classes of illegal immigrants," the Republicans' letter said.
DHS officials took issue with that assessment, saying in a statement that the department "doing more than ever before to enforce U.S. immigration laws."
"To be clear, we are not engaged in a 'backdoor' amnesty and are on pace to place more people in immigration proceedings this year than ever before," DHS spokesman Matt Chandler said.
After Grassley's office provided the USCIS draft memo to media outlets in late July, Napolitano insisted it did not reflect "official policy or decisions" and was only intended to "elevate ideas" and "weed out" poor options. A DHS official told Fox News at the time that the draft memo was never signed by its authors and was never sent to the intended recipient, USCIS Director Alejandro Mayorkas.
Republicans, however, said such assurances "do not address the other proposals contained in these recently-discovered memoranda that would, among other things, evade the current statutory penalties that bar aliens who illegally cross our borders from receiving immigration benefits, or that would allow violators of U.S. immigration laws to use relationships to legal residents or U.S. citizens to obtain immigration benefits to which they are not entitled under the law."
"Your assurances also fail to address reports that DHS has adopted a policy of refusing to remove any illegal immigrant who happens to be apprehended if he or she might qualify for relief in legislation that has been introduced, but not passed, by Congress," the letter to Napolitano said.
Asked about the "other proposals" mentioned in the DHS documents and recent reports about DHS policy, Chandler, the DHS spokesman, sent Fox News his statement, insisting, "As we have said repeatedly, DHS will not grant deferred action or humanitarian parole to the nation's illegal immigrant population."