Hagel tight-lipped on what led to resignation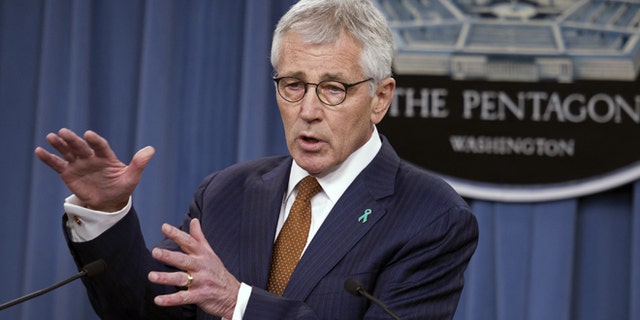 Defense Secretary Chuck Hagel, in what was likely his last appearance at the Pentagon podium, offered little explanation Thursday over his abrupt departure from the Obama administration – staying coy on what led to his resignation.
Hagel spoke a day before President Obama plans to nominate a replacement, widely expected to be former Pentagon official Ashton Carter.
After delivering prepared remarks about the department's response to sexual assaults, Hagel was asked why he resigned -- and if he was in fact fired, as has been widely reported.
Hagel offered few clues, telling reporters it was a mutual decision that came about after a series of private meetings with Obama.
"When I say private, no one else has been in the room," Hagel said.
"So with all the speculation and all the smart people figuring out what was said and what wasn't said, only two people know what was said. That's the president and me."
He called the president a "friend."
Hagel said he couldn't point to one major issue or point of contention that led to his resignation, but he wasn't clear on the more subtle reasons.
"This was a mutual decision based on the discussions that we had. I don't think there's ever one overriding or defining decision in situations like this, unless there's some obvious issue -- and there wasn't, between either one of us."
Hagel said repeatedly he felt it was time for a "fresh" leader and "you have to know when to leave."
There were reports of tensions between the White House and the Pentagon before Hagel's resignation. Asked Thursday about complaints from past Defense secretaries that the White House micro-manages their affairs, Press Secretary Josh Earnest defended the White House approach.
"I can tell you that whoever [the next Defense secretary] is, they will be very clear about what the chain of command is, and they will understand that the president of the United States is the commander in chief and sits at the top of the chain of command," he said. "That means the president bears significant responsibility for what happens at the Pentagon and the Department of Defense."
Hagel suggested the next two years present a whole new set of challenges. But, when asked if he meant he wasn't up to those challenges, he scoffed: "Whether I thought I could do the job was not the issue."
"No one ever knows about a job, especially a big job, until you get in – until you're the actual practitioner of the job," he added. "Now – you can read about it, your predecessors can tell you about it, you can think you know about it, and you can write about it and broadcast about it, but nobody knows about these jobs."
He also suggested it would be good to have new civilian leadership in the department as many of the Joint Chiefs, including the chairman, are expected to rotate out early next year.
Hagel got emotional toward the end of his remarks.
"Forty-six years ago today I arrived at Oakland, California on a transit back from Vietnam after I'd spent one year in Vietnam -- 46 years ago today," he said. "If anybody would have told Sergeant Hagel walking off that plane with my duffel bag where I'd be 46 years down the road that would have been pretty hard for me to believe."