Hagel sends US troops into Philippines to help with post-typhoon humanitarian efforts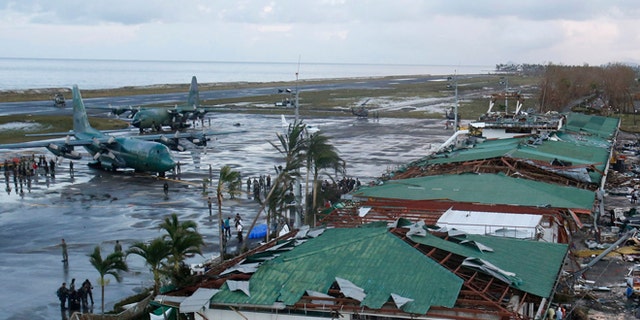 NEWYou can now listen to Fox News articles!
Secretary of Defense Chuck Hagel on Sunday directed the U.S. Pacific Command to support American humanitarian relief efforts in the Philippines in the wake of Typhoon Haiyan.
Col. Brad Bartelt, a Marine Corps spokesman, said the U.S. military was called in at the request of the Philippines government.
Haiyan struck the island nation Friday, impacted more than 4.2 million people across 36 provinces in the Philippines, according to the Philippine government's National Disaster Risk Reduction and Management Council.
The death toll has reached 1,000 but the number is projected to climb to 10,000.
Philippine officials say they will have a better idea about fatalities and damage in the coming days as transportation and communications systems are repaired.
A team of Marines was on the ground Saturday making early assessments and was led by Brigadier Gen. Paul Kennedy.
Bartelt said the initial focus of the U.S. effort will be air and sea search-and-rescue, helicopter and aircraft lift support and helping with logistics.
Officials said the U.S. government has since 1990 responded to more than 40 disasters in the Philippines at the request of that country's government, ranging from volcanic eruptions and drought to population displacement.
The U.S. effort is expected to include at least 90 Marines and sailors as well as a cargo planes and helicopters.
President Obama said he and first lady Michelle Obama were "deeply saddened by the loss of life and extensive damage."
"The United States is already providing significant humanitarian assistance, and we stand ready to further assist the government's relief and recovery efforts. Our thoughts and prayers go out to the millions of people affected by this devastating storm," the president said.