Hagel, Rice praise Bergdahl recovery mission, soldier's parents speak out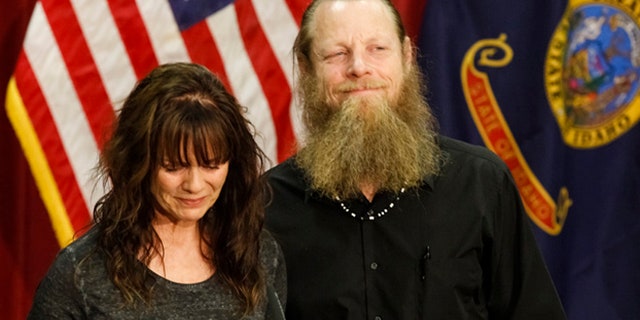 NEWYou can now listen to Fox News articles!
The parents of Army Sgt. Bowe Bergdahl -- the American who was released this weekend after being held for five years by the Taliban -- urged their son Sunday to take his time to recover and thanked everybody, from people in their home state of Idaho to American and Qatari officials, for helping return their son.
"Take all of the time you need to recover and decompress," said his mother, Jani Bergdahl, who has yet to speak directly with her son. "I am so longing to see your face after these five years."
On Saturday, 18 Taliban members turned over Bergdahl, the only American soldier held prisoner in the war in Afghanistan, to a Navy SEAL team near the Afghanistan-Pakistan border at about 10:30 a.m. ET.
"Bowe I love you. I am your father," said his dad, Bob Bergdahl, in the couple's roughly 20-minute press conference in Boise, Idaho, on Sunday afternoon. "Please recognize we are on a mission... I'm so proud about how far you were willing to go to help the Afghan people."
Their comments came hours after top Obama administration officials praised the diplomatic and military efforts to recover Bergdahl, saying it was an "extraordinary" and "life-saving" mission while disagreeing with the arguments that officials negotiated with terrorists and failed to inform Congress.
Defense Secretary Chuck Hagel and National Security Adviser Susan Rice made their comments roughly 24 hours after Americans learned that Bergdahl was recovered in exchange for the release of five Taliban detainees at the U.S. prison in Guantanamo Bay, Cuba.
"It was an extraordinary day for America," Rice told CNN's "State of the Union."
Rice and Hagel repeatedly disagreed with the argument that U.S. officials negotiated with terrorists to get back Bergdahl.
"He wasn't simply a hostage," Rice said. "He was a prisoner of war."
Hagel told NBC's "Meet the Press": "We didn't negotiate with terrorists. Sergeant Bergdahl is a prisoner of war. That's a natural process."
Michigan GOP Rep. Mike Rogers, chairman of the House Permanent Select Committee on Intelligence, told CNN that administration officials had "other means" to recover Bergdahl.
"You send a message to every Al Qaeda group in the world that there is some value in a hostage that it didn't have before," he said.
On the issue of not informing Congress, Hagel said he informed the leaders of the appropriate congressional intelligence and military committees, but defended the administration's actions by saying officials had to move swiftly.
"This was essential to save the life of Sergeant Bergdahl," he said.
Rice said Congress, which has cited a 30-day notification rule, had been informed in the past and that the Pentagon got Justice Department approval for the swap before executing the plan.
"There was reason to be concerned [Bergdahl's] life could have been at risk," Rice said. "We didn't have 30 days."
Hagel and Rice sidestepped questions about whether officials will investigate how and why the 28-year-old Bergdahl apparently wandered off base in Afghanistan before he was captured on June 30, 2009.
"He probably went through hell," Hagel said from Afghanistan. "The first issue is his health."
The Taliban detainees were released Saturday after Bergdahl was in American hands and flown by U.S. military plane to Qatar, whose government helped broker the deal and where the former U.S. prisoners will remain in some form of limited confinement.
Bergdahl arrived Sunday morning at Landstuhl Medical Center, in Germany. He has not spoken with his parents yet, the official said.
Hagel said earlier Sunday that the swap was backed by the unanimous consensus of the National Security Council and added that the president has the authority to order such a release under Article 2 of the Constitution.
He also said he was hopeful the exchange could lead to a breakthrough with the Taliban.
The U.S. has long argued that the best way to a successful outcome in Afghanistan included reconciliation with the Taliban insurgents.
U.S. officials said Saturday the deal was reached after a week of intense negotiations mediated by the government of Qatar.
They said efforts to negotiate Bergdahl's release began in November 2010, that his return has been a top priority since May 2011 and that the opportunity to resume diplomatic efforts emerged several weeks ago.
The names of the detainees are Mohammad Fazl, Mullah Norullah Noori, Mohammed Nabi, Khairullah Khairkhwa, and Abdul Haq Wasiq.
They are believed to be the top five Taliban leaders at the prison and were selected in 2012 by Taliban leaders as part of initial negotiations.
Bergdahl is thought to have been captured by members of the Haqqani network, which operates in the Afghanistan-Pakistan border region and has been one of the deadliest threats to U.S. troops in the war.
The network, which the State Department designated as a foreign terrorist organization in 2012, claims allegiance to the Afghan Taliban, yet operates with some degree of autonomy.
Fox News' Jennifer Griffin and The Associated Press contributed to this report.