Gun control advocates push to take firearms from those accused of threatening violence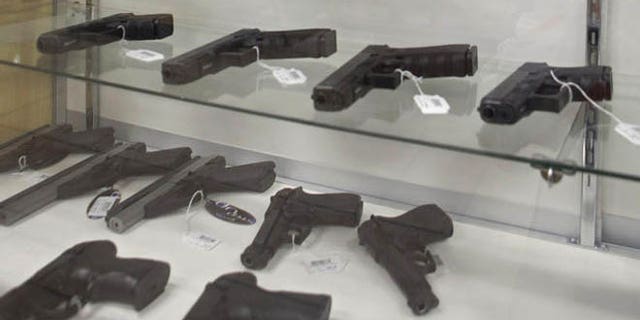 NEWYou can now listen to Fox News articles!
Domestic abusers are not allowed to have guns. But gun control advocates want to expand that federal law to include those who merely have been accused of threatening violence -- by prohibiting those under a temporary restraining order from having firearms.
Second Amendment supporters say these bills are unconstitutional because they violate the right to due process. But they may be gaining traction.
Sen. Richard Blumenthal, D-Conn., introduced a bill last week that would make it illegal to possess a gun while subject to a temporary restraining order.
Temporary restraining orders generally are given for a two-week period to allow time to set up a court date for the accused to defend himself or herself before a judge.
Under these proposals, firearms could be taken during that period -- as opposed to current law which only allows for that to happen when someone is convicted of domestic violence or subject to a final restraining order.
Victims' advocates say this temporary period, however, is crucial to saving lives.
"At the time a domestic violence survivor leaves a domestic violence situation, she or he is five times more likely to get murdered," said Karma Cottman, executive director of the D.C. Coalition Against Domestic Violence. "When a firearm is present, the intimidation threats are heightened -- but also her own risk, in terms of being able to feel safe -- are incredibly heightened."
In Washington, D.C., the mayor and city council are fighting over the constitutionality of a similar bill -- sponsored by Councilmember Mary Cheh -- which had a hearing earlier this month.
Cheh said in an interview that the high degree of danger that a domestic partner faces right after seeking help "weighs in favor of getting the gun first -- for a short period of time -- and then sorting it out later." She said that, "It's not right to say they don't have due process. They don't have it right away. Under a temporary restraining order, they will have to give up their guns for 14 days."
The Democrat said her bill is "perfectly consistent with due process" because it allows for the accused to defend themselves in court, even if that defense is delayed. Cheh, who is a constitutional law professor, said she has "complete confidence" that her bill would be upheld by the courts.
But D.C. Mayor Vincent Gray said that he would veto Cheh's bill if it got to his desk -- because he worries it would lead to another lawsuit against the District. Gray asked the council not to pass the bill in its current form because of "the constitutional issues that are raised around the Second Amendment rights and the issues around people having due process."
Gray suggests he is just being pragmatic, after the city lost a recent Supreme Court case to keep its 30-year handgun ban. "I am a huge proponent of gun control," the mayor said, when asked about the temporary restraining order proposal. "And I want to make sure we do everything that we can to keep guns away from people because, obviously, of the harm they can do."
Cheh said she will push to pass the bill with nine votes so that the council can override the mayor's expected veto.
The effect of a D.C. law would be different than that of a federal law because of the mandatory registration of every single gun in the nation's capital.
On the federal level, law enforcement officers wouldn't know who has guns -- or how many -- when a temporary restraining order is issued. But in the District, the police would be able to easily confiscate guns without giving a resident his or her day in court.
Laws that take away guns for temporary restraining orders already are in effect in California and Massachusetts.
Emily Miller is the chief investigative reporter for Fox 5 DC. She is the author of Emily Gets Her Gun (Regnery/2013).