Gun Control Advocates Cite Rise in Fatal Cop Shootings to Push for More Background Checks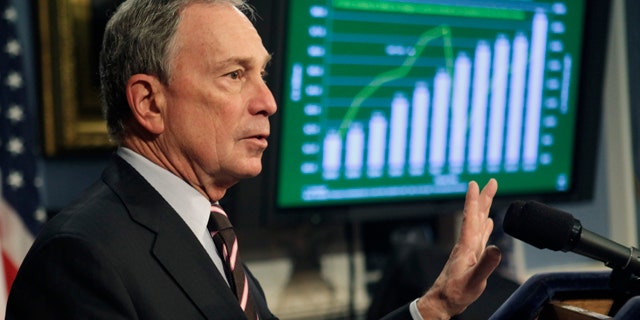 NEWYou can now listen to Fox News articles!
As President Obama welcomed the nation's top cops to the White House Thursday, a coalition of more than 550 mayors pushing for background checks on all gun sales is offering more evidence in support of its pet cause: the increasing number of law enforcement officers being fatally shot by criminals who have no legal right to own a firearm.
Mayors Against Illegal Guns, a group co-founded by Mayor Michael Bloomberg, is seizing on data showing that of the 31 law enforcement officers fatally shot in the line of duty this year, 23 were killed by assailants illegally bearing guns.
Overall, the 31 murdered officers represents a 40 percent increase over the same period in 2010 – a figure that is on pace to become the highest rate of fatal officer shootings in the last 10 years, according to Officer Down Memorial Page. The 59 fatally shot officers last year was a 26 percent increase over the 47 who were killed by gunshots in 2009.
Attorney General Eric Holder summoned police chiefs from across the nation to Washington last month to examine the trend and launch a new initiative aimed at improving officer safety, including identifying and prosecuting the "worst of the worst" gun offenders.
But Bloomberg isn't satisfied.
"The president and Congress owe law enforcement officers a serious effort to fight cop killings by keeping guns away from criminals in the first pace, and today, they're failing," Bloomberg said in a written statement. "The Justice Department's response is necessary but far from sufficient. Washington needs to collect the courage to insist on a background check system that's instant, accurate and comprehensive."
But gun rights supporters say the problem isn't background checks, but rather the criminal justice system.
"Anything illegal that anyone can do with a firearm is already punishable under current law," said Andrew Arulanandam, a spokesman for the National Rifle Association. "What needs to be done, current law needs to be enforced strictly. The NRA is on record lamenting the lack of enforcement. And rather than enacting more laws, the key here is enforcing existing laws."
The federal Brady law requires licensed firearms dealers to conduct background checks on buyers and has blocked more than 700,000 illegal sales since its inception in 1995, according to Mayors Against Illegal Guns.
But unlicensed, private sellers can sell guns without conducting background checks, and their sales accounts for roughly 40 percent of all U.S. gun sales. And millions of records are missing from the National Instant Criminal Background Check Database, allowing thousands of prohibited buyers to slip through the system, including Jared Loughner, who is suspected in the mass shooting in Tucson, Ariz., in January.
Sen. Charles Schumer and Rep. Carolyn McCarthy, both New York Democrats, have filed legislation that would impose tougher penalties on states that do not comply with laws that require them to send their records on prohibited buyers to the NICS system and would require a background check for every gun sale.
But the NRA opposes the legislation.
"The firearms industry is highly regulated from the point of manufacturing to the point of purchase," Arulanandam said. "What needs to be done is these criminals need to be arrested, prosecuted and punished. The problem is the revolving door of our criminal justice system. Criminals apprehended, very often gun charges are overlooked, and criminals go scot free. That's the problem."