Greitens accuser stands by sexual misconduct allegations, apologizes to Missouri governor's wife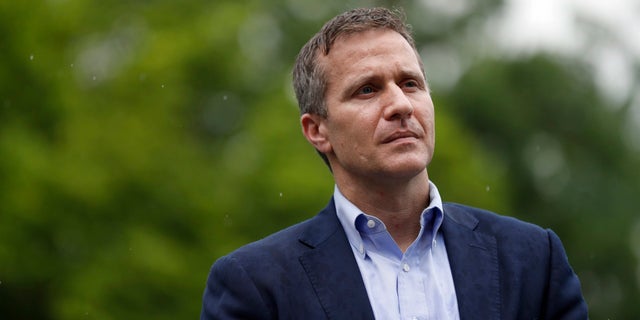 NEWYou can now listen to Fox News articles!
Although the felony invasion of privacy charge against Missouri Gov. Eric Greitens has been dropped, the woman who accused the Republican of sexual misconduct is standing firm in her story.
In an interview with KSDK-TV Monday night, the unnamed woman said although it's difficult for her to talk about what she said happened between the two, she "stands by" what she told the state House committee about her encounters with Greitens. She added that she's "not lying" and hopes "to heal."
The woman accused Greitens of inviting her to his house, blindfolding her, taping her hands to pull-up rings, pulling down her pants, kissing her without her consent and taking a photo of her.
"You're not going to mention my name. Don't even mention my name to anybody at all, because if you do, I'm going to take these pictures, and I'm going to put them everywhere I can. They are going to be everywhere, and then everyone will know what a little whore you are," she claims Greitens told her.
Greitens was initially charged with felony invasion of privacy and booked in February. He has denied the salacious allegations against him, but he did admit to having an affair with the woman. A photo has not been obtained by the lawmakers on the committee nor by the prosecutor in the criminal case.
"The only ethical thing I felt I could do was to tell the truth."
Earlier this month, prosecutors dropped the felony invasion of privacy charges against him but said they plan to refile the case. Since then, Jackson County Prosecuting Attorney Jean Peters Baker has been named the special prosecutor to handle the investigation into Greiten's invasion of privacy charge, the St. Louis Post-Dispatch reported.
EXPLAINED: MISSOURI GOV. GREITENS ACCUSED OF VIOLENCE, SEXUAL ASSAULT, BLACKMAIL
The woman's accusations became public after her then-husband secretly recorded his wife admitting to the extramarital affair with Greitens in March 2015.
"I didn't want this. I'm not out to get anyone -- not the governor, not my ex-husband," the woman told KSDK. "I really was just trying to live my life."
She said she felt like a "punching bag" and stressed she hasn't been paid or sought out by any political party to share her story.
The woman said she continued to see Greitens briefly after the alleged incident because she "felt so awful about myself. I wanted to forget whatever happened. I didn't want to believe that actually happened."
"The second he denied the things that were the most hurtful, the most difficult for me to now have to relive ... I just realized now I have this decision," she said of Greitens. "The only ethical thing I felt I could do was to tell the truth."
The unnamed woman also apologized to Greiten's wife.
"I would absolutely apologize. I shouldn't have been involved with him. I should not have gone into her home. I know that," she told KSDK, her voice breaking.
Greitens said the affair was a "deeply personal mistake" that happened before he was elected governor.
In their report, House investigators said the found the woman to be an "overall credible witness."