Graham camp blasts Washington Post 'hit job' on Air Force record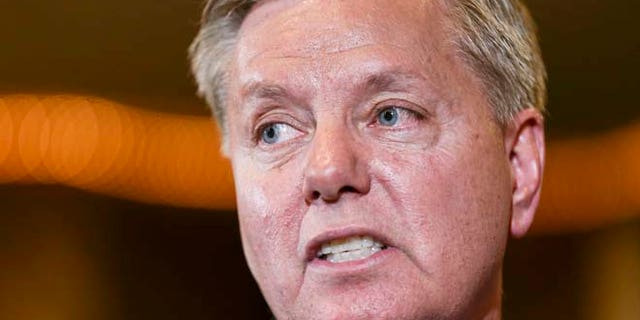 NEWYou can now listen to Fox News articles!
WASHINGTON – South Carolina Sen. Lindsey Graham fired back Monday at a Washington Post report that called the 2016 Republican presidential candidate's military career into question.
Graham's campaign manager Christian Ferry called The Post piece "nothing but a political hit job of the very worst kind" and accused the newspaper of citing anonymous sources and using "salacious" headlines to unfairly attack the senator.
Using documents obtained mostly under the Freedom of Information Act, The Post published a detailed dissection of Graham's military career. The paper said records show the U.S. Air Force afforded Graham "special treatment as a lawmaker, granting him the privileges of rank with few expectations in return."
The paper also said during Graham's first decade in Congress, the Air Force promoted the military lawyer twice "even though documents in his military personnel file reveal that he did little or no work."
Still, Graham's camp said The Post overstated their allegations, starting with the headline, "Sen. Graham moved up in Air Force Reserve ranks despite light duties."
Ferry contends that despite the headline, even the article notes Graham spent 142 days deployed while in Congress, mostly in Iraq and Afghanistan.
Ferry also took issue with a subhead suggesting Graham skipped out on assignments. "While a subheading notes a 'no show assignment,' it is describing his decision to serve duty in Iraq and Afghanistan instead of Maxwell Air Force base in Alabama," Ferry said.
The paper also took Graham to task over training. Between January 1995 and January 2005, Graham clocked a total of 108 hours of training – less than two days per year. Despite his reportedly low attendance, he continued to rise through the ranks at the Air Force. By 1998, Graham had become a lieutenant colonel in the Judge Advocate General's Corps., and was promoted to colonel by President George W. Bush six years later.
Graham has been citing his military service during his presidential campaign and concedes in the article he focused more time on becoming a politician than on his military career.
Ferry said the paper's lack of named sources as well as its decision to hype the headline to "generate clicks" is "journalism at its worse."
The last major dustup between a Republican candidate and a major newspaper was in July when The New York Times questioned Florida Sen. Marco Rubio's ties to Cuba. The paper also went after the Rubios for 17 traffic tickets they got since 1997, and for supposedly splurging on a luxury speedboat which turned out to be a fishing boat.