Graham backs Bolton pick, says best choice to negotiate with North Korea
NEWYou can now listen to Fox News articles!
South Carolina GOP Sen. Lindsey Graham on Sunday backed John Bolton as the new White House national security adviser, arguing the hawkish former U.N. ambassador is the right wingman for President Trump when he meets with North Korean leader Kim Jung Un.
"So when President Trump meets Kim Jong-un, his national security adviser will be with him," Graham told Fox News' "Sunday Morning Futures." "And the North Koreans know, without a doubt, that John Bolton sees their nuclear program as a threat to the United States and will strongly advise the president to use military force if he has to, which means it's less likely we will."
Kim has proposed meeting with Trump, in what would be an historic meeting of the two nations. Trump has tentatively accepted the invitation, amid North Korea's continued efforts to build a nuclear missile and the United States responding with more economic sanctions.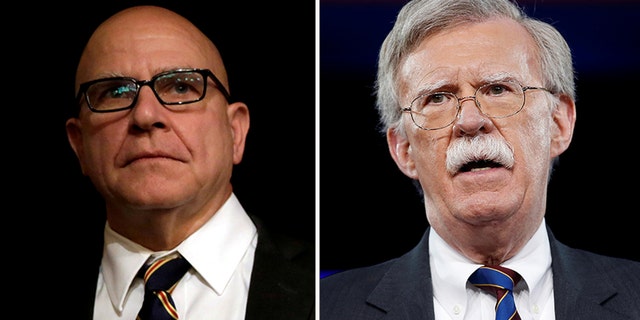 "John Bolton sees North Korea for the threat they are," Graham said Sunday.
Trump and Kim have exchanged personal insults, with the president calling Kim "Little Rocket Man" and Kim calling Trump a "mentally deranged U.S. dotard."
Trump last week announced that he would replace National Security Adviser H.R. McMaster with Bolton, which sparked criticism about Bolton's strong military positions.
Graham, a Trump supporter, is also considered a military hawk. He served in the Air Force as a lawyer and is a member of the Senate Committee on Armed Services.
TRUMP'S PICK OF BOLTON FOR NATIONAL SECURITY ADVISER BRINGS A BULLDOG TO THE WHITE HOUSE
On Sunday, Graham also told show host Maria Bartiromo that he supports the president's new tariffs on China for unfairly taking U.S. intellectual property.
Trump on Thursday ordered roughly $60 billion in tariffs levied on Chinese imports, following an investigation into intellectual property theft.
"The president ran a campaign that China treats," Graham said. "I don't blame them. I blame us. So you cannot be surprised that Donald Trump would do what he said he would do. And from my point of view, it's welcome news."
China has in turn said it would impose at least $3 billion on U.S. exports, which along with Trump's tariff order caused stock markets last week to drop several hundred points.
JOHN BOLTON TO REPLACE H.R. MCMASTER AS WHITE HOUSE NATIONAL SECURITY ADVISER, TRUMP SAYS
Graham also argued Sunday on why he wants a second special counsel -- one that looks into how the FBI and Justice Department is handling the Russia collusion investigation, particularly a loosely vetted anti-Trump dossier that was, at least in part, the basis for the probe.
"Here's the question -- How much effort did the FBI but in to verifying the dossier," Graham said. "I can tell you the answer, none. … They took the dossier for face value. It is a bunch of political garbage … It was used to get a warrant, and every American should be concerned about how the (Foreign Intelligence Surveillance Court) process was abused here."