Government Waste By the Numbers: Report Identifies Dozens of Overlapping Programs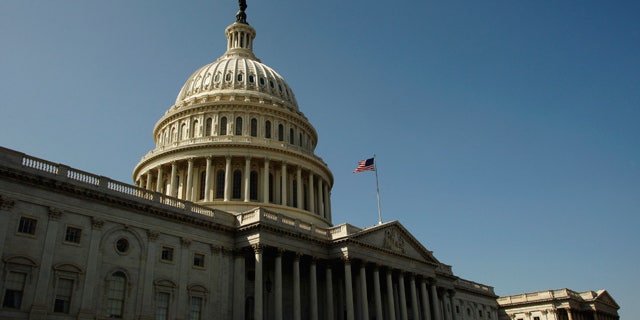 The federal government hosts 47 job-training programs, 44 of which overlap. It runs 80 programs for the "transportation disadvantaged."
Another 82 programs spread across 10 separate agencies endeavor to improve teacher quality -- something hundreds of local school districts are already focused on.
These are just a few of the findings in a blockbuster report on government waste and inefficiencies released by the nonpartisan Government Accountability Office. The report identifies billions of dollars in potential savings if Congress just had the will to streamline initiatives that target politically popular causes.
Though lawmakers in both parties have long struggled to eliminate the common culprits of waste, fraud and abuse, they seized on the findings Tuesday. House Republican Leader Eric Cantor vowed to "get our fiscal house in order" in light of the report.
"Now again, we have said enough is enough. Our Congress is about delivering results," Cantor said.
"This report confirms what most Americans assume about their government. We are spending trillions of dollars every year and nobody knows what we are doing. The executive branch doesn't know. The congressional branch doesn't know. Nobody knows," Sen. Tom Coburn, R-Okla., said in a statement Tuesday morning. "This report also shows we could save taxpayers hundreds of billions of dollars every year without cutting services."
The well-timed release comes as Republicans and Democrats fight over how much to cut from the rest of this year's budget, not to mention next year's $3.73 trillion spending plan. Democrats have so far balked at GOP plans to cut $61 billion from the 2010 fiscal year budget. But while both parties are squabbling over a relatively small slice of the budget pie -- discretionary spending -- the GAO report suggests Congress could keep cutting and leave the operation of government intact.
"Reducing or eliminating duplication, overlap or fragmentation could potentially save billions of taxpayer dollars annually and help agencies provide more efficient and effective services," the report said.
The study found 33 areas with "overlap and fragmentation" in the federal government. Among them, it found:
-- Fifty-six programs across 20 agencies dealing with financial literacy.
-- More than 2,100 data centers -- up from 432 a little more than a decade ago -- across 24 federal agencies. GAO estimated the government could save up to $200 billion over the next decade by consolidating them.
-- Twenty programs across seven agencies dealing with homelessness. The report found $2.9 billion spent on the programs in 2009. "Congress is often to blame" for fragmentation, GAO wrote in this section, explaining that the duplicative programs in multiple agencies cause access problems for potential participants.
-- Eighty-two "distinct" teacher-quality programs across 10 agencies. Many of them have "duplicate sub-goals," GAO said. Nine of them address teacher quality in the fields of science, technology, engineering and math.
-- Fifteen agencies administering 30 food-related laws. "Some of the oversight doesn't make any sense," the report stated bluntly.
-- Eighty economic development programs.
In some cases, the programs in question struggled to account for what they did. Take, for instance, domestic food assistance initiatives. According to GAO, 18 such programs are administered by the U.S. Department of Agriculture, the Department of Homeland Security and the Department of Health and Human Services -- with GAO estimating $62.5 billion spent on them.
But "little is known about the effectiveness" of 11 of those programs, the report states.
Similarly, of the 47 job-training programs run out of the federal government, only five could provide an "impact study" since 2004 looking at "outcomes." About half of them provided no performance review at all since 2004.
The report quickly became a political football Tuesday for lawmakers arguing over proposed cuts.
"Given the size and scope of the problem, there is likely much more duplication and fragmentation left to find," said Sen. Jeff Sessions, R-Ala., chairman of the Senate Budget Committee.
Sen. Jeanne Shaheen, D-N.H., said the report offered an opportunity to make "smart cuts, instead of reckless cuts."
"Today's GAO report shows us a path forward to responsibly, effectively reduce the deficit without slashing investment in our economy, cutting private sector job growth, or endangering the most vulnerable members of our society. We must eliminate outdated and unnecessary programs, as I have proposed before and as the GAO suggests here," she said.
The lengthy GAO report was mandated by Congress the last time it raised the debt limit in January 2010. Coburn said the report makes lawmakers look like "jackasses."
"We don't know what we're doing," Coburn said.
The Defense Department takes a number of hits in the report. The GAO found many instances of duplication in the sprawling agency. The use of "urgent need" funds have been expanded, GAO found, with "multiple places for a warfighter to submit" such requests.
GAO found that the Pentagon has "no tracking mechanism" for these funds, resulting in an estimated $77 billion spent since 2005 on communication and computer technologies, counter-measures for improvised explosive devices and intelligence, surveillance and reconnaissance tools.
Congress asked GAO to look specifically at "federal programs, agencies, offices and initiatives with duplicative goals and activities, to estimate the cost of such duplication and to make recommendations to Congress for consolidation and elimination of such duplication."
Fox News' Trish Turner contributed to this report.