Gov. Susana Martinez heads East to stump, but not for political candidates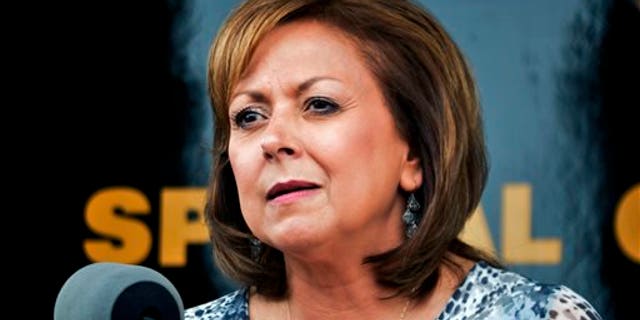 New Mexico Gov. Susana Martinez, whose name is being bandied about as possible vice presidential candidate on the GOP ticket, is visiting the East Coast to campaign.
But she's not stumping for any presidential candidate.
Martinez is promoting her state.
Martinez is visiting New York City and Charleston, South Carolina with a civic group called New Mexico Amigos to promote economic development, tourism and other opportunities in New Mexico.
The governor's office said she will return next Friday.
The New Mexico Amigos is made up of business, community and state leaders.
The Amigos got its start in 1962 as part of the celebration of New Mexico's Golden Anniversary as a state.
Nearly 90 of the state's most prominent leaders chartered a plane and traveled to Chicago, Detroit, Pittsburgh, New York, and Washington, D.C. to promote New Mexico's anniversary.
The practice remained, becoming an annual ritual in which governors participate.
With the GOP primaries underway, heads are turning once again to Martinez as a possible running mate.
On his show on Thursday, Fox News host Bill O'Reilly, who knows Donald Trump well and often has him on his program, commented that Martinez would be the wisest choice the real estate mogul could make for a running mate.
"There's only one choice for vice president if Donald Trump wants to win the White House. Only one person. Do you know who that is?" O'Reilly asked his Fox News colleague and former White House press secretary Dana Perino. "Gov. Susana Martinez of New Mexico."
"That is the only choice if Mr. Trump, with all due respect, wants to be president, he must give it to the governor of New Mexico," O'Reilly said, saying that Martinez "cuts across all ethnic boundaries that he's weak in, she's very bright, she is a Republican conservative in a state that would go, you know, it's not a lot of electoral votes, but if he can convince Gov. Martinez to be on the second, that will help him immensely."
The U.S. Hispanic Chamber of Commerce recently endorsed Martinez as a vice presidential candidate days after the nonpartisan chamber endorsed Julian Castro, Secretary of Housing and Urban Development, as vice president on the Democratic side.
Martinez is New Mexico's first female governor and the first Hispanic female elected governor in the United States.
"She's tirelessly advocated for job creation in New Mexico by supporting critical industries in her state," read a statement by the chamber's president, Javier Palomarez. "A principled and pragmatic leader, Governor Martinez easily won re-election in 2014, with 48 percent of the Hispanic vote in a state that leans Democrat."
Martinez also was seen as a strong candidate for vice president in the 2012 presidential election, and she won rave reviews after her speech that year at the Republican national convention in Tampa. But Martinez said at the time she was not interested.
The Associated Press contributed to this report.
Like us on Facebook