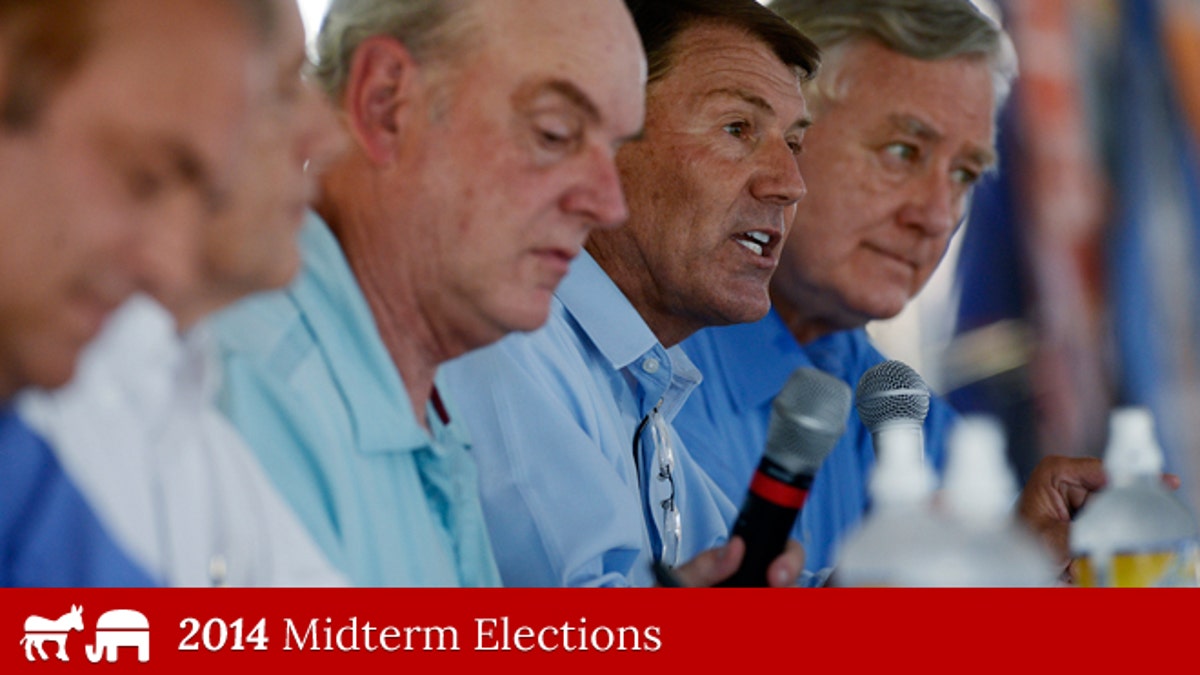 PIERRE, S.D. – There's no such thing as a sure thing in politics -- but for Republicans, South Dakota's open Senate seat is as close as it comes.
Republican candidate Mike Rounds has maintained a substantial lead in the race for the seat being vacated by Democratic Sen. Tim Johnson, a big part of the party's designs for taking control of the Senate next year.
Rounds is a fixture in South Dakota politics – having served two terms as governor and before that as majority leader in the state Senate.
"Most people in South Dakota will tell you they either know me, they've met me, or they know my family," Rounds told Fox News. "And so they feel connected."
As he faces off against Democrat Rick Weiland and two other candidates, Rounds is taking aim at unpopular Obama administration programs and agencies, spelling out how he'd improve them.
A centerpiece of Rounds' campaign is his opposition to ObamaCare. But unlike some Republicans, who want a wholesale repeal of the law, Rounds – an insurance broker – says Congress needs to go through the program line-by-line, fixing what ObamaCare was trying to fix.
"In a perfect world, you would walk in and say we're just going to get rid of it and we'll let everything start over again," Rounds said. "But I think you have to have what you're going to start over with in place and ready to go. And that has to be done section by section – I think."
Rounds is also taking aim at the EPA, a favorite punching bag here in farm country, ridiculing the EPA's efforts to regulate everything from cattle flatulence to farm dust. Rounds says Congress needs to rein in the agency.
"If I had my way, I would eliminate it and start over," Rounds Told Fox News. "But I don't think we're going to get that done. So the next best thing, let's pass the REINS Act. And that says that literally no more rules coming out of Washington bureaucracy are going to be put into effect unless the House and the Senate agree to them."
If Rounds has a vulnerability -- according to South Dakota political analyst Bob Burns, who once taught political science to a young Mike Rounds – it's a federal program called EB-5. As governor, Rounds was a big supporter of the initiative, which traded green cards for foreign investment in the United States. Dozens of EB-5 projects were successfully launched in South Dakota, but a handful went bad, including one where funds were misappropriated and Rounds' commissioner of Economic Development took his own life.
Burns says there are lingering questions that voters may want answered between now and November. Rounds says he has fully cooperated with investigators looking into the scandal and continues to promote EB-5 as good for South Dakota.
"We don't have anything to hide on this thing here," Rounds said. "We're straightforward with people on it. The EB-5 program was good for South Dakota. We literally created thousands of jobs."
Rounds is facing off against three other candidates – including former U.S. Sen. Larry Pressler and former state Sen. Gordon Howie, both running as independents. But Rounds' closest competition comes from Weiland, a businessman and one-time aide to former Democratic Senate Majority Leader Tom Daschle.
Weiland is running a populist campaign, tapping into dissatisfaction with Washington D.C.
"Government's broken," Weiland told Fox News. "I mean, we talk about a referendum on Obama. Let's have a referendum on our government -- Congress. They can't get anything done."
Weiland is the charismatic underdog, embracing his lack of campaign funding with clever 15-second TV ads explaining that he can't afford to run 30-second ads. A musician, his campaign (actually, his son) has also produced slick, low-budget campaign music videos, including a remake of Johnny Cash's "I've Been Everywhere," where Weiland boasts about visiting all 300 of South Dakota's cities and towns.
"I've had 200 public meetings. I've been to every town in South Dakota. And I'm doing it again," Weiland said.
Weiland is hoping to counter Rounds' attacks on ObamaCare with his own idea – allowing everyone to buy into Medicare.
"The problem with the Affordable Care Act is that it's not affordable enough," Weiland told Fox News. "And the insurance companies are not in the driver's seat. I think we need to bring some competition to that."
Weiland's stance puts him to the left of President Obama, a man with whom he frequently disagrees. He has not asked the president to come out and campaign for him, and Obama has not offered.
An even greater rift exists with Senate Majority Leader Harry Reid. Reid is on record saying Weiland is "not my choice" and says that Democrats will likely lose the seat to Rounds.
Weiland wears the rejection as a badge of courage.
"Whether it's Barack Obama's blessing – which I haven't gotten – or Harry Reid's blessing that I haven't gotten, to me, that's liberating. I mean, I'm talking to the people. I want their blessing," Weiland told Fox News.
Political analyst Burns is baffled that Reid is so quick to dismiss Weiland and concede such an important seat with the campaign in full swing.
"It is very difficult to understand why there would be that kind of dislike," Burns told Fox News. "He is a very engaging individual, certainly a qualified individual -- in no way embarrasses the party in his public appearances."
Despite long odds, Weiland hasn't given up, prepping for another debate at the State Fair in Huron Friday and getting ready for another 300-town blitz of South Dakota. But he admits, he has a very big hill to climb between now and November.
For his part, Rounds is a shrewd enough politician not to claim an early victory, but he has the air of inevitability surrounding his campaign.
"If we can win in South Dakota," Rounds told Fox News, "we're that much closer to taking back the United States Senate and putting it into the hands of folks that think more like we do out here within our state."